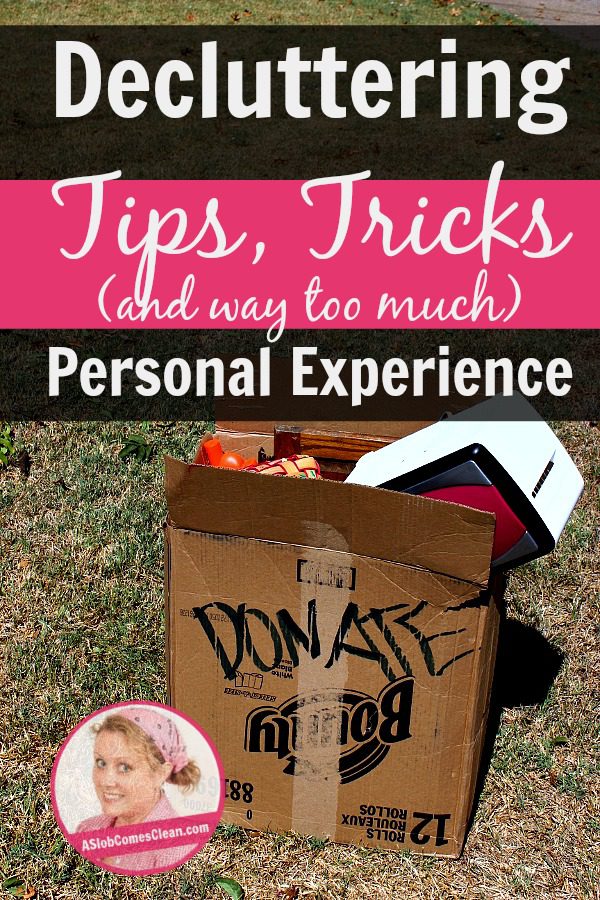 Decluttering never ends.
Ever.
While daily habits are key to keeping my home under control, decluttering makes real progress possible.  A daily pick-up can only help so much when there's just . . . too . . . much . . . stuff.
Below, I've shared links to posts about the decluttering strategies I've developed over the years by working to declutter my own cluttered home. If you'd prefer that I talk you through the process in your home, check out my books: Decluttering at the Speed of Life and How to Manage Your Home Without Losing Your Mind
Decluttering Strategies
As I've decluttered (and decluttered . . . and decluttered some more), I've found strategies that work well for my Slob Brain.
(Click on the pink or underlined links to get to corresponding posts.)
My two decluttering questions keep me focused.  No big list of things to think about.  There is just too much stuff, and too little attention-span on my part to do that much analyzing.
Decluttering supplies for sorting clutter? I have some different-than-what-the-experts-say thoughts on that. Oh, and a black trashbag is also one of my very best friends.
When I stand in the doorway of an out-of-control room and feel overwhelmed, I've learned to do the easy things first.
I've had to accept that other people's memories are not my responsibility.
I've learned that establishing limits is key. I finally understand how to properly use containers, and the One In One Out Concept no longer boggles my Slob Brain.
I have finally realized that contrary to my natural slob-inclination to declutter a closet that no one ever sees . . . it's better to prioritize decluttering projects by visibility.
And most of all, I've realized that it is okay (and home-changing) to JUST declutter. To stop worrying about getting organized and just declutter.
And finally, re-decluttering is a thing. And it's okay.
How to Get Rid of Clutter
How to Have a Great Garage Sale (A Series)
Why I Don't Care Who Sells My Stuff
Having a Garage Sale or Donating it All – A Declutterer's Dilemma
Decluttering Room By Room
Organizing the Bathroom for How We Really Live
4 Easy Steps for Tackling the Overwhelming Mess Under the Couch
Oops. I Think I Just Decluttered Something.
The Garage (The Big Mama of all Decluttering Projects)
Decluttering Strategies You Can Implement Immediately that Won't Overwhelm
Day One: Decluttering Tasks that Won't Overwhelm
Day Four: Down and Dirty Decluttering

Other Posts Related to Decluttering
Organizing Products (And Why They Scare Me)
You can go here and see ALL of my decluttering posts. There are tons, as it's my biggest category!
Visit my Youtube channel to see my Decluttering Webisodes!
Or if you love podcasts, I have those too!
Save
Save
Save
Save
--Nony