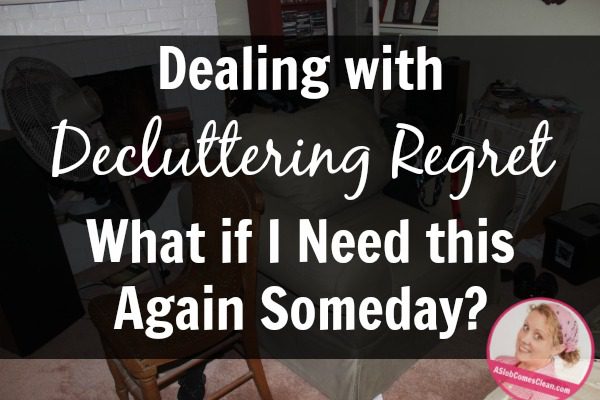 About a week ago, as I sat in my friend's home while she painted my nails (in preparation for promo videos for the book), I remembered she was getting new furniture soon.
I spied a comfy chair in the corner and asked what she was going to do with it. She was keeping that particular chair, but asked me why I wanted to know.
So I told her my sad story of decluttering regret. The living-out of my greatest decluttering fear. The tale of the time when I kindof wish I had paid attention to that mostly-squashed-but-still-there voice in my head that asked, "But . . . what if I need it again someday?"
My sad, sad decluttering story:
There once was a chair. A big, comfy chair. A chair that was part of my very first set of grown-up, never-before-owned-by-someone-else furniture.
I loved that chair. I sat in that chair. I piled things on that chair.
But I also moved that chair.
I moved it once, and then I moved it again. I moved it here and there and seemingly everywhere.
When it no longer had a place in my living room, I considered putting it in the gameroom, but it was too big.
One day, after bumping into it for the seventy-bajillionth time, I thought to myself, "I know! I'll move it to my bedroom!" I cleared the perfect spot for it next to my side of the bed. I envisioned myself sitting in this chair to read, working in this chair on a summer's day.
Unfortunately, the placement was also convenient for other, less warm-and-fuzzy things. I couldn't sit down to read because the chair was always always inaccessible under the piles of clothes and other set-it-down-just-for-now stuff.
So I finally decided to get rid of the chair. 
Decided, but didn't. I removed it from the spot by the bed, but didn't actually get it out of the house right away. Instead, I moved it into that "lovely" open space in my master bedroom.
Which meant the open space wasn't open anymore.
This was only temporary, but the temporariness lasted much longer than I expected.
I assumed I would get it right out as soon as I had a little lifting help. But the chair was soon covered in my husband's clothes and other lovely randomness, so my Slob Vision kicked in and I never rarely thought about it again.
I only thought of it when I stubbed my toe in the middle of the night.
Because it was in the middle of the master bedroom floor.
So, when a local friend who is a teacher asked if anyone had a big, comfy chair for reading that she could have for her classroom, I immediately responded.
"I have the perfect chair, and you can have it for free!"
She and her husband came to the house, loaded it up, and hauled it off. I was so pleased with myself and loved my mostly-cleared space.
And then, about a month later, I started thinking.
Thinking about my dining room. And about the advice I've heard (from some of you) that the best way to keep the dining room table from continually being a dumping ground might be to assign a different purpose to that room.
And I started thinking how nice it would be to take the leaves out of the table (to make it smaller), move it to one end of the room, decorate it nicely, and create a reading nook with the remaining space in the room.
A reading nook.
Oh, how nice that sounds, right? I just need a big, comfy chair.
Just like the one I gave away a few months ago. 
Ugh. I felt the familiar pangs of regret, kicked myself for not having thought of every possible use for that chair before I gave it up, dreaded looking for another one and wondered how much another comfy chair might cost.
And that's why I asked if my friend was getting rid of hers. I told her my sad, regret-filled Chair Story, and she said, "Yeah, that happens to me all the time."
And she kept on painting my nails.
Like my heart-wrenching story of Decluttering Regret was no big deal.
Maybe it's important for you to understand that this friend's home is beautiful, uncluttered, and never, ever out of control.
It's the kind of house that makes people like me wonder, "How do some people keep their homes so nice and uncluttered all the time?"
Her casual statement sums up exactly how she does it. "Yeah, that happens to me all the time."
Regret happens. Decluttering regret happens. And life goes on.
To take a quote from my own book, "People whose homes are always clutter-free prefer living with regret over living with clutter."
Even though I could totally use that chair now, I'm so glad I got rid of it. That chair being gone freed up a large amount of floor space in my master bedroom and my toes are better off. The open-space-months I experienced between getting rid of the chair and thinking of another perfect use for it are more valuable to me than the price of a new-to-me chair that I'll have fun searching for at a garage sale.
And I've seen that chair in its new home. It looks happy there.
NOTE: My book is now available! In it are my hard-learned mindset changes and decluttering strategies and habit-creating-practices to help you get your home under control. Go here to find out more about it.
Save
--Nony