I was sad to see summer end, but I'm getting over it.
There is something invigorating (and totally necessary) about routine.
Lack of routine causes this:
Not that my kitchen never looks like that during fall, winter, or spring . . .
But routine does help.
We lived in survival mode over the summer.  I kept the house out of total chaos.  (Truth: that picture could have been SOOO much worse!)  But oh, chaos was coming on fast in those last few weeks.
And what happens when the chaos starts to make the inside of my brain itch?
I get mad.
And depressed.
And I get the urge to declutter the medicine cabinet.
Because really. That's the main problem here.  Expired medicine . . . 
(Please read the above line using the sarcastic inflections with which I wrote it.)
I resisted the urge.
Instead, I'm re-starting. Re-starting my habits that I know make ALL the difference.  It's not that I completely abandoned them during the heat of the summer, but I (obviously) could have done a lot better.
So today, while laundry was going, I focused on my kitchen. The visible parts of my kitchen. Like this spot:
I've decluttered this spot a ba-jillion times.  Seriously, it's the place where all-things-kitchen get dumped.
The bad news? I have to re-declutter it continually.
The good news? I've finally accepted that re-decluttering doesn't mean I'm a failure, doomed to never (ever ever) have a clear counter.
I just have to re-declutter. It's my life.
So in a few minutes (like less-than-5), it looked like this: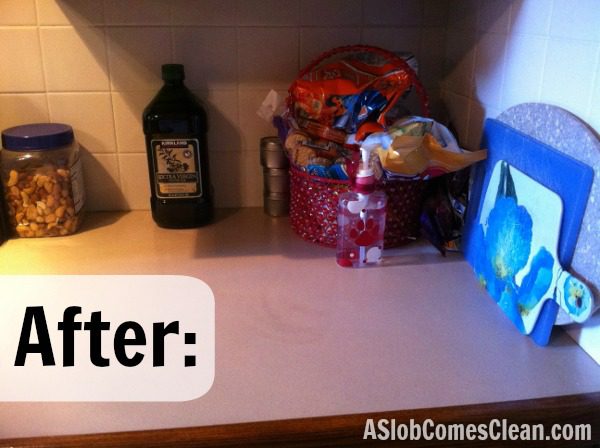 Less than five minutes, since most of the stuff went in the cabinet directly below, in the basket, or in the trash.
Mmm-hmmmm.
I moved my way around the kitchen until it looked like this: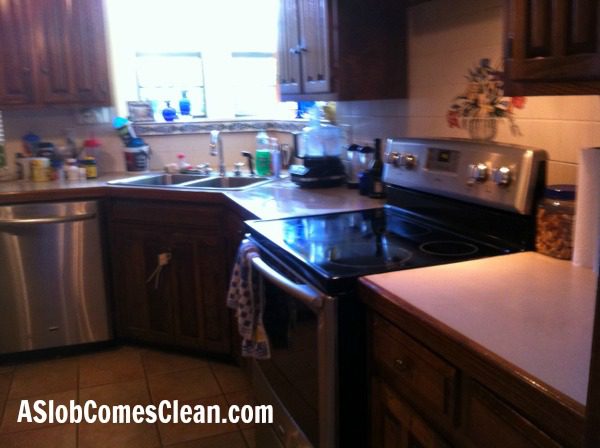 Blurry picture, but I'm pretty sure you can tell a difference . . . .
So there you go. I've re-started. We won't talk about the rest of the house right now. My plan is to use my routine to get it under control. Tomorrow . . . is Bathroom Cleaning Day.  Blech.
P.S. I worked out today. Like, at the gym and everything. Go me!
--Nony