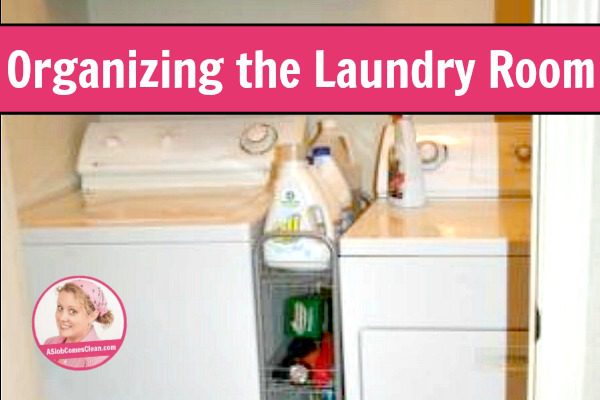 The initial title that popped into my head was "Re-organizing the Laundry Room."
Then I thought, "Ummm, who am I kidding?"
I've cleaned my laundry room before.  I've even given another go at using my unbelievably-cool-so-why-can't-they-solve-all-of-my-problems stackable laundry baskets.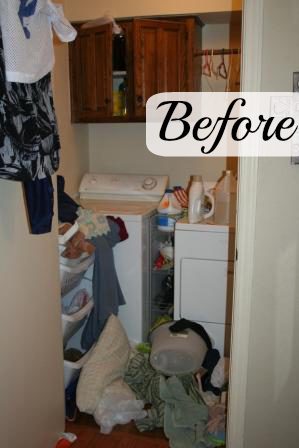 But still, that was my before pic.
This time, since organization was my goal, not just survival . . . I tried to do it right.  I'm all for survival, but I finally felt that, after almost a year of being fairly successful with my laundry routine, I was ready to organize.
For my way of doing things.
To do it right, I pulled out everything.  I HATE doing this.  Seriously.  I know hate is a very strong word, but  there have been way too many times when pulling everything out of a chaotic space has ended up making my home only more crazy because I got distracted in the middle of the project . . . and left the pulled-out-chaos in the middle of the floor for . . . . a while.
Or more.
But since my daughter was sick and we were home instead of being gone all day Wednesday as we planned, I decided that a big, intensive project was possible.  And her being sick meant that I could justify letting her watch TV so I could work without being interrupted.
In the end, it only took me about 2 1/2 hours.
Go figure.
After pulling everything out, grossness was revealed.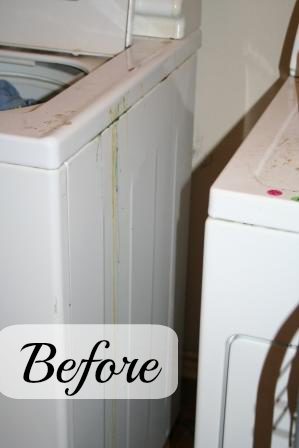 and
So, in an effort to carry out this "doing things right" business, I started scrubbing.
And mopping.
Until things looked like this: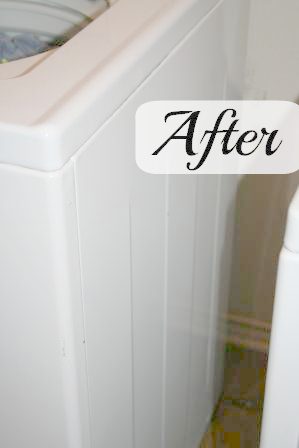 And this: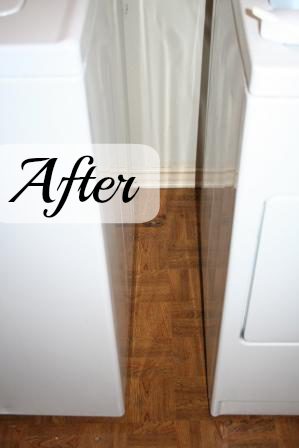 I sighed happily when I stepped back and saw this: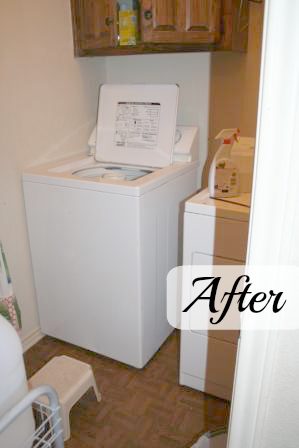 Until I turned around and saw this:
At that point, the familiar overwhelming panic started to rise in my chest.  It's just so much crstuff.
So much.
So I began repeating over and over to myself . . .
Do the easy stuff first.
Easy.
OK.
I can do easy.
Easy means things like moving the donate pile . . . to the donate spot!
The donate pile . . . you know, stuff like the boppy.  (It's been over three years since I nursed a baby.)  And the large cleaning items that I had multiples of.  And the floaty swim suit that I don't remember ever seeing before I pulled it out from behind the dryer.
Easy means rolling the little-rolley-cart back into its spot.
Easy means moving the trash out of the hallway.
Easy means moving the blanket-that-a-kid-who's-not-mine-slept-on-so-it-needs-to-be-washed-but-who-has-the-time-when-there's-so-much-else-to-wash-and-we-haven't-actually-needed-that-blanket . . . into one of those handy-dandy laundry baskets, even though I don't know exactly where those baskets are going to go yet.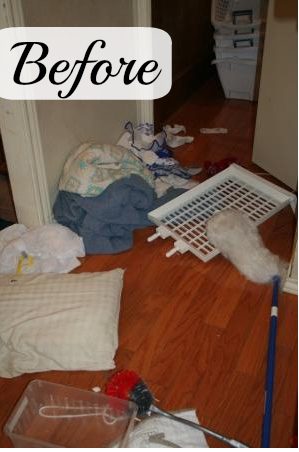 Once the easy stuff was gone, it looked like this, which was much easier to digest.  (Actually, it seems that I didn't move the blanket until after this picture.  But because I love my long-hyphenated-phrase-turned-adjective above, I'm leaving it.)
I kept making decisions until it looked like this: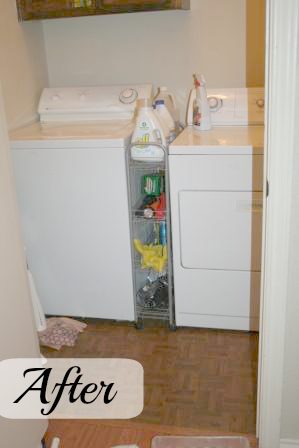 Tools were put on the left, where the baskets used to be.  (Yes, I have two Wonder Mops.  Libman sent me a new one, but my old one is still good, so I hate to throw it away.)
And on the right, I put . . . . nothing.  The shoe-drying-rack-thingy-for-the-dryer-that-I-actually-do-use-once-a-year . . . I wedged at the side of the dryer because I didn't know what else to do with it.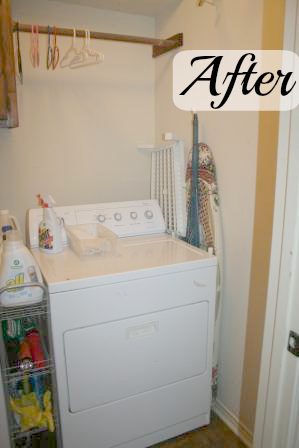 But the rest of the space . . . is just space.  Aaaaaahhhhh.
I want it free and clear because I'm planning to spend some of my Christmas money on a small folding table that can be used for all sorts of things, but primarily for folding laundry on Mondays.
That's right, I'm spending my fun money on a laundry accessory!  I'm cool like that.
And looky up there on the dryer.  Do you see it?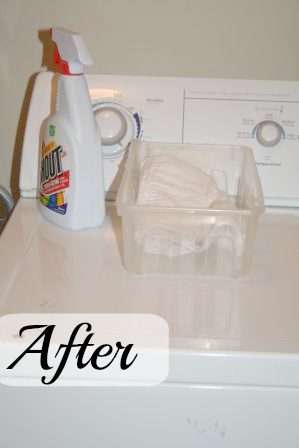 A little "contain"-er for cleaning rags.  I'm so hoping that solution will actually work for me!!!
Wondering what I did with the baskets?
I took them out.
As much as I love the idea of everyone taking their laundry to the laundry room every night to sort it into those cool baskets . . . it's not going to happen.  The only thing that works around here is for there to be a laundry-collecting basket or hamper within a decent throw's distance from where the clothes get stripped off.
I've accepted it.
So, I moved the baskets to my bedroom.   The kids have a hamper that they're pretty good about using most of the time. 
In the laundry room, the baskets were just too accessible as junk-collectors.
And of course, as always happens when I declutter/organize, there was one last item that threw me for a loop.  I get a little paranoid when I have absolutely no idea what something is.  If it's that mysterious . . . it must be important, right?
It's like a pony-tail holder, but it's humongous.  Way bigger than a human head.  Any guesses?
Check out my Decluttering page to see more of my decluttering projects and read what I've learned (from way too much experience) about how to declutter.
I love looking at the before and after side by side.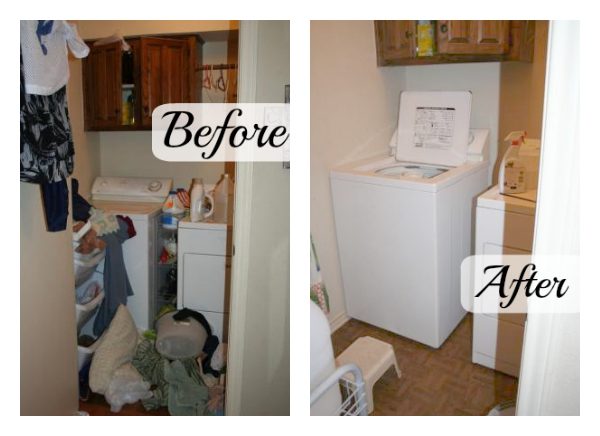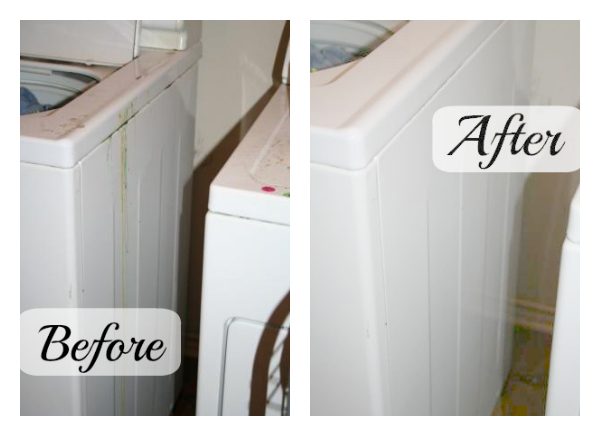 Save