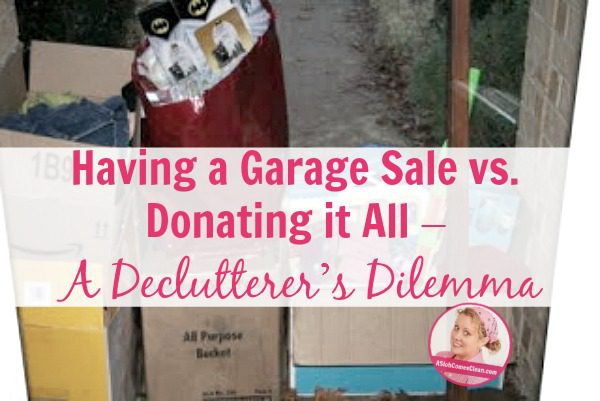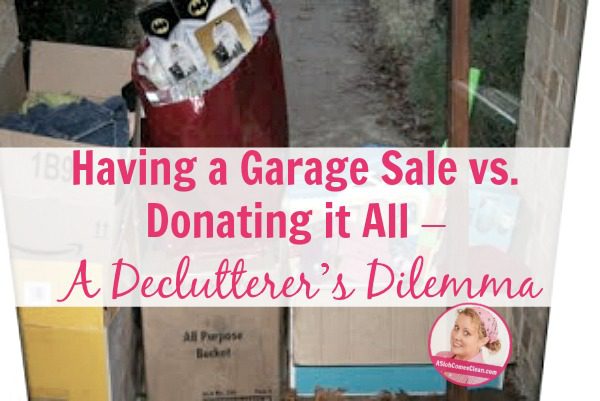 For me, garage sales have always been the answer when it comes to decluttering.  They give me a goal/deadline to work toward.  The thought of getting a nice chunk of change also motivates me.
But a few months ago, a thrift store sent out notices that they would be picking up donations in our area on a certain date.  Just put your stuff outside your front door with the bright orange card attached, and they would haul it off for you.
I was thrilled, because although I remember my mother often donating things to organizations that did pick-ups, in my small town, we'd never had that opportunity.  I knew that you could call and schedule a pick-up, but I never did.  Somehow, though, having someone say "we're coming" motivated me to get it out there on the date they gave.
I didn't know if it would be a one time thing, but then we received another orange card a few weeks ago.
Today was the day.  I put out my boxes of stuff with a spring in my step.  I was giddy at the thought.
Put piles of junk outside the door, and in a few hours, it's all gone.
I even tried to keep an eye out for the picker-upper, but I never saw him/her/it.   
It's like magic.
There are definite benefits to having a garage sale, and I'm sure I'll continue to have more garage sales than normal people do.  If money is the motivation you need, go for it.   But even though I actually enjoy having a garage sale, I think I could learn to enjoy this too.
I won't make any money, but I also won't have to work for weeks (or months) to get ready, park in the driveway for all of that time, get up at 6 a.m. on a Saturday morning, convince my kids (over and over all day long) that they really do want to get rid of that toy, and then haul off the extra things that don't sell.
Just letting go, little by little, on a regular basis  . . . . that fits with this deslobification process I'm going through.  Anything to make this excruciating, never-ending process easier . . .
Donating to the mysterious clutter-eater eliminates so many steps.  I can donate anything.  I used to try to separate out what was given to me from what I had purchased.  If it was given to me, I donated it.  If I bought it, I put it in my garage sale.  I also knew, because I was a garage sale expert, that I needed to keep things sorted within my garage sale piles.  Girls from boys clothes, toys from dishes, etc.  But when I let someone take it away for me, I don't have to sort.
A box of stuff is a box of stuff . . . . is a box of stuff.
While I considered this change in my thought processes this morning, I remembered some advice I was given a few years ago.  I was working on a labor-intensive computer project, and got help from an expert friend.  There wasn't much she could do to make it easier, because there were just so many steps involved in the process.  But she got excited when she found one little trick that removed a small step.  She said, "Any time you can remove a step, even a small one, you should do it, because ultimately, it will save you a lot of time."
That's what I'm doing.  I'm removing several steps of the get-it-out-of-the-cabinet-then-out-of-the-house-and-out-of-my-life decluttering process.
Save
Save