If you're home this week while the world is taking a break from normal life, you may be decluttering. (Missed out on Day One? Click Here!)
Today's task:
Deal with Procrasticlutter.
Huh?
Procrasticlutter (a word I just totally made up) is all the stuff you stop noticing because you know exactly what you need to do to deal with it. You just haven't dealt with it.
Examples of Procrasticlutter:
Clean laundry piled on the couch.
A stack of papers you've already determined you don't need, but you want to shred them instead of throwing them straight into the recycling bin.
A box of books that has been sitting in the corner of your dining room for a (few) year(s), waiting to be taken to the second-hand bookstore.
The Donate Pile(s) by your back door, or your bedroom door, or in the hall, or wherever.
Etc. Etc. Etc.
What should you do?
Fold the laundry and put it away.
Wash the dishes that are piled on the kitchen counters. (And put them away.)
Shred the papers, even if it means driving to the store to buy a shredder.
Load your car with the books to be sold and the boxes to be donated. Sell the books and drop off the donations.
List the things from the Maybe Someday I'll Sell This Online Pile on your local Facebook swap group or on eBay.
Do the things you've been meaning to do.
Here's the thing. When the Urge to Declutter hits, people like me spin in circles, wondering where to start. It's all just so overwhelming. I do a little here and a little there, and at the end of the day I'm exhausted but can't see any progress.
And that makes me want to quit.
My goal for you this week (or any time when you land on this series and start decluttering) is for you to see visible progress at the end of each day. If you'll focus on these things, in order, you'll see results. Really.
And stick to the Visibility Rule, just like you did with the Trash Bag Tour. Deal with the stuff you can see before you start digging in cabinets and opening drawers.
Tomorrow, with all these yeah-yeah-yeah-I'm-gonna-get-to-that "projects" out of the way, you can dive into the more dramatic and legit decluttering projects you really want to do. If you go ahead into Back-of-the-Closet mode now, your house will still be a mess at the end of the day and you'll throw your hands up in the air in despair.
I know this.
And, if tomorrow happens and the opportunity arises to skip decluttering and head to a movie, you'll come home from the theater to a significantly-nicer-than-before home, and you'll be inspired to get back to decluttering the next day.
I'm all about progress. Visible progress. Visible progress that inspires me to keep decluttering.
Wanna talk about this live?
Sign up here to get new blog posts delivered straight to your inbox here:
Need more inspiration?
See my decluttering tips, tricks and stories (with totally real before and after pics) here.
How to Prioritize Decluttering Projects
You might also want to check out my video course, The 5 Day Clutter Shakedown.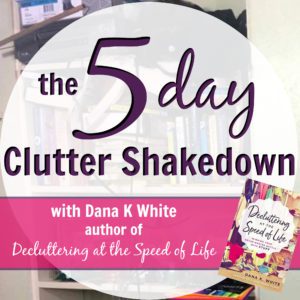 If you're desperate to declutter and/or would like detailed guides, check out my books: How to Manage Your Home Without Losing Your Mind and Decluttering at the Speed of Life.
Save
Save
Save
--Nony