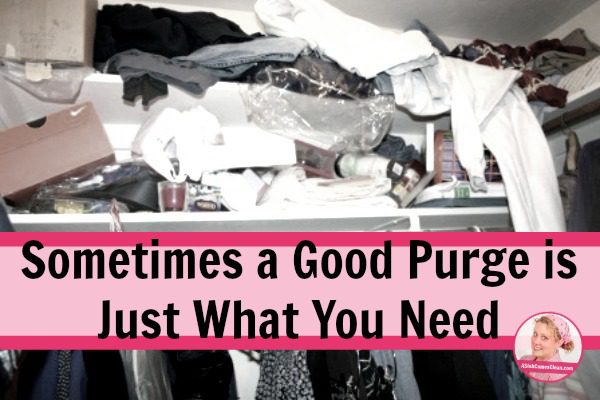 Warning:  This post is not intended to show an organized closet.  While the author is ever-so-much closer to having an organized closet than she was last week, she is fully aware that she has a very long way to go. Please accept this post for its intended purpose which is to demonstrate how much of a difference purging things like two-year-old candy and too-small-and-out-of-style-anyway-dresses can make. 
This is my before picture: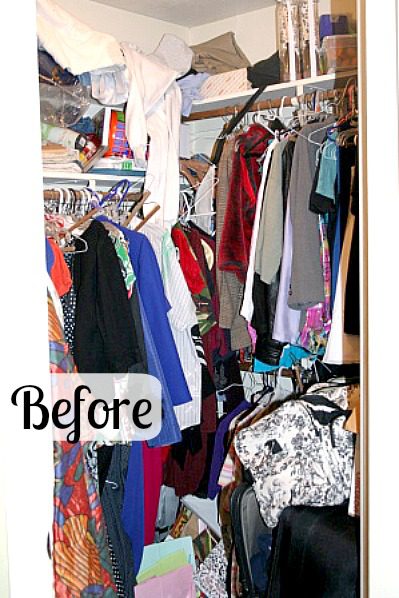 Which, as horrific as it looks, I was fairly proud of . . .  because of this: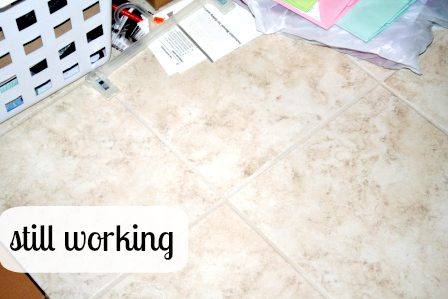 Floor.
Floor that can be walked on.
Floor that can be walked on without worrying about twisting an ankle.


My incredible excess of clothing has been weighing on me for a long time.  When I decided to put some things in my Sister-in-Law's garage sale this weekend, I realized it was time to stop procrastinating on the ever-so-miserable task of closet purging.
When my best friend came down for the day on Tuesday, I asked her to help me.
Ummmm, I knew that she's more organized than I am.  I knew that she's more practical than I am.  I knew that she would help me and that she's pretty much the only person I would let see my closet.
I had no idea, however, that she can be so scary.
She took over.
I let her.
I stood wide-eyed and followed orders, and we knocked that purge out in much less time than it would have taken me on my own.
It went a little something like this:
Her:  Grab ten things and hand them to me.  NO, I don't want to know if you want to keep that.  Just hand me ten things!!!
Me:  ok, here.
Her:  Now grab ten more and bring them in here to the bed.  HURRY UP!!!  (She really didn't say "Hurry up!" but it kind of felt like she did.)
Me:  ok
Her:  I'm going to make piles of long sleeve casual, short sleeve casual, blah, blah, blah and yadda, yadda, yadda.  
Me:  ok
Her:  Go get 20 more things!!!
Me: ok
And so on and so forth.
Perhaps I'm exaggerating about how scary she really was.  She wasn't trying being scary.  It's just that organized people scare me. 
Really, she was very understanding and didn't even roll her eyes when my answer to every other "Do you actually need this?" question was, "It's a costume!!!"  
By the time she had to leave, I had created a four-foot-tall-or-so pile of clothing to put in the garage sale.  
And instead of clothes being crammed onto the rod, never to be found, my closet looked more like this: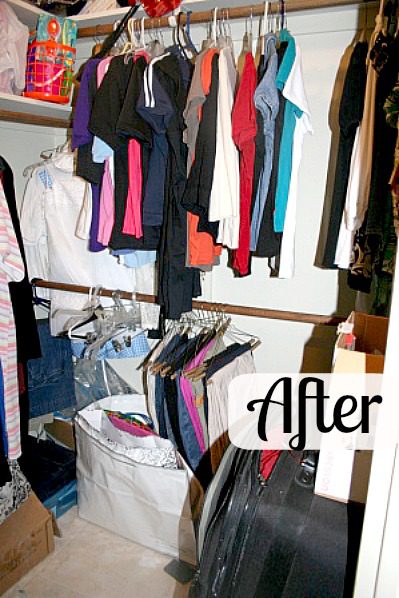 Big difference.  
Other things she did that put me a little further down the path to having an organized closet:
She turned all clothing right-side-out and made it face to the left when hung on the hanger.  Totally makes sense.  Totally something that never occurs to me.
She hung certain types of clothing (short-sleeved casual tops or capri pants) together and in a specific section of the closet.  I'm pretty sure this is normal for normal people. 
The next day, yesterday, I decided to purge a little more in there.  Now that the clothes were out, areas like this stood out a little more: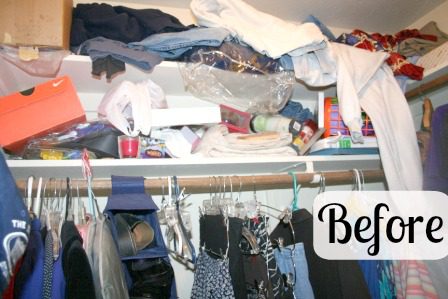 Besides, my closet is prime Garage Sale Inventory territory.  It's where I stick "good stuff" that I don't actually need.  In my big-time couponing days, I would store lots of things here that were perfect for giving as little gifts.  But lately, I've noticed that I hesitate to give some of these things because I'm afraid that the packaging has since changed and it might be obvious that it has been sitting in my closet for . . . ummm . . . years.
I also found and purged random "gift closet" items that are for kids much younger than my kids.  There's always a chance that they'll go to a three year old's birthday party, but not enough of a chance to justify taking up space in my closet.
I found things that I never should have bought in the first place, and definitely never should have put in my closet:
And I'm sure my reasoning for keeping these sweat pants was logical at the time:
Trust me.  That huge hole is in the worst possible place.
After purging and straightening, it looked like this: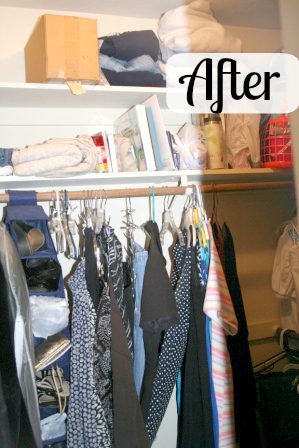 No, it's not organized, but it's so much better.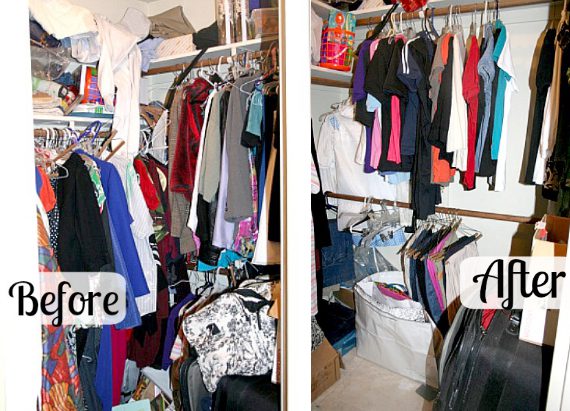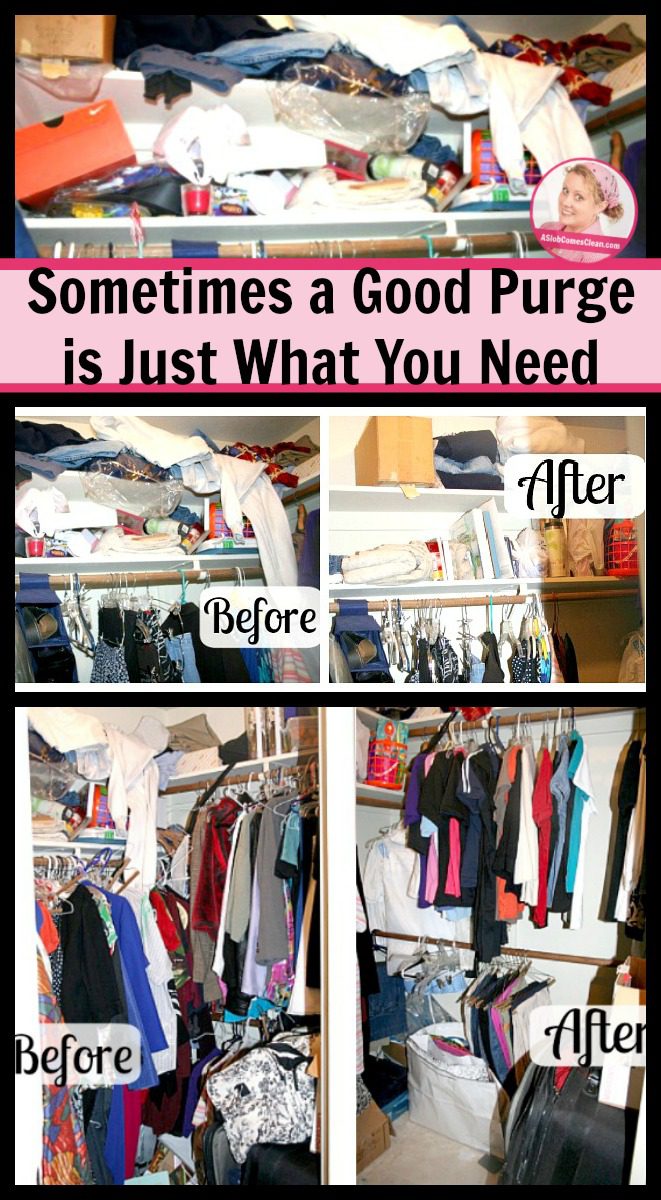 ______________________________________________
Check out my Decluttering page to see more of my decluttering projects and read what I've learned (from way too much experience) about how to declutter.
I'll be linking this up over at Orgjunkie.comfor her 52 Weeks of Organizing.