It's December 26th, y'all.
Do you feel that crazy itch? The crazy, physically-real decluttering itch? Me too. It happens as soon as Christmas is over.
This week, I'm sharing decluttering strategies you can implement immediately. Strategies that won't overwhelm you, but will make a real impact in your home. Don't believe I truly understand where you're coming from? Read my decluttering resume here. resumay
What to do first when you're desperate to declutter your home:
Grab a trash bag (black is best so other people in your home can't see what you're putting in it . . . ) and start throwing away visible trash.
It's too simple. I know. But going through the house, throwing away visible trash first, is truly the BEST way to make a visible impact on your home, and a visible impact will improve how you function in your home and will inspire you to keep decluttering.
Here's the real life story of how I developed The Visibility Rule as a strategy for decluttering my own home.
You have to start somewhere, and I know from (way too much) personal experience that getting started is the very hardest part of a decluttering project. My best piece of advice for getting started is to do the easy stuff first. I explain what I mean by that here, but just know that the easiest of the easiest stuff is throwing away trash.
Things to Throw Away (or recycle if possible) Today:
Used wrapping paper or gift tissue (here's why I don't keep used gift tissue)

Empty packaging. (From gifts received, from bathroom supplies, from electronics received two Christmases ago that you're now confident you won't need to return . . . )

Expired food. (Or food packages that are completely empty but somehow made it back into your pantry.)

Broken stuff.

Stained stuff.
Just remember to prioritize by visibility. Start in your most frequently used (and seen by visitors) area, like your living room or kitchen, and then move to less often used spaces.
Do the surfaces of each room first, and THEN start opening doors and drawers to look for more things that can be trashed.
KEY: Sticking to the Visibility Rule means you'll see a difference in your home today. Whenever you stop (whether finished or not), you'll see progress.
Sign up to get new blog posts delivered straight to your inbox here:
How to Start Cleaning Up When You Don't Know Where to Start
Permission Granted to Throw it Away
I'd love to hear how your decluttering is going? Share your successes and struggles in the comments!
I also recommend my video course, The 5 Day Clutter Shakedown.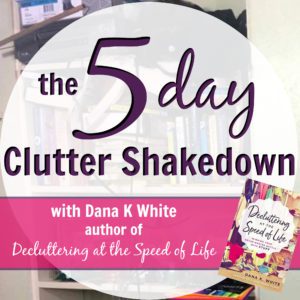 If you're desperate to declutter or just would like detailed guides, check out my books: How to Manage Your Home Without Losing Your Mind and Decluttering at the Speed of Life.
Save
Save
--Nony