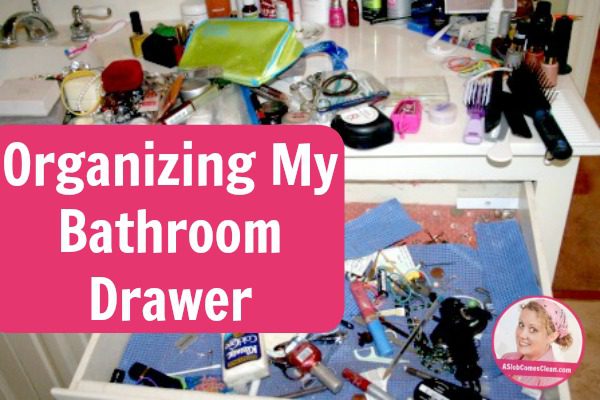 I organized my bathroom drawer today.  I didn't plan to, but it happened.
It began when I finished my daily checklist (which was overly time-consuming because I hadn't done it all week) and realized I had a bit of time before lunch.
I decided that I would declutter my bathroom counter.
I sorted out the things that never get used because:
a) I'm just not that fru fru.
b) I don't like the smell.
c) I have another version of the same thing that I like better.
In ten minutes, it looked like this:
Ten minutes, which meant I still had 25 minutes before lunchtime.
I considered an early lunch . . . but decided to tackle the real project I knew I should focus on.  The one that has been bugging the crdaylights out of me for weeks, months, or maybe even years.
It's a spot that has remained un-blogged since the creation of A Slob Comes Clean.
My bathroom drawer.
The drawer where everything goes, but nothing can be found.  I would say it's where I put my jewelry, but it didn't contain any of the jewelry I wear regularly.  (I'm too afraid I'll lose it if I put it in there.)
I started pulling things out and sorting into piles.
Keep – make-up, tweezers, jewelry I like, hairbrushes, etc.
Take somewhere else – pens (oh the pens), staples (yep), matches, etc.
Donate – Jewelry I know I'll never wear, random why-in-the-world-is-these-in-here items.
Throw away – Broken jewelry, make-up that I tried once and didn't like (happened a lot during the height of my couponing days), trash.
At the point when my daughter's lunchtime-alarm-equipped tummy alerted her to the time, it looked like this:
Totally depressing.
We had lunch, and I went back in, fighting off my how-in-the-world-am-I-gonna-get-this-done-why-did-I-ever-start feelings.  I continued taking everything out, and then did the easy stuff.
I took my daughter's hair stuff to HER room:
I took the handFULL of foreign money to another un-perfect spot:
And pens.  Oh my.  The pens.  I've always known that pens get eaten by this home, and evidently this drawer is the belly.
I divided them up between all the different places where I generally search for pens.  (Decluttering question #1)
Once I had purged and moved and sorted, and I felt that I was left with only the things I really wanted to keep . . . I didn't know what to do.
Simply shoving things back into the drawer wasn't a good option.  The drawer needed to be officially . . . organized.
But organizing makes my brain hurt.  And I didn't have the necessary boxes and containers and fancy doo-dads.
So I chose to land in the middle.
No, I couldn't "do it right" because I honestly don't know how.  Leaving it all out on the counter wasn't an option, and shoving it back in randomly was a hopeless thought.
So I headed to the fridge.
I removed a small-last-little-bit of Velveeta from its box.  (My mother uses these types of boxes in drawers a lot, and even though they aren't fancy, they're better than nothing.)
I started putting jewelry in one, and soon realized that this is NOT a great solution.  I'm sure it will get just as tangled as it would in the drawer, but at least it will all be together.
Cutesy little jewelry organizing solutions are starting to make sense to me now.
I put the hair stuff and beauty tools in one, and then put make-up in another container I ran across in the kitchen.
I used my not-acquired-too-long-ago understanding of "contain"ers and decided that I needed to purge make-up until it could easily fit in there.  I got rid of several items that I really never use.
I did keep the blood-red lip stuff . . . because it's blood-red. Perfect for adding the finishing touch to the boys' Rocky costumes for Halloween.  (This mama can make one fantastic and realistic black eye!)
I removed the blue liners and washed them, and scrubbed down the 80s paper liner.
Finally, it looked like this:
The make-up that is not in the container?  Those are the four items I actually use.
The work I did in the garage recently has made me realize that I'm getting to the point in this deslobification process (after a year and a half) when I have to start organizing.  I've decluttered (like a crazy-woman) and have developed maintenance habits, but now it's time to start solving some problems.
And that scares me.  Because organizing "stuff" is completely out of my comfort zone.
But I consider this a start.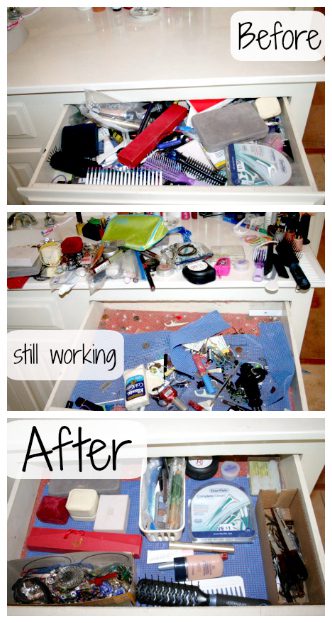 ___________________________________________
Check out my Decluttering page to see more of my decluttering projects and read what I've learned (from way too much experience) about how to declutter.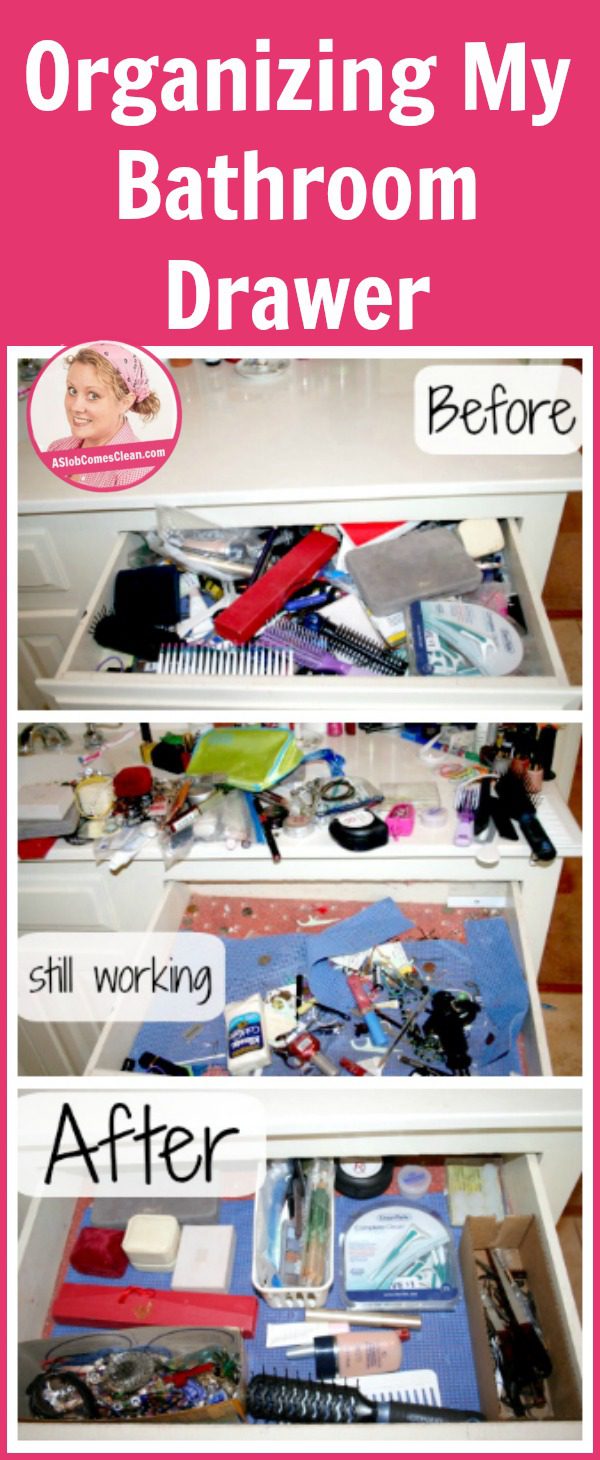 I'll be linking this up to 52 Weeks of Organizing over at Orgjunkie.com.
Save