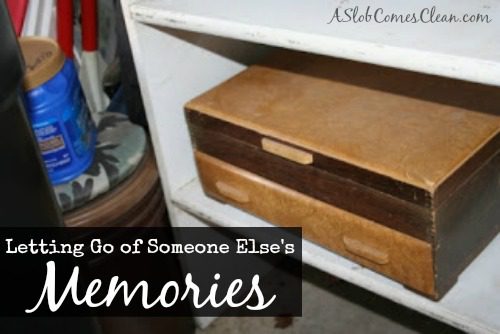 Sometimes I find myself holding on to memories . . .
that aren't even mine.
People give me stuff.  They don't want these things in their own homes, but they hate to throw them away or donate their special items to an unknown-possibly-non-appreciative stranger.
So they give it to me.  They know how much I love a good story.  They know how my eyes light up over interesting or sentimental things.  They figure my house is junky anyway . . . 
But usually, these things that sound so interesting . . . have no place in my home either.  Even less of a place than they once had in the giver's home.
While they bought or once used the item, I never knew I needed it until it was offered to me.  
When I cleaned out the garage recently, I found several such treasures.  I'm highlighting one that was given to me by my mother.  (The others might incriminate me in front of people who happen to read the blog and thought they did me a favor by unloading their stuff on me.)
I'm not blaming my well-meaning friends.  I accepted these items, even delighted in the idea of them.
But once I find them forgotten in the garage, I can't let someone else's memory be what makes me keep them.  I have enough of my own memory-laden-clutter to deal with.
The picture above is of a silverware box.  It's nice and all, but I don't have any fancy silverware.
Like, at all.
My husband is excited if there are five clean forks at suppertime.  (And that's with running the dishwasher every night.)
Even if I did magically receive fancy silverware, I don't know where in the world I'd put this rather large box.
But the box has a story.  My mother found it in an antique store, and examined the partial-sticker on it.
The evidence sticker.  As in, this was once part of an investigation of some sort.  Perhaps it contained priceless pieces that were taken in a robbery.  Perhaps it held the defining clue to a real mystery.
I love drama.
It was tempting.  But I didn't experience the joy of this antique-store-find.  I didn't have any relationship with the people who could tell an interesting story about this silverware box.
It's someone else's memory.
I have enough trouble dealing with my own memories.  I can't handle theirs too.
When the guilt of the memory-keeping-responsibility weighs heavily on me and makes me question my decision to get rid of something, I remind myself that . . . they didn't want it in their own home.
So I don't need to feel guilty about purging it from mine. 
My newest book, Decluttering at the Speed of Life is now available wherever books are sold!
________________________________________________
Check out my decluttering page for ideas and inspiration on how to declutter!
Does even the thought of decluttering overwhelm you? Sign up for my newsletter and get my reality-tested decluttering solutions delivered to your inbox for free.
I'm linking this up over at Raising Homemakers for her Homemaking Link-Up.
Save
Save
Save