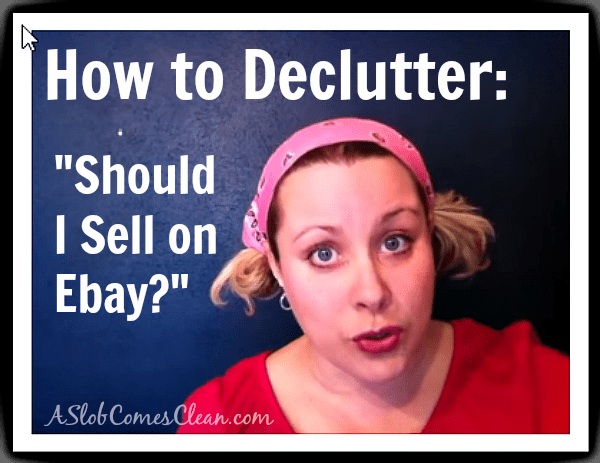 Honestly, I have many fond feelings toward eBay.  There was a double-house-payment period in our lives when we had NO extra money.  I managed to make 40$ per week during that year, and we used the money to go out to eat on the weekends.  In a difficult time . . . that 40$ was huge.
Honestly, I have many fond feelings toward eBay.  There was a double-house-payment period in our lives when we had NO extra money.  I managed to make 40$ per week during that year, and we used the money to go out to eat on the weekends.  In a difficult time . . . that 40$ was huge.
Buuuttttt, eBay also got me in trouble clutter-wise.  I loved grabbing things at garage sales that I thought might sell.  Enough sold to make it financially worth it, but enough didn't sell that my home became a junk-storage building.
Eventually, I started this blog.
Y'know . . . and called it A Slob Comes Clean.
Those are my qualifications for writing this post.  My goal isn't to teach you how to sell on eBay, it is to help you decide if it's worth it.
Because it's work.  Lots of work.  And you can end up losing money if you don't know what you're doing.
I'll start with a cautionary tale.  When I first caught the eBay bug, I shared with a woman at my moms' group that I was so excited about what I was doing.  I went on and on about how fun it was and how I was making money.  At the next meeting two weeks later, she informed me that she had (inspired by me) put a dog crate on eBay.  She weighed the crate to calculate shipping, but didn't consider the weight of the box or packing materials, or that the size of the package would add considerable cost.  She followed the advice she had been given (NOT by me) to start the auction at ninety-nine cents . . . and it sold for ninety-nine cents.  She charged around ten dollars for shipping, but her actual cost for shipping the item was almost thirty dollars.  She lost money.  Quite a bit of money.
I felt terrible.
I do say that to scare you, but my real goal in this post is to encourage you to go ahead and list that item that you've always wanted to put on ebay.  That you're sure is worth a lot of money.
Then pitch the rest. Use this information to decide if the money you could realistically make is worth the actual amount of time and hassle you have to dedicate to getting it out of your house.
Because it's all about getting clutter out of your house.
Right?
Selling on eBay requires research.  (And research requires time.)
You can put something in a garage sale that may be a genuine antique or may be a reproduction.  It's the buyer's job to figure out the difference.  On eBay, you have to know exactly what you're selling.
You may skip to your car after spending two dollars for a Kate Spade purse, but you need to study to be sure it isn't a fake before you list it on eBay.
eBay descriptions have to be detailed.
At a garage sale, the buyer checks the item for stains or flaws.  If you list something on eBay, the buyer expects you to do that and to be thorough and honest in your description.
Flaws that are barely noticable still have to be included in the description.
Full disclosure is expected. If someone in your home smokes or if you have a cat . . . you need to say that in your listing.  You may not notice the smoky smell, but your buyer will.  And they probably won't like it.
Shipping is a huge factor.
Like the (horror) story above, you need to fully consider the size, ease of shipping, and weight of the entire package when calculating how much you will charge for shipping.
If an item is fragile, do you have the resources to package it?  Do you trust yourself to pack it well?  You can have it professionally packaged, but the cost to do that needs to be determined ahead of time and included in your shipping cost.  But . . . a high shipping cost will discourage people from bidding on your item.
You need to know what you're doing.
There is a good time and a bad time to list an item.
There are specific selling-seasons for certain items.  Don't sell Halloween costumes in March, and don't sell your child's newly outgrown winter coat in April.
You need to know about keywords.  Poorly worded titles don't get as many bids.
. . . and much much more.
Soooo, is it ever worth it to put something on eBay?
Yes!  You just need to be realistic about how much you can expect to get for the item, and then decide if that amount of money is worth your time.
But how do you know how much it's worth? I'm going to tell you.
As you declutter and feel the temptation to set aside that surely-it's-worth-something-on-ebay item . . . just go ahead and take it to your computer.  Turn it over, find the name on the bottom, and type that name into the search bar at eBay.com.
Wait.  Don't get excited yet. If you see that someone somewhere has listed that item with a starting price of 75.00 . . . remind yourself that it doesn't matter what a seller wants for that item, it matters what buyers pay for that item.
Now . . . scroll down, looking at the left-hand column.  Under "Show Only" you'll see a box next to the words "Completed Listings".
Check that box.
Now you will see similar listings with prices in red or green.  Red means they didn't sell.  Green means they did sell.
Look at the pictures to see how similar the items with green prices are to your item.  Maybe they sold for 40$.  Yay!  Is the one that sold in the same condition as yours?  If the successful 40$ one was new but yours is scuffed and old, keep looking until you find some listings for items more like yours.
This is the page where you do the research that matters most.  If every completed listing for items like yours (even the ones for 4.99 or less) is red . . . it's probably not worth your time to try to sell it.
Only you can decide what your time is worth.  Only you know if it is wise for you to spend hours researching, photographing, describing, answering questions about, packaging, and shipping  this item.  Or should you spend those hours continuing your decluttering efforts?
The cookbook that sold for more than eighty dollars after I removed it from my "All Books – 25 Cents" garage sale box?  It was worth it.
I read a post from Single Mom on a Budget where she explains how she listed an item on ebay.  She started it at 14.99 and it sold for 14.99. (See, I'm not discouraging you from selling on eBay, I just don't want you to be delusional and keep clutter because of the dream that it might be worth something!  If it is . . . sell it!)
Have you had success selling on eBay?  Are you holding on to something that might be worthless?
See my webisode on this subject above.  (If you're reading through email, you'll have to click through to see!)
Save
Save