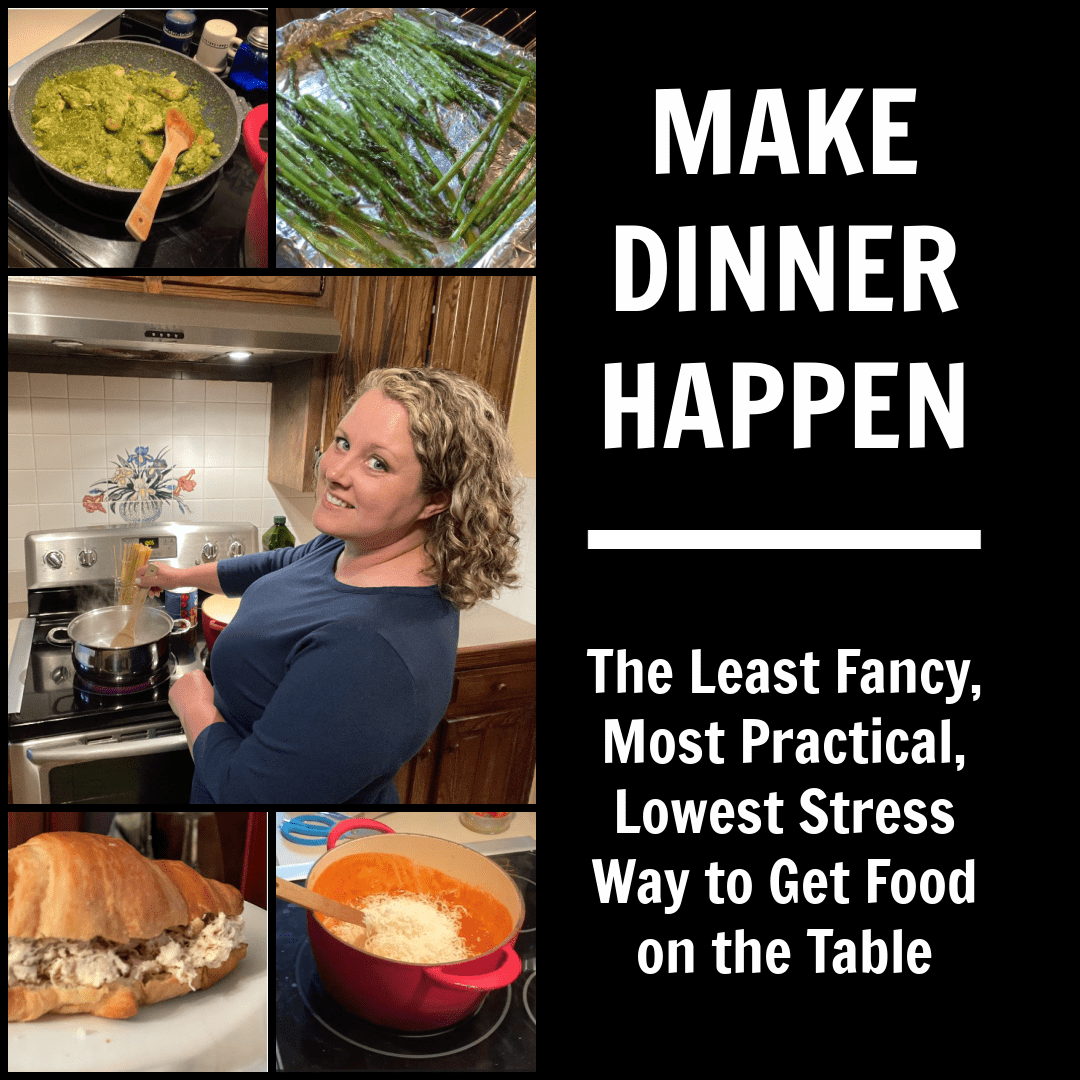 I may not love to clean, but I do love to cook! I used to imagine that I'd create amazing and elaborate meals every night, but I didn't realize that life gets crazy and spending hours in the kitchen every day isn't an option.
Over the years, I have figured out a cooking method to get meals on the table with little stress, often in less time than it takes to go through a drive thru.
My main game-changing strategy: Pre-cook chicken breast and ground beef.
You've probably heard me say that before. But now, I've put together a plan to help you know exactly how to do that and give you two weeks' worth of recipes using that pre-cooked chicken breast and ground beef (and some smoked sausage).
This is a two week meal plan that will teach you my tricks. Once you've gone through it, you can apply the style of cooking to your own favorite recipes. I'm always using these same strategies when I use other meal plans.
If you've never felt confident cooking regularly, this course will give you confidence. If you like cooking, but get overwhelmed by it, this course will make it feel easier. If you avoid cooking because you just don't have the time, this course will give you the tricks to make super fast meals.
Just remember, it isn't fancy. So you know not to expect fancy, I'm sharing all the recipes included and the ingredients.
If you think you'd skip four of the recipes, I think it's still worth it to learn the process and try the other ten. If you wouldn't eat 6 or more, I would probably skip this course. Many of these recipes are here on my site already, as are the basics of pre-cooking your meat. The value of the course is in the instructions and the plan for learning how to cook this way.
I'm a picky eater, so I talk a lot about adjusting recipes to leave out ingredients you don't like.
Each recipe has a video where I cook and talk through the recipe. So we can cook "together" as you work through the course!
Recipes for the following meals are included:
Porcupine Meatballs (made from ground beef, not actual porcupines) in "Mushroom Gravy", Pesto Chicken over Pasta, Alfredo Chicken Spinach Pasta, Chicken-Rice Bowls, TexMex Casserole, Taco Soup, Chicken Salad Sandwiches, Sausage and Hashbrowns, Taco Salad, Shepherd's Pie, Skillet Lasagna, Chicken and Noodles, Chicken Fried Rice, Pizza Casserole, Roasted Asparagus, Oven-Baked Corn, Roasted Broccoli, Parmesan Pull-Apart Bread
Ingredients for the recipes include:
Chicken Tenderloins, Ground Beef, Smoked Sausage, Tomato, canned tomatoes, Broccoli, Carrots, Asparagus, Refrigerator Biscuits, Croissant Rolls or French Bread, refrigerator crescent rolls, Butter, Shredded Cheddar and Mozzarella Cheese, Sour Cream, Eggs, Rice, Pasta, Instant Mashed Potatoes, Spaghetti/Marinara Sauce, Alfredo Sauce, Rotel, Cream of Mushroom Soup, Chicken Stock, Mayonnaise, Ranch Dressing, Frozen vegetables, hashbrowns, Taco Seasoning, Chicken Bouillon, Minced onion and garlic.
Go here to purchase Make Dinner Happen for $16.