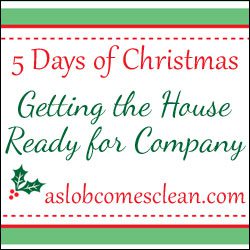 This week, I'll be participating in a "5 Days of Christmas" series.  My topic?  Getting Your Home Company Ready
Not because I feel the need to tell the world what to do, but because I need to do it!  Taking this end-of-November/beginning-of-December week to focus on making my home a welcoming place for our holiday visitors will help our entire month go more smoothly.
Last year around this time, I wrote a (rather long) post called How to Clean a (Very) Messy House and Get it Ready for Guests.  If you're feeling totally overwhelmed, that might be a good place to start.
My job for this first day comes from that list.  It's something I've learned to do over the years of repeated disaster recovery around here. 
Take a Decluttering Tour of your home.
Supplies?  A black trash bag and a white trash bag.
First, I walk through the house carrying the white trash bag.  It's for  . . . trash.  Starting with the most-likely-to-be-populated-by-guests area, I look around with purpose and focus for things that need to be pitched.  I begin in the living room.  Then I head to the dining room, the gameroom, etc.
(I don't bother with the master bedroom, because let's face it . . . that door will be locked before the guests arrive.)
Then . . . the black trashbag.
Got it?
Okay.
This one is for donations.  Why black?  So people of lesser-height-than-you can't easily see what you put into this magical receptacle.  No need to walk around the house with a might-as-well-be-clear white trash bag full of toys that they haven't played with in . . . . ummmm . . . . forever.  Those toys will taunt your mini-people and convince them that if given one more chance, they'll finally deliver on the fun.  They promise.
A little strategy:  Try to get through the entire house with one bag, and then go back through again with that same color trash bag for another layer.  What I mean is, it's easy for people-like-me (who tend to have enough clutter to fill multiple bags) to get distracted and find themselves doing a major purge of one room.  Y'know, that the guests might never see anyway . . . like the linen closet.  Then, the time is gone and the rest of the house hasn't been touched. You still may end up with three or four (or more) bags, but I'm always amazed at how much better the house looks after each go-through.
Oh, and one more rule:  Don't open anything.  As in . . .  cabinets, drawers, etc.  This is a surface Decluttering Tour.  Only surfaces.  Got it?  (Experienced well-intentioned slob here sharing her anti-mind-and-effort-wandering advice .)
Here's my gathered bounty from my own Decluttering Tour today:
and
For me, there are many benefits on top of the satisfaction of trash and "stuff" leaving our home:
First, by going through the house twice in order of rooms-used-most-by-guests, I begin to see my house more clearly.  My Slob Vision clears as I actively pick up and purge.  I see that the living room isn't so bad, but the gameroom needs some major work.  Or I notice that the kitchen doesn't have much to declutter, but the blinds in there need a major cleaning.  NOT that I stop to do those things at that moment.  I just keep on with my bag-filling throughout the rest of the house, as my mind begins to register the work I have left to do.
The second benefit? Hope.  I'm always amazed at the difference that just this surface decluttering makes.
Coming up tomorrow?  A detailed Kitchen Cleaning Checklist!
___________________________________________________________________________
I'm excited to participate in this series with some wonderful blogging friends!  There's a huge variety of Christmas-themed topics being explored, and I hope you'll hop around and find some great ideas!  (Some of them might not have their first post up until later tomorrow morning, but I'm ready to get something up on my blog after a long and wonderful weekend off!)
Feels Like Home – Christmas Traditions
Somewhat Crunchy – Christmas with Dairy Allergies
Spell Outloud – Children's Books
Mama's Learning Corner – Children's Crafts
Many Little Blessings – Edible Gifts
Sunflower Schoolhouse – Decorations
An Oregon Cottage – Christmas Cookies
Catholic Icing – Wishing Jesus Happy Birthday
The Traveling Praters – Traveling
The Homeschool Classroom – Gifts Kids Can Make
Mama's Laundry Talk – Laundry Gifts