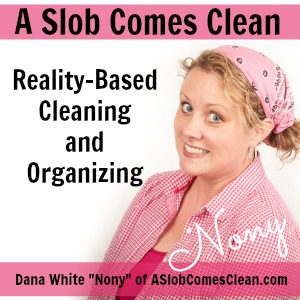 Podcast #6 is ready!
It just hit me that this means I've been podcasting for six weeks now! (Remember, I have Time Passage Awareness Disorder.)
In this week's podcast, I share the second reason why I am glad that I called myself a slob. I also tell about my shock when I learned that I was NOT the only woman out there who struggled with housekeeping like I did.
For this week's decluttering inspiration, I talk about how it is okay (even helpful) to let yourself JUST declutter instead of organizing. This is a concept that took a long time for me to understand, but it has helped me so much.
You can listen to this podcast here or in iTunes.
Podcast: Play in new window | Download
Subscribe: RSS
See all my podcasts in one place.
Posts mentioned in this podcast:
Connect with me on all my social media channels.
I Just Decluttered. That's It. (Includes Webisode)
Drowning in Clutter? (Don't Grab a Floatie, Drain the Ocean!) [no longer available but you'll find the helpful tips in my book]