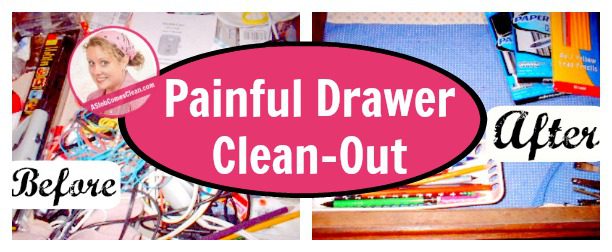 Why painful, you ask?
I cleaned out four, yes FOUR, kitchen drawers last night and today, and EVERY SINGLE one of them had tacks spilled in them.
LOTS of tacks.
Really? Is this some cruel joke I play on myself while sleepwalking?
I have quite a few pictures I could show you. About 10 in fact. But I'm only going to show three since they all look pretty much the same.
Here's the "can't even close it without shoving stuff down inside" view:
Here's the "Please don't let someone open this drawer while looking for a spoon"view:
And here's the "so basically NONE of that stuff actually needed to be in this drawer"view:
If "a-million-bajillion" is a real number, that's how many pens/pencils we have in this house.
And yet, somehow, we can never find one when we need it. Hmmm.
My four kitchen "junk drawers" are now basically empty because as I cleaned them out, I discovered that they were full of . . . . well . . . . . junk.
And tacks.
Here was my organization thought-process.
Where would I go if I was looking for this item? (take it there)
If I needed this item, would it ever occur to me that I already have one? (If no, put it in the garage sale).
This is difficult for me. I like to have things on hand when I need them. But if my son's kindergarten teacher were to ask me to bring glow-in-the-dark bracelets, I would go out and buy some because it would never occur to me that I still had some left from when my older son was in her class. So they would sit in that drawer until I found them, probably right after I had purchased more for my daughter's class, two years from now.
So I got rid of them. They aren't worth the storage/memory related stress when they only cost 1$ anyway.
I also found tons of appliance manuals that took up too much room and were getting increasingly damaged as other things were shoved in with them. They went into my new filing system.
And box tops. OOOOHHH, the boxtops. Wow. My kids are going to be heroes tomorrow when they take all of them to school.
I thought that I had a specific drawer to put them in. Evidently, I didn't. There were box tops in all of the drawers.
I've sent groups of the box tops several times, but without ever thoroughly clearing out the drawer, and so I'd missed quite a few. I actually found four that were expired, two that expired in 08. Now, if you don't collect box tops you probably don't realize what that means. If you do, you know that the expiration dates on these things are typically 2-4 years out. Seriously. So if they were expired, they had been in there a very long time.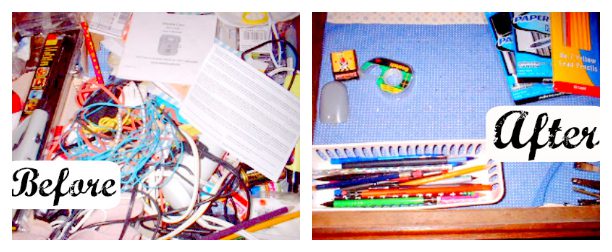 Even though my fingers are punctured and sore, I'm very glad that I did this. I'm considering consolidating at least two of the drawers, but for now, I'm just enjoying the empty space.
Check out my Decluttering page to see more of my decluttering projects and read what I've learned (from way too much experience) about
how to declutter
.
Save