We spent last week enjoying the world's most gorgeous weather.
Look at this picture: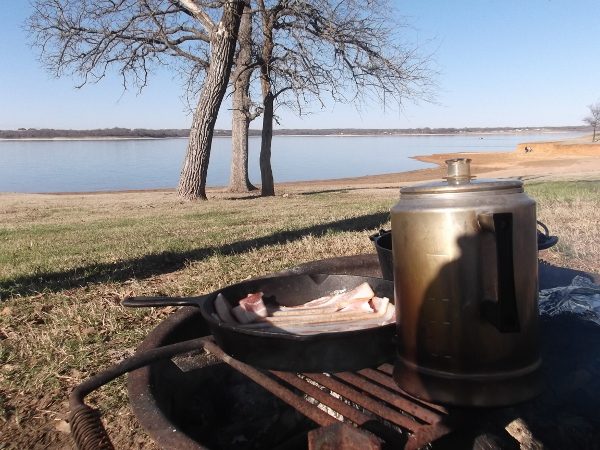 It's the stuff family memories are made of, right?
I wonder if I'll remember that we didn't eat breakfast until noon?
Because the fire kept going out. 
Even though our coffee never perked, it was a blast.
A mile away from that campfire-on-the-shore shot is my parents' place where we stay.
It's like a microcosm of my life.  My cleaning life.  Kind of a Slob Blogger research lab.
Let me explain.
On the day we arrive, it's always comfortable and welcoming.
And clean.
We remove dustcovers from couches and beds and immediately begin relaxing.
There's no dishwasher, but the fact that things are so perfectly comfortable is great motivation to use as many paper products as possible and wash everything else right away.
To keep it comfortable.
And this lasts a day or two.
Usually we only stay a day or two, but last week we stayed five days.  Five days is plenty long enough for the novelty of an always-perfectly-clean kitchen to wear off.
I know what it takes to keep a kitchen/house under control.  I've even written a book about it.
But oh . . . it's just soooo much harder to do when you're technically on vacation . . .
So on day three, I fell behind.  I want to blame it on the fact that we spent the first half of the day cooking breakfast a mile away and the second half driving to "town" for haircuts and shopping.  Those could be shaped into proper excuses, but it's likely I would have let things go no matter what was on the agenda.
On Day Four, I still didn't feel like cleaning the kitchen.  But I did.  Because Day Four was our next-to-the-last-day.  And the last day at the lake (whether it's day two or day twelve), is Cleaning Day.
For real.  There's no getting around it.  There's a numbered list on the wall and everything.
So Thursday, our next to last day there, I started peeling back layer one.
I knew that if I put off the dishes another day (even though we hadn't cooked at all on Thursday), I'd be de-disasterizing instead of cleaning.
And there's a big difference.
Pre-blog, I thought I cleaned, but I really only ever de-disasterized.
Going from Perfectly Clean to Lived In and back to Perfectly Clean within five days helped me think through how the layers of a clean house work.
Layer one is daily stuff. 
It's the stuff that isn't a project. It isn't a stop-everything-while-we-tackle-this task.
It's a habit.  Just a habit.
It's the most important layer.  If I keep up with this layer, it doesn't even feel like a layer.
Layer two is decluttering.  I was going to say that layer two is cleaning.  But thanks to the Lab environment of the lakehouse, I realized my mistake.  On the last day when I'm worrying about sheets being changed and floors being swept and details being noticed . . . we remove all of our stuff before we clean.
Our stuff doesn't belong in there.  It doesn't have a permanent home in that space, so leaving our stuff in there makes it difficult/impossible to really clean.
Real Life Translation:  If something doesn't have a home, it's clutter and needs to be removed so cleaning can happen.
Layer three is cleaning.
It's the weekly (or kinda-weekly) things like vacuuming and mopping and stuff.
It's so much easier to peel back one layer at a time than three layers at once. 
My newest book, Decluttering at the Speed of Life is now available wherever books are sold!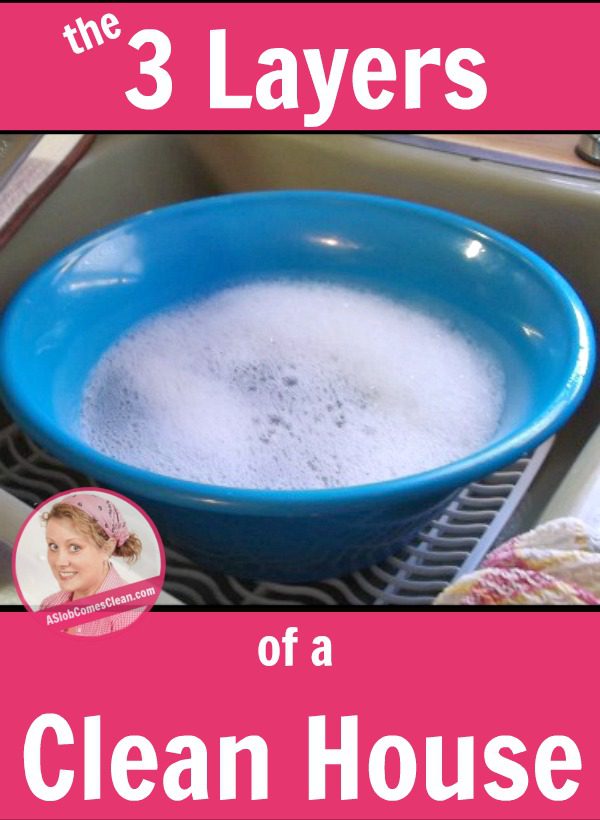 Does even the thought of decluttering overwhelm you? Sign up for my newsletter and get my reality-tested decluttering solutions delivered to your inbox for free.
Save