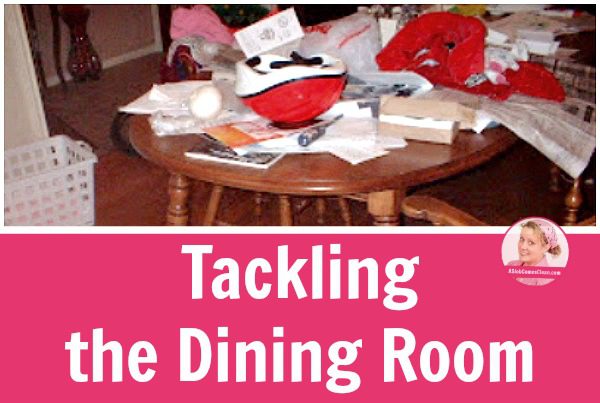 Welcome to my Tackle it Tuesday post for this week. Any guesses what I tackled?
I had no intention of that picture being the first thing you see. I had planned to explain myself, rationalize, etc before the pic, but I'm still figuring out this Blogger stuff, and now I don't know how to move it.
There you go. I am a slob. I know that it is in my blog title and I've been attempting to be totally honest, but there is always that part of me that hopes people won't think I'm really as bad as I say. I am. Probably worse. Not sugar-coating things is really hard.
The above picture is my dining room. It is the very first room you see when you walk into my home. And there is no hiding it. There is no door to shut it off. You have to walk through it to get to my finally-clean kitchen, so by then you're surely already thinking bad thoughts about me and you probably don't even notice how sparkly the kitchen is.
When it's clean, I love this room. It makes me happy to walk by it. The problem is that it is the first open space with a flat surface that I pass after getting the mail. And after getting the paper. So, things just pile there. (Again, I blame the inanimate objects.) It isn't a room that is "used" daily either, so I can pretend it doesn't exist, until the doorbell rings and my heart jumps and then I kick myself for letting it get this bad.
Here is my problem. When I set about to clean my house, (as is totally necessary this week since we are having the inlaws over on Saturday), I have to first unearth my house in order to start cleaning. It took me less than an hour to declutter this room. But, if I hadn't let it get to this point, I could have spent that hour doing some deep cleaning. I could shine my beautiful floors that remain neglected. I could fix that picture that keeps sliding down in its frame.
I'm glad to have a deadline this week. Next week is when things will get really crazy. I have three major happenings next week, and for two of them I have big responsibilities. These are the times when I typically let everything go. My house slips back into chaos.
There is a difference this time. Typically when I know that a week like that is coming, I start to feel nervous and like any control I've had over my house is slipping out of my fingers. I feel as if I'm on top of a very unstable hill, waiting to fall at any moment.
This time, though, my kitchen is under control. For more than two weeks, my kitchen has been clean before 7 a.m. Even though my days will be crazy, pre-7 a.m. should be about the same.
I can do this.
Here are the after pictures. Again, I debated about moving that paper off the table for the picture. But it is a paper that has to be filled out and turned in tomorrow night at church. I also really debated about moving the bikes. The reality is that we use them. If we don't store them in there, we have to drag them through the entire house each time the boys want to ride bikes. I'm okay with that.
And the VERY BEST part of all of this was that someone dropped by soon after I finished, and I opened the door and ushered her right in. No heart palpitations!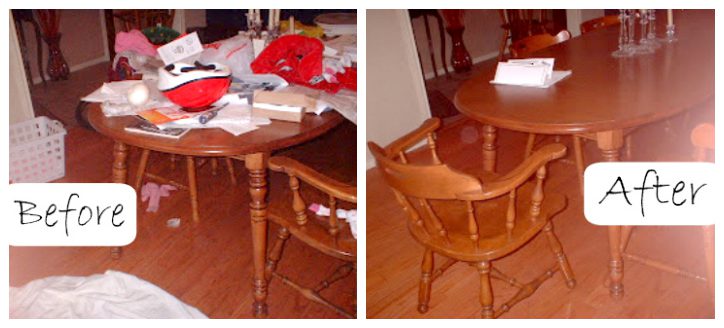 Check out my Decluttering page to see more of my decluttering projects and read what I've learned (from way too much experience) about how to declutter.