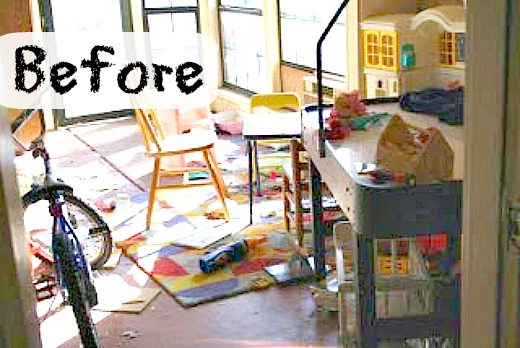 That's our playroom.
It's a room I ignore, often accidentally . . . but mostly on purpose.
Besides the fact that I'm sure every playroom in existence tends to get out of control, mine is actually a closed-in porch.  It isn't under heat or air, and we leave the window open quite a bit so our dog can get in out of the wind/rain/cold/whatever.  So, leaves get in, and dog hair gets in, and every random outside or inside toy gets in.
The main problem with me ignoring this room is its door:
Mmmm-hmmmm.  That's a glass door.
And here's a panned-out view of that glass door:
Yup.  That's my living room.
Meaning, anyone who enters our picked-up-for-company living room can also see our huh-no-I-never-realized-that-room-was-there-either playroom.  In the winter, it isn't so bad because our Sunday night home groups start at 6 and it's dark enough that you can't see out there.  But as it stays lighter longer, my secret tends to get out.
You know how it seems like a great idea to prioritize rooms according to the ones you would really like to clean first?  Well, for me that list always gets thrown out because I have to prioritize according to urgency.  The fact is that spring is pretty much here, and this room is no longer freezing, and it's being used and being seen.
NOT that I'm complaining.  It just requires some adjustment in my thinking.
Here's the deal.  When we bought the house, I envisioned this room being what I would have made it as a kid.  A little space all to myself, KIDS ONLY.  But the first two kids I have are boys, and little spaces aren't really their thing.  They're large-muscle kids.  They've never been ones for matchbox cars or action figures, and would prefer to have a basketball or a football or any other kind of ball you can think of.  I love this about them.  But, the playroom didn't get used the way I envisioned.
So, I gave up.
Lately, though, my 4yo, who is a girl, has started using the playroom the way I envisioned.  She's constantly hosting parties and baking birthday cakes and such.  It's her house.  She's even decorated with her prized framed grandparent pictures.
I LOVE it.  But I also have been feeling terrible about how messy (and dirty and gross) her "house" is.
Today I decided to tackle it, no matter how long it took.  I donned my dust-mask and stepped inside and stood there . . . for about five minutes.
I just stared.
I was completely overwhelmed and I couldn't figure out where to start.  So, I went back to the steps I use to clean a VERY messy house, and grabbed a black trash bag.  I started trashing things, and moving items into the back of the Suburban to be hauled away and donated.
Peeling back that layer, the dirt was more obvious.  Literal dirt.
Rather than wait until the decluttering was done, I decided to sweep as I went.  It helped me a lot mentally to at least be able to glance at a small amount of clean floor.
Some of this dirt had blown in, but some most of it probably had something to do with the fact that my daughter uses dirt as the primary ingredient in most of her dishes.
We decided that dirt should only be cooked over a campfire from now on.
I kept working and purging and sweeping.  I even took down the curtains to wash.
After an hour, it looked like this:
Which isn't much better than the before picture.  I started trying to do things that would make a bigger visual difference, mostly for my own sanity.
After ten more minutes, it looked like this:
Now I felt like I was starting to get somewhere.  At that point, I swept thoroughly, and then brought in the vacuum cleaner.  There was just so much dirt and so many leaves that I didn't feel like I could vacuum it first.  The sweeping took out the first, big layer, but the vacuuming made it actually clean.  It sucked up every last little bit.
I'm not getting paid by them or anything, but I have to mention how much I love my ten-year-old Oreck.  It does such a fabulous job on hard floors (which I have plenty of) and I love that it's so easy to switch from carpet to tile or whatever just by pushing a button at the top.  The vacuum cleaners I had before required me to bend over.  What is it about bending over that makes a perfect excuse for avoiding cleaning?  We paid more for it than we had thought we would pay for a vacuum, but I've never regretted it.
At this point, I dusted.  I used a three-layer approach, because there were at least three layers of dust/dirt.  First, I either shook out or swept off, depending on the item, to get first layer off.  Then I dusted it properly.  Then, if needed, I scrubbed it with soap and water.
Here's the thing.  I looked at how dirty things in this room were, and I immediately thought I needed to "scrub it from top to bottom."  But in reality, there was so much dirt that if I had introduced any water into the mix in the beginning, we would have had a mud bath.  Make sense?
I hauled the kitchen and the high chair outside, dumped all of the dirt out, and gave my daughter a scrubby-sponge to start cleaning it.  She loved this job.
Inside, I finished up the decluttering.  She had already designated a spot for her "special stuff," so I let her put things there that she wanted to keep.
It's not neat and tidy, but I'm happy that it can do this:
Yay for doors that close!
After two and a half hours the playroom looked like this:
And while she's cooking, she can take care of her babies:
A big part of this organization process was my acceptance of what this room is now.  It's her play-home.  And even though that's exactly what I always wanted it to be, it still took some time for me to recover from the years when I gave up on this idea.  This stage won't last forever, and I don't want to feel guilty for letting it pass by in a jumble of messiness.  Now, there's a spot for each and every thing that is supposed to go in this room.  Which means . . . it can be surface cleaned!
I'm going to link this post to Orgjunkie.com's 52 Weeks of Organizing, but I'm also going to link to Finer Things Friday.
Why Finer Things Friday?
Sometimes, I avoid these huge (even though it really only took 2.5 hours) projects because I think it will mean neglecting my children for the day.  But on this beautiful day, my daughter was giddy to have me working in her playroom, right next to the backyard where she played the entire time.  She LOVED scrubbing down her kitchen.  She said more than once that today was "just the best day ever!"
I consider that . . . a finer thing.
_________________________________________________________________________
Save