If you have been following along in this series of Non-Overwhelming Decluttering Tasks, you may be disappointed with today's Grand Finale. It's not very dramatic or exciting.
Today's Decluttering Task: Repeat as Needed.
There are two ways to look at that simple (but potentially annoying) phrase, and in an effort to prevent you from feeling overwhelmed, I'm going to talk about both of those perspectives.
On an overall, how-life-should-look-if-your-house-wasn't-a-constant-disaster level, "Repeat as Needed" looks like this:
Throw trash away (or, of course, recycle when recycling is accessible to you) constantly. Every day, or every hour or every week.
Deal with Procrasticlutter daily. Before it turns into clutter. As you do, you'll figure out routines that work in your home and those routines will prevent procrasticlutter piles from forming. If you want to not have to figure these things out on your own, For detailed guides, check out my books: How to Manage Your Home Without Losing Your Mind and Decluttering at the Speed of Life. If laundry is your biggest procrasticlutter problem, read here about how I (through MUCH trial and MANY errors) figured out how to get mine under control so it's almost never a problem any more for me. Almost.
Start viewing your house as a container and each drawer, each shelf, each room as containers. This will change everything.
Keep decluttering, accepting that having less is decluttering success and it's worth your time to declutter even when you can't do it perfectly.
But here's how Repeat as Needed looks as today's task:
Go back through the previous four days' tasks today. In order.
Grab a trash bag and walk through your house, in order of visibility. I know. You just did this four days ago. But if you're anything like me, there's more trash now. The good news is that there's significantly less trash now than there was on Day One. You might even be done (and see a huge, inspiring difference) in five minutes.
Deal with Procrasticlutter. Your procrasticlutter piles are way smaller than the ones you dealt with three days ago, right? Spend a few minutes dealing with them today before you move on.
Make things fit. You just did this two days ago, so maybe/hopefully it will just be a matter of doing a visual check of the house and catching a space or two that need an adjustment.
Keep decluttering. If you totally finished decluttering your way through your house yesterday, go you. (Though you may not really need to be hanging out at a website called A Slob Comes Clean.) Most of you, though, need to keep going. So keep going. Just go through the first three steps every day before you start so you'll be making progress. Real progress. Visible progress.
Decluttering is a never-ending process for everyone. For people like me, as a master re-clutterer, it's a never-ending struggle.
But the struggle is worth it. Really.
Here's the thing. You may be stuck on Day One or Day Two. You may be overwhelmed with the thought of even starting these non-overwhelming tasks. "Day One" might take you an entire month to complete. And that's OK. Anything is better than nothing.
Go here for my advice on how to get started if you're completely new to this idea of a deslobification process.  Sign up for daily emails to keep up with my own struggles and successes and failures and lightbulb moments.
You're definitely not alone. Just keep going.
Sign up to get new blog posts delivered straight to your inbox here:
Need more inspiration?
See my decluttering tips, tricks and stories (with totally real before and after pics) here.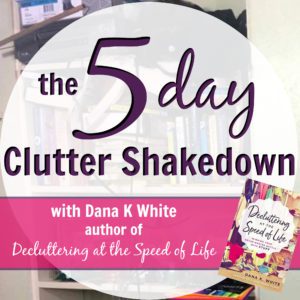 Save
Save
--Nony