Today is Day Four of the Non-Overwhelming Decluttering Tasks I've been sharing this week. Today, we're getting to the actual clutter. The stuff Normal People deal with on Day One. The stuff I think I'm going to tackle when I get that decluttering itch until I shake my head and realize I need to start with the trash (day one), then tackle the procrasticlutter (day two), and deal with my out-in-the-open-so-why-do-I-not-see-them-until-the-doorbell-rings overstuffed drawers and shelves and such.
Now, it's time to use the list I created yesterday. The list of oh-my-word-I-could-spend-all-day-working-on-this-blankety-blank-space projects that I need to tackle. I made the list to keep myself from diving into one spot and neglecting the other visible areas of my house.
If I've really (actually, and legitimately) followed Days One through Three, my house looks pretty good. Now that it looks good and we're functioning better in it, I can deal with the deep down clutter. In drawers and behind doors.
Step One:
Prioritize yesterday's list.
Prioritize by what will improve your family's daily life the most. #1 should be the drawer that caused the bruises on your hip. Some of those bruises are fresh, some are yellowing around the edges and some are faint-and-almost-gone. You run into that opened drawer every single day.
Yesterday, you removed just enough clutter to close the drawer. That was progress. But add one day's worth of randomness and it'll be unshuttable again. Today, declutter it deeply, and your hip will be bruiseless for the next month or so. THAT is decluttering that will improve your family's life.
(What? You thought you were landing on a site where an expert tells you how to live a perfect, clutter-free life? Sorry. You didn't.)
Prioritize the list, putting the most consistently irritating spaces first and the spaces you noticed for the first time yesterday last.
Step Two: Start decluttering.
How to declutter?
This section will be mostly links, because I've blathered on and on about every aspect of decluttering (both physical and emotional) for the past six years.
A trash bag
A donatable Donate Box
Your feet
If you're confused (you should be if you're new here), read this post about how I sort. My method is NOT what most experts recommend, but it's the one that works for me. (And for a LOT of you.)
Head to the #1 spot on your list, and start decluttering.
Do the easy stuff first. (Remove and put away things that have an established home somewhere else in your house. The things that don't require a decision to be made.)
Use my two (and ONLY two) decluttering questions to work your way through the rest of the stuff in the space, leaving only the things that need to be there.
Feel like I've oversimplified? Click on the links to read explanations and see real-life examples.
Work your way through the list. I'm not pretending you'll finish today. You might only get through half of the first space, and that's fine. As long as you have less clutter at the end of the day, you'll have won.
Here are some posts that will answer your most angst-inducing decluttering questions:
How to Declutter Without Making a Bigger Mess
How to Not Get Distracted from a Decluttering Project (by other decluttering projects)
Painful Drawer Clean-Out (This is the post where I developed my two decluttering questions. Those questions will be your best friend today.)
Decluttering My Kitchen Cabinet, Step by Step, Without Making a Bigger Mess
I have a ba-jillion (more than 75!) podcasts you can listen to for some company while you declutter. They're kid-appropriate so you don't have to worry about your kids being in the room. (Except for the Christmas ones, but I warn you, and it's not because of a potty-mouth, just some things I discuss that moms don't want their kids to hear.)
Less.
See my decluttering strategies (and my own projects with scary before pictures) here.
And if you want a printable version of my two decluttering questions (like in the picture above) to keep you on track, sign up for my email list!
Sign up to get new blog posts delivered straight to your inbox here:
Need more inspiration?
See my decluttering tips, tricks and stories (with totally real before and after pics) here.
If you're desperate to declutter, you need to order my new book, Decluttering at the Speed of Life.
You might want to check out my video course, The 5 Day Clutter Shakedown.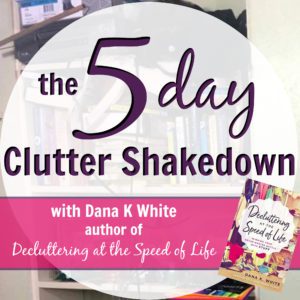 Save
Save
--Nony