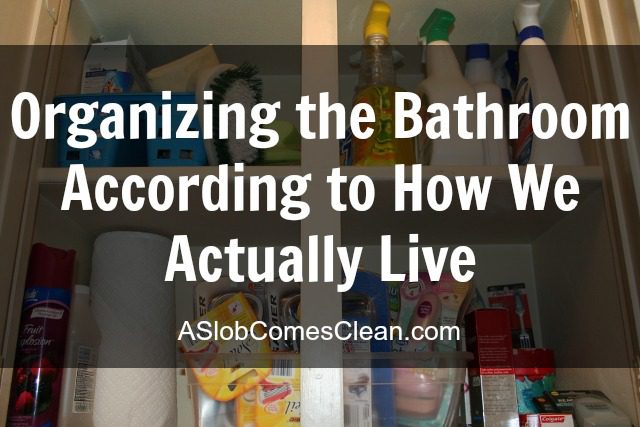 As I keep going in my deslobification process, I'm more and more determined to organize our home for the way we actually live.
Not for how people in magazines live, but how we live.
Not even for the way I wish we lived . . . but for how we actually do live.
Today, I worked on the cabinets in my master bathroom.
Hubby and I have separate sinks on opposite sides of the bathroom door, and there's also a cabinet above the toilet.  To begin, I opened up all of the cabinet doors.
And looked.
In a reverse version of my two decluttering questions, I asked myself: Is this what I expected to see in here?
Generally, the answer was yes.  This is the cabinet I open when I'm looking for cleaning products.  I knew that I had a "few" razors left from my mad-couponing days.  I also knew that this is the place where I look for toothpaste and toothbrushes, even though I (thought I) didn't currently have a stash of extras.
Once I decided what should be in this cabinet, I started re-arranging it and putting like things together. Then, I went through the other opened cabinets and gathered odds-and-ends that belonged in these categories.
I had more than just a few razors (that plastic shoebox is FULL), some much needed deodorant, and enough cleaning products to fill the entire top shelf:
And toothpaste!!!  It turned out that in one of my 0h-so-logical moments, I thought that it made sense to put an extra tube of toothpaste directly under each of our sinks.  It doesn't matter how logical a place is if you never actually look in that place.
Mmmm-hmmm.
I did do some minimal (for me) decluttering, but mostly it was just grouping and straightening items.
What did I learn?
When you are overwhelmed with TOO MUCH STUFF, it's okay to simply declutter.  This is what I had done in past projects, and it helped.  Tons.
Enjoy that decluttered space, and then revisit it after some time has passed.
After you've lived in it.
Finding a cutesy system for storing things in a place where you'll never look for them is pointless.
I found cleaning products in the (totally logical) cabinet closest to the shower.  I had no idea they were there. When I look for cleaners, I automatically open the highest cabinet in the bathroom.  My mother-of-small-children instinct says that's where they'll be.
Storing freebie conditioner bottles under my own sink seems logical because I'm the one who uses conditioner.  Except that when my big bottle runs dry, and I need those samples, I only look in hubby's cabinet that's right next to the shower.  Y'know, because . . . I'm dripping.
Real-life organizing is all about doing what works.  In real life.
And in case you're thinking about making some changes in your own bathroom this year, I've got lots of inspiration for you! I've teamed up with four other bloggers today, and we're all talking about bathrooms! Go check them out for some great ideas!
Andrea from Simple Organized Living is giving instructions on how to clean your shower (and keep it clean) in only 10 minutes a month!
Christine from I Dream of Clean is revealing her method for speed cleaning a bathroom.
Lauren from Mama's Laundry Talk is sharing advice on how often to wash your bathmats and towels.
Jami from An Oregon Cottage is sharing her lovely decorating expertise with an ultra-cool project. She's making a new shower curtain by stenciling on drop cloth!
If you're motivated to declutter, clean or decorate your own bathroom this week, be sure to come back Friday and join in our group linky! If you have a blog, you can share your bathroom project and your link will show up on four of these five blogs!
My newest book, Decluttering at the Speed of Life is now available wherever books are sold!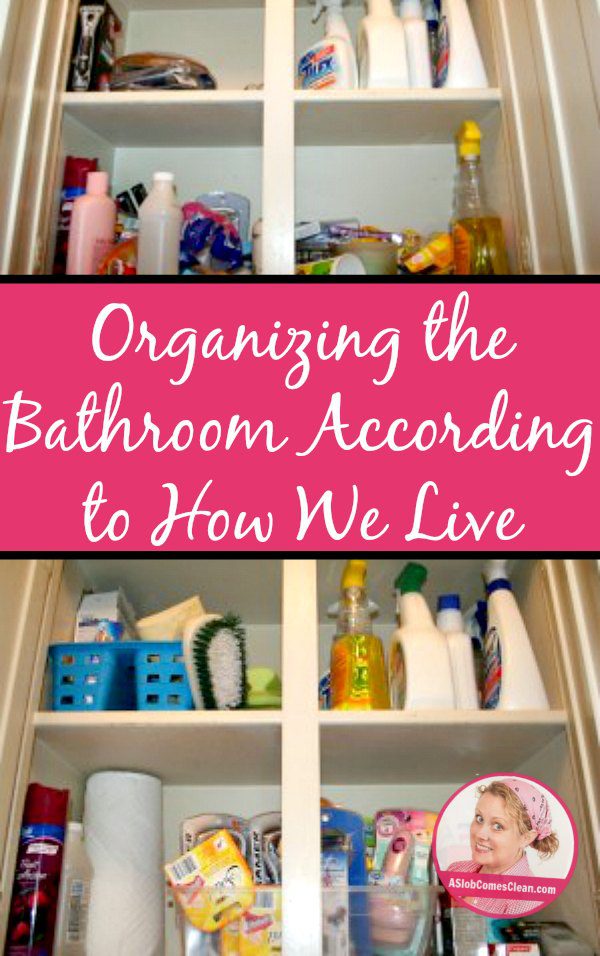 Save
--Nony