Email subscribers, you may get two emails from me for two days only while I switch email subscription services. Also, if you've subscribed but never confirmed, go here to subscribe with the new (much better) service. Confirming with the old one won't work anymore!
Ouch. This one is painful. Personally, closets are where my own decluttering efforts will focus during this Decluttering Party we have going on here.
I'm proud of how I've decluttered my kids' clothing in the past four years. I still have a long way to go with my own clothes.
But I have made progress. In this post, I'll share strategies I've learned for cleaning out the closet and links to my own clothing decluttering projects.
As always, I'm also pointing you to this post where I link to most of my decluttering strategies. I use those strategies in all my decluttering efforts.
Accept that Clothing Can Be Clutter
This one was hard for me.
Clothing is useful. You have to wear it EVERY single day (really), and it gets dirty/stinky so you have to have multiples of it.  As someone who used to struggle with keeping laundry under control, having extra clothing was a source of comfort to me. The more clothes I had, the less I worried about hitting a day when there was nothing clean to wear.
Except that, ironically, we frequently did hit those oh-my-word-are-we-out-of-undies-again days. And I now know that one of the main reasons those days happened was that we had too many clothes.
Just like I explained in the post about decluttering your kitchen, it's a big ol' vicious cycle. More clothes mean I can wait longer before I have to wash them. Waiting longer to wash them means I have more to wash. Having more to wash means I'm more overwhelmed. Being overwhelmed makes me think I need more clothes. Buying more clothes means I can wait even longer.
And so on and so forth.
I finally accepted that ANYthing I had too much of, ANYthing that made me feel overwhelmed . . . was clutter. Therefore, clothing was clutter for me.
Do the Easy Stuff First
I know. I say this all the time. But really, all of my basic decluttering strategies apply to all decluttering situations. I'm just breaking it down by project-type this week.
Specifically, "the easy stuff" in my closet is the stuff I have been meaning to get rid of, but haven't.
Things with holes. Things with stains. Things I NEVER wear because they don't fit right or itch or are a color I don't like.
Let's not discuss (today) why those things are still in there. Once the "duh" things are gone, the racks (or piles) are much less overwhelming.
It's so simple and obvious that you might be tempted to skip it, but don't. Making visible progress right away makes a huge difference in how a decluttering project will go.
Treat Your Drawers as Containers
Just in case you are from Texas, I'm talking about dresser drawers. Not drawers like you wear over your hiney. (Drawers can be Texan for undies.)
Anyway . . . containers are meant to contain things. To limit them. (Really. If this boggles your mind, don't worry. It used to boggle mine too.)
Drawers are containers. I used to get tempted to run out and load up on storage containers when I felt the urge to get organized. This never ended well.
There is a time and place (and function) for storage tubs, but first . . . use your drawers as containers. Containers provide natural limits and boundaries. Begin by removing everything in one drawer (not a method I recommend for non-clothing drawers).
Refill that drawer with your favorite items first. ONLY put the things you love love love in there. The workout pants that you choose first every single time they're clean. The t-shirt that's oh-so-soft and is the perfect length to hide what needs to be hidden.
If you run out of FAVorite things but the drawer still has room, leave the not-favorite-things in a pile and move on to the next drawer to repeat the process. Again, only put back the items that make the I-LOVE-THIS cut.
If you get through all the drawers and there's still room, choose things out of the pile that you want to keep. Put them in a drawer. If the drawers are full and you run across something you really want to keep, that's fine. Just choose another something (already in a drawer) that you're willing to get rid of to make room.
Whahhh???
Right.
The drawer is the limit. Once it's full, something has to come out in order for another thing to fit in.
If I've hurt your feelings, I'm sorry. Go here to see that I truly do understand your pain.
A Word About Laundry
In the post about decluttering a kitchen, I recommend washing the dishes first. Seeing every dish clean at one time can be a real slap in the face for a plate-lover.
But oh my word . . . the thought of catching up on laundry before even starting to purge clothing can make a girl like me give up before she starts!
So don't. Go ahead and declutter the easy stuff. Use your drawers (and closets) as containers before you start hyperventilating over the piles of dirty (or clean) laundry you need to conquer.
Here's the thing. Those things sitting clean in your drawers and hanging in your closet? They're the things that aren't dirty. This means a lot of them probably aren't your favorites because they haven't been worn.  Getting them out of the picture will help you gain decluttering momentum.
And as you do laundry, practice that irritating totally logical one-in-one-out rule.
Does thinking about laundry give you heart palpitations?? You can read about my own Laundry Metamorphosis here. I've chronicled it all on this Slob Blog and can say that four-and-a-half years into my deslobification process, I DO have laundry under control.
Now for links to my past clothing-decluttering projects, mindset changes and other random clothing-focused posts:
One Week's Worth of Clothing – My Drastic Summer Experiment (This crazy whim helped me change my mindset about my kids clothes more than anything I've ever done.)
Week One Report on My Drastic Clothing Experiment
Random clothing-focused posts
A Looser Moral Code Might Really Help
Three Tips to Prevent Overbuying at Thrift Stores
Clue #1 in the Master Bedroom Mystery – Good Intentions, Bad Results
Give it to Nony . . . She'll Take Anything
It's Okay to Keep One, Right? (How I handle keepsake baby clothes.)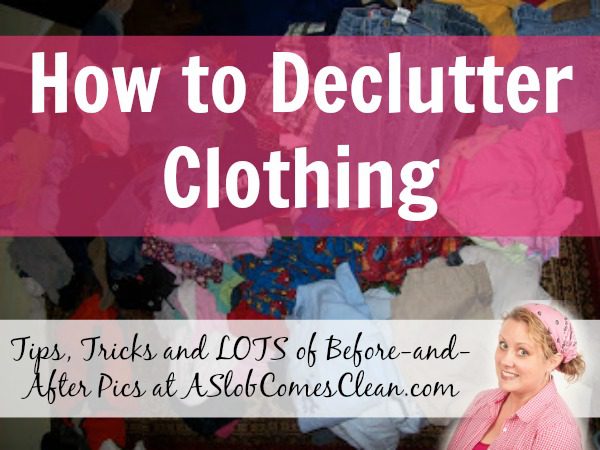 Clothing Decluttering Projects
Sometimes a Good Purge is Just What You Need (When my best friend helped me clean out the closet.)
Organizing Products and Why They Scare Me – Changing a clothing storage solution that had NEVER worked.
Purging Kids' Clothes . . . Again (Unexpected benefits of a "quick" purge)
Ten Things . . . Just Ten Things?
Where Fine Washables Go to Die
Two Newly Empty Storage Containers (Going from three to one clothing storage container!)
 New here? Well Howdy-doo?! (That's Texan for "How do you do?") Be sure to check out my decluttering page, my free printable checklists, my e-books (on sale this week!), my podcasts my explanation of why I don't worry about being normal, and more about what you'll find here at A Slob Comes Clean!
What are you decluttering this week?
My newest book, Decluttering at the Speed of Life is now available wherever books are sold!
Does even the thought of decluttering overwhelm you? Sign up for my newsletter and get my reality-tested decluttering solutions delivered to your inbox for free.
Save
Save
Save
Save
--Nony