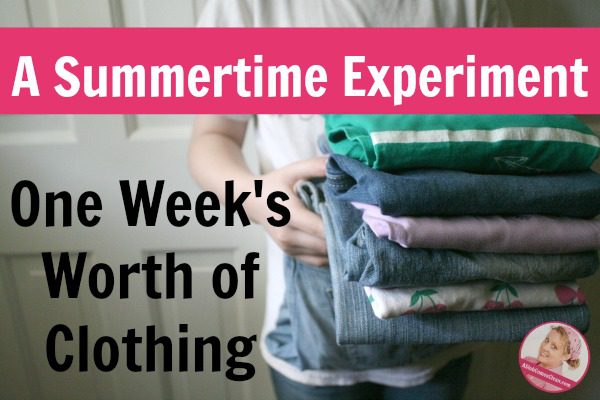 I'm heading quickly into summer-mode, but in a last-ditch effort to make some improvements and keep our home manageable, I'm conducting an Experiment of Drastic Measures.
I'm boxing up all but one week's worth of clothing.
I've been thinking lately that I needed to box up all of our school uniforms for the summer. Why? Because I have two little boys who could not care any less what they wear. They would put on a dress shirt and football pants and walk right out the door without a second thought.
In an effort to keep the uniforms in good condition, I thought it would be best for them to be stored away, where they can't be grabbed thoughtlessly and worn on a day when mud-fights and floor-sliding might be the activities of choice.
As I planned to do this, a new idea began to take shape. What if . . . I boxed up everything but one week's worth of clothing? Since I now have a successful Laundry Day thing going, I think it can be done. I've purged clothing multiple times throughout my deslobification process, but we still have way too much.
I decided that for the boys, I would put away everything but 8 shorts-and-t-shirts outfits. There are 7 days in the week, but since they're kids, and anything can happen, I thought there should be one spare, hopefully to prevent needing an additional laundry session. I also kept out 4 church outfits.
For my daughter, I approached things a little differently. She does care about what she wears, and I can respect that. A girl has to have a few choices, right? For her I put away everything but 7 shorts-and-t-shirts outfits, 3 cutesy casual outfits, and 4 sundresses. She'll have options according to her mood, but not the mass of clothing that she normally has to sift through in the drawers. And of course, she has 5 or so church dresses.
I filled one and a half totes with the extra clothes. I think it was easier because I wasn't actually getting rid of things, just storing them. I have the safety-net of knowing that I can always go dig in the totes if this experiment is a total failure.
I also made a "Cousin's Camp" pile of clothing. The kids spend a week at the lake in the summer and so anything that looked like "lake clothes" is already in a bag. I didn't actually pack yet, since it's several weeks away, but I'll have those clothes in one place. Also, since our family vacation will begin immediately after Cousin's Camp, I don't want to have to do laundry between the two. This way, their camp wardrobe and their normal wardrobe are two separate things. Make sense?
I was amazed at how little time this took to do. I pulled everything out of their drawers, and made piles of shorts, shirts, etc. I then matched up outfits and chose my favorite 8. I did decide to get rid of quite a few things because I didn't like them enough to store them.
Since it's Thursday, and I did laundry on Monday, there are a few things that I know we'll want to keep that weren't in their drawers. I'm planning to use my newly-grasped one-for-one-trade concept and remove one thing for each item we decide to keep.
Like I said, I'm viewing this as an experiment. Although I've come a long way since starting my blog, I'm not ready to completely get rid of most of our clothes. This is my attempt to apply the concept of imposing limitations/defining boundaries to our clothing. I think it will work, but I honestly don't know for sure.
I'll keep you posted.
And yes, the glaring omission in this post is my own clothing. I'm trying to wrap my mind around it, but every time I look in my closet, I get completely overwhelmed. I wanted to get it done pre-summer for the kids so that when they help with laundry, they'll be able to easily put their own clothes away. I was amazed at how little drawer space was needed when I eliminated all but a week's worth of clothing. The boys' clothes fit easily in two drawers, no shoving needed.
My goal is to test my "must have more than we need" mindset. I know that collecting excesses of stuff, including clothing, hasn't worked . . . as it got our home to where it was pre-blog. Taking drastic measures might just work, or at the very least, it will help me discover a happy medium.
Save