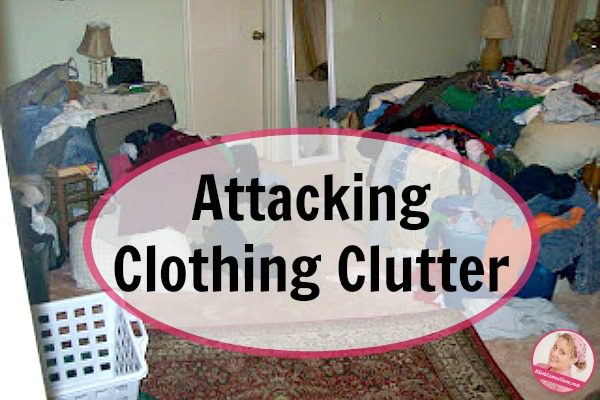 It's time.
Time to reclaim the master bedroom.
The biggest challenge? Clothing clutter.
Last week, it looked like this:
OK, let me explain part of my slob-problem here. You look at this picture and see chaos. I look at this picture and see a logical explanation.
Where we live, summers are hot.
When we packed to go to Colorado in July, fall/winter clothes had to be pulled out of storage.
It only made sense to leave them out until I was done packing.
It only made sense to leave them out until we got back from vacation.
It only made sense to leave them out until all the clothes were washed from the vacation.
It only made sense, once everything was washed, to leave them out until it was time to go through them to see which school uniform pieces still fit the boys.
But then, once all of the reasons that only made sense were over, so much time had passed that the mess had become part of my "normal" bedroom landscape, causing my Selective Vision to kick in, and rendering the mess invisible to me.
Ahhh, slob-logic's fatal flaw.
Anyway, after stubbing my toes for weeks on end . . . I finally saw the mess and decided to conquer this problem.
It wasn't just an overabundance-of-clothing-problem, it was a clutter problem. I have finally accepted that clothing can be clutter. Even cute clothing. Even perfectly good clothing. Anything that I have so much of that it overwhelms me . . . is clutter.
And yet somehow, I keep collecting more. Because there is so much, I can't possibly know or remember what all is there. And when I don't remember what is there, I keep collecting more out of a fear that I don't have enough.
Somehow, that makes sense to me.
Anyway, at the beginning of the summer, I conducted an experiment. I packed away all but 8 outfits for each of my children. My goal was to see if we could survive, but I also wanted to change my own mindset.
To a great degree, the experiment worked. My kids learned that they can't haphazardly change outfits three times a day, and that if you mindlessly put clean clothes in the laundry hamper (something I'm sure normal people's children never do), you aren't going to have anything to wear by the end of the week. I loved that limiting the amount of clothes naturally limited the amount of laundry there was to do on Laundry Day. And knowing that every piece of clothing was "needed" was great motivation for getting it all clean.
In a continuation of the experiment, and as a test of my new mindset, I decided to try to purge unneeded winter clothes before packing them all away. I knew that we had too many, but I'm not good at keeping a realistic list in my head of what we truly do have.
I pulled EVERY SINGLE ITEM out of the storage containers, and stacked them by category. I tried to divide them into as many categories as possible. For each child, I made piles of casual pants, dressy pants, casual shirts, dressy shirts, pajamas, jackets, etc. Then, I counted each pile and wrote down the numbers of items.
Now, before you start to think that I did this because I'm organized, remember that I'm a slob. I'm just compensating for how my slob-brain works. An organized person would be able to have a rough but realistic figure in her head, and know that she doesn't need to buy 5 more long sleeve t-shirts . . . . because she already has 12 in that size at home.
Me? I'd buy the five, and keep looking for seven more.
I have to spell it out, see the numbers on paper. Y'know, so I can see that . . . hypothetically . . . my 4yo daughter has four winter coats.
OK OK! So it's not hypothetical! She really does own four winter coats . . . and we have maybe 12 winter-coat-worthy-days per year where we live!
With most other things, I found that we weren't quite as off track. My 8 year old did have 9 pairs of casual pants, even though he wears a uniform to school and so only has Spirit-Day-Fridays and then the weekends to even wear them. I don't want to get rid of all-but-three since I'd like to have a few to pass down to his brother, but knowing how many we had gave me the freedom to get rid of the ones that fit strangely or are looking worn.
My perception of the volume of my clutter is rarely realistic. Either I don't realize how much I have, and I end up adding to it, or I don't have as much as I think I do, and end up not having what we need because I've been paralyzed by the fear of adding any more to it.
I just can't win.
Laying it all out in stacks, getting out a pencil and paper, being methodical rather than emotional . . . gives me freedom. Freedom to let go of things because I don't have to fear that we won't have enough. It also gives me freedom to know what we do need, and to buy it without guilt.
Make sense?
There's no guilt in getting rid of something, even something cute and totally usable and that children in Africa would be grateful to have . . . when you know, for a fact and on paper, that your family has what they need.
In the end, I was able to put the things I decided to keep back into two tubs and the large suitcase. Before I started, the suitcase, both tubs and a laundry basket were overflowing onto the floor.
So now, I have ONE tub and the suitcase to store.
And . . . I have peace of mind because I know . . . for a fact . . . that none of my children will have to run around naked for the winter.
If you relate to this post I wrote back in 2010 more than you wish you did, know that there's hope. I've come a long (very long) way since then. And now I have written books sharing the strategies I've developed that work for my Slob Brain. Go here to find out more about How to Manage Your Home Without Losing Your Mind. and Decluttering at the speed of Life (which just happens to have an entire chapter devoted to decluttering clothing.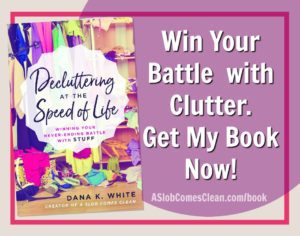 Some of my bloggy friends and I are all talking about different aspects of clothing management today. Go check them out!
Amy at Raising Arrows is talking about storing hand-me-downs, specifically for a large family.
Lauren at Mama's Laundry Talk is sharing tips on storing children's outgrown clothes to be used for future babies.
Angie at Many Little Blessings is sharing advice on cleaning out your own closet.
Save