I love a bargain. The thrill of getting a week's worth of clothes for less than I'd pay for one outfit makes me giddy.
Sometimes so giddy that I justify getting six weeks worth of clothes.
Which we totally don't need. It seems fun at the thrift store, but ends up being a curse when our dresser drawers won't close.
Since clutter (even clothing clutter) is my nemesis, I've come up with some strategies to keep myself from over-buying at thrift stores.
But first, a joke. It's from my cousin Michelle Miracle, a professional comedian. She didn't even remember it when I asked if I could use it, but she posted it on Facebook a while back. My kids still ask me to tell it over and over.
I've realized there's a Thrift Store Fairy who visits all the thrift stores across the country, sprinkling her special scent on all the clothes.

"Psssst. Hey Fairy, I think you pooped in your pants!"
Har-dee-har-har-har.
OK. Now on to the tips:
1. Know what you have before you go shopping.
Unfortunately, I don't mean glancing in my kid's closet.
Purge the dresser drawers of things that don't fit. This naturally helps me also see how much we already do have that does fit.
Sort laundry. No, I'm not going to get all crazy here and say DO laundry before you go.  (You might never make it to the store.) Just sort laundry. Like, every piece in the house.  Dig through the kids' rooms and find those stray clothes you forgot existed.  This will help you see how many clothes your kids actually have.
Personally, I don't grasp how much we have until I see it all in one place.  When there are a few outfits in the laundry basket and a few in the dresser and a few on the floor (and a few in the suitcase from last month's trip to Grandma's house . . . ) I tend to mess up my mental math and overbuy because I'm only remembering one of those places with a "few" outfits.
2. Be ruthless about checking for holes, tears and stains.
It's ever-so-frustrating to get home and THEN discover a big hole in your thrift store find.  Weed those out at the store so you won't end up having to decide what to do with them once you're home.
3.  Create outfits before you buy.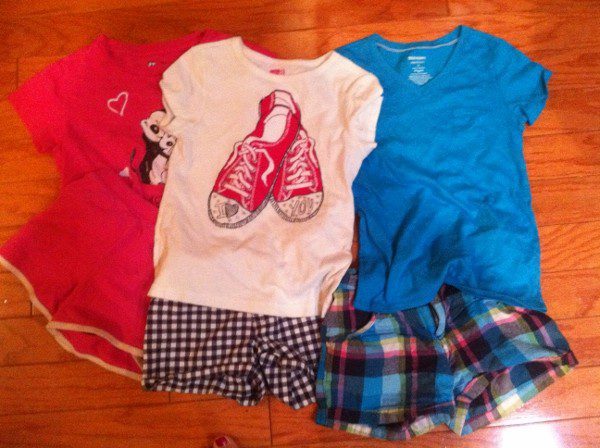 Generally, I grab whatever catches my eye in my kids' sizes and stick it in my cart. Once I've made it through all the Treasure Racks, I then go back through and decide if I really need it.
One of the best ways to talk myself into putting something back is to create outfits. I grew up as the daughter of a Queen Mix-and-Matcher, but honestly . . . I LOVE an already-matched outfit. And I can't count the times I've purchased a single, unique piece only to never use it because I never found anything to use it with.
I don't always follow this rule, but even just trying to create outfits helps me be more realistic about things we don't need.
How do you keep from over-buying at thrift stores?
 Here's Michelle's YouTube channel.  (Not everything is appropriate for children, but she sure makes me giggle.)
Save
Save