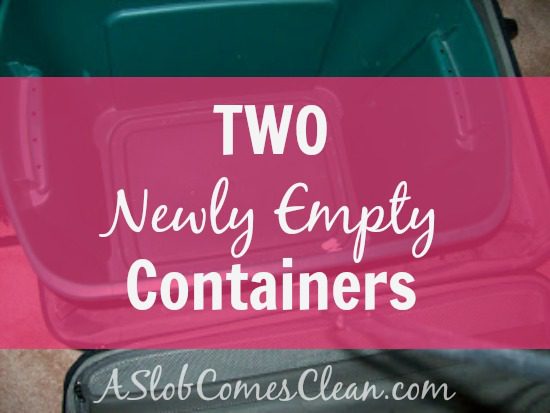 Today was the day for the much dreaded seasonal-clothing-changeover.
I had been putting it off, but was getting pretty tired of digging through the "stored" clothes on a daily basis. I'm sure that tomorrow the weather will be shorts-wearing-sunny, but since Thanksgiving is next week, it's probably not entirely crazy to call it fall.
I've been purging as I go during the last few Laundry Days, and having already purged huge amounts of clothing clutter a few months back, it wasn't as bad as it has been in years past. And since my 4yo has gone through a growth spurt and completely skipped a size, I'm not storing ANY of her warm-weather-things for next year.
So, with all of the purging that has been going on, as of right now (I say "right now" because I always end up finding stray un-stored clothes), I've gone from three storage containers for off-season clothes . . . to ONE!!!
Even taking into account that winter clothes are bulky and require more space than summer clothes, I'm pretty impressed!
______________________
Save