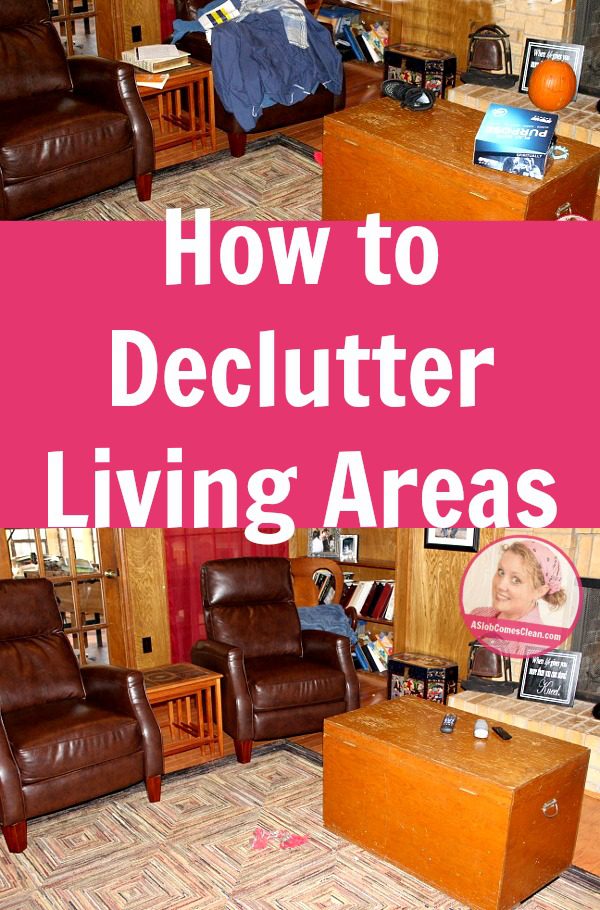 I debated with myself about this last How to Declutter _________ topic for the kickoff of the Big Decluttering Party. I've covered kids' bedrooms, kitchens, and clothing.
So what else is there? Well . . . we could talk about the garage or the attic, but those are often considered storage areas. And for storage areas, I just need all my basic decluttering strategies to get through large amounts of stuff in the shortest amount of time possible.
So I chose Living Areas. Not living room, but living areas.
I know. You should really consider every inch of a home "living area" . . . but I'm not there yet. To me, living areas are the spaces where I can logically corral, confine entertain my guests. They are the areas of my home that need to be easily pick-up-able.
If I can make these rooms easy to pick up (and therefore easy to dust and vacuum), then my house as a whole doesn't feel like it's completely out of control. If these rooms are livable, I can open my front door and let people come inside.
How do you make a room easy to pick up/clean?
Minimize the stuff.
I've been asked if I'm a Dirty Slob or a Clutter Slob. If I had to choose, I'd say a Clutter Slob. I'm a germaphobe who loves it when things are sparkling clean. It's clutter that escapes my Slob Vision and magically appears overnight(ish).
BUT . . . part of my total-honesty-with-myself deslobification journey has been accepting that clutter problems cause cleaning problems. You can't really clean when there's clutter everywhere. And I would put off cleaning because before I could clean I had to declutter. And decluttering is overwhelming.
Cleaning isn't that overwhelming when there's no clutter to deal with first.
Hmmm. Think on that for a minute.
My living areas (living room, gameroom, dining room) have come a LONG way in the past few years. Rather than rearrange or add storage, I've just purged them and purged them.
And purged them again.
And now, when it's time to pick up, it's just picking up. Not straightening, not stuffing in drawers, not shifting into another room just for right now.
Seriously. Minimize. Life is easier that way.
You can start with the Decluttering Tour (black trash bag method) and then keep eliminating from there.
Define the purpose of the room.
I learned this from y'all. From readers. One of my favorite rooms in our home has a long history on this blog. We have a "second living area" that was a storage room for the first several years we lived here. Honestly, I believe that room was what sent me over edge. It was my Rock Bottom. The frustration it caused me finally brought me to the point where I started this blog (over four years ago now!).
I made progress just decluttering. And just decluttering again. But when I tackled it as a once-and-for-all project as part of a series in 2012, your main encouragement to me was to stop calling it an Office/Gameroom/Whatever room. And you were SOOOO right. Defining the purpose of the room made a huge difference. I arranged it according to how we truly used it, called it a gameroom, and now that room is (for the most part) easy to clean. While there are still some clutter corners that need to be purged, it's a defined space that doesn't easily fall into chaos.
Containers and Limits
And then there are the other basic decluttering strategies that I've been babbling on about all week. Use existing containers to naturally set limits.
The bookshelves in the room determine the number of books that can be kept. However many DVDs your TV stand can hold is how many DVDs you can keep.
As always (based on my own way-too-extensive-decluttering-experience), I advise that you declutter first. Just declutter.
Personally, lasting progress happens when I first focus on ONLY getting the junk out. If I start out by trying to figure out the best way to organize, I end up buying new shelves and buckets and such that end up sucking more space out of an already-too-crowded room. When I just declutter, the room feels comparatively organized, and I often realize I don't need any additional organizing.
My Living Area Decluttering Projects
Tackling My Dining Room (That's the very first dining room project around here, and you can see from the before pictures how bad things used to be.)
The One True Storage Space in my Living Areas
Big Things Going on in the Gameroom
Removing the Desk from the Gameroom (which made it more gameroom, less office)
The Big Stuff is Done! (A Gameroom Update)
Big Thing In, Big Thing Out (The One for One Concept even works with big stuff)
Random Living Area Posts
My State of the Home Post (This post shows the time it took to clean up living areas.)
Posts with Checklists
How to Clean a Messy House and Get It Ready for Guests
What are you decluttering this week?
 New here? Be sure to check out my decluttering page, my free printable checklists, my e-books, my podcasts my explanation of why I don't worry about being normal, and more about what you'll find here at A Slob Comes Clean!
My newest book, Decluttering at the Speed of Life is now available wherever books are sold!
Does even the thought of decluttering overwhelm you? Sign up for my newsletter and get my reality-tested decluttering solutions delivered to your inbox for free.
Save
Save
--Nony