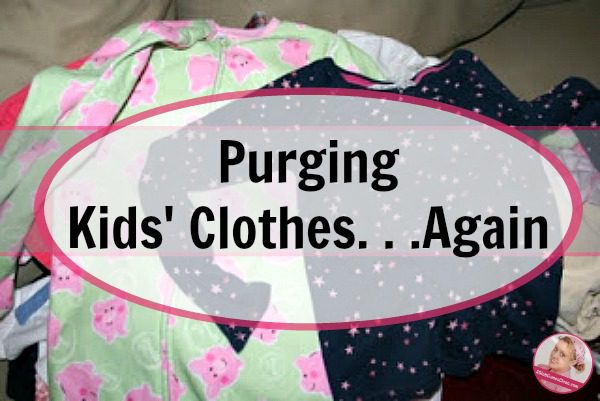 Can I just say that after the high of getting my insanely-cluttered-and-neglected garage organized, the low of (unsuccessfully) looking for my daughter's dance bag in her how-is-it-a-disaster-again room yesterday morning was not a fun contrast?  It's definitely been one of those recovering-slob mood swing days that I could totally do without.
After my less-than-mommy-of-the-year-worthy performance yesterday, I decided to slowly and methodically work on her room today.  And I was determined to keep a smile on my face.
But that still-unfinished project is not the subject of today's post.  This post is about something I decided to do in the middle of the Polly Pocket/Barbie/very-loud-singing-dolls-and-all-their-accessories-and-wardrobes sorting.
I decided to do a quick clothing purge.  In her closet, and in the boys' closet.
I initially thought that there wouldn't be much to purge, since my purging-as-I-fold-the-laundry skills have greatly improved during this deslobification process.
I was wrong.
While I definitely didn't need six-weeks worth of shopping bags to hold the unneeded clothing (the way I  would have pre-blog), I found enough to make a good-sized pile.
The problem was the invisible stuff. 
Honestly, our kids don't wear many fancy clothes.  Or even very many dressy clothes.  For church, my daughter wears cute but comfy dresses, and the boys generally wear khaki pants and a collared pullover shirt.
About once a year, for Easter or Christmas or a wedding, we end up buying fancy shoes and maybe a dressier pair of pants.  Then, when we need them again . . . they're too small.
Always. 
And we usually discover this on the morning of the day we need them.
So, the unexpected benefit of today's purge was that I actually looked at those invisible rarely-needed items, and paid attention to which ones were worth keeping.  No more sure-we've-got-dress-shoes-for-the-wedding-next-week delusions.
While I was at it, I also went through the drawers.
I made myself be realistic about what wasn't getting worn. 
Starting with two boys, I sometimes have to remind myself how different girls are.  The boys honestly do not care one teeny-tiny bit what they wear.
But with girls, it's different.  It doesn't matter how soft and cozy and cute I think those fleece pajamas are.  If she thinks they look goofy . . . she'll avoid them all winter long.  It doesn't matter if I think a shirt is perfect to wear with jeans.  If it doesn't catch her fancy, she'll pass over it each and every day.
Honestly, I almost put the star shirt back.  It feels soooo nice (to me), and it will probably still fit her next year . . . .
But why would I put it back to sit unused in her drawer for another year? 
All in all, I got rid two shopping sacks worth. Not too bad for a quick purge when I didn't think there was much that needed purging.
Save