Welcome! We're having a Decluttering Party! Go here to read about how you can join!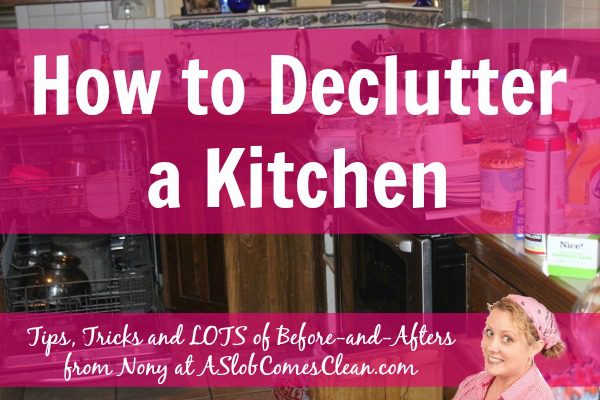 Phew. After Friday's post about decluttering a child's room, it feels great to talk about an area in my home where I feel I've been successful.
You can close a bedroom's door and pretend that it doesn't exist, but it isn't possible to stay out of the kitchen.
A kitchen is where you work. It needs to be as streamlined as possible to help prevent all those lovely excuses for eating out!
(See my Decluttering Page here for basic strategies to declutter any area of the home.)
Things I've learned from decluttering my kitchen:
Start By Washing the Dishes.
I didn't truly understand how many dishes I needed until I developed a routine for washing my dishes.
It's true, and I'm sorry.
If I don't wash dishes consistently, I'm always running out of clean dishes. When I'm always running out of clean dishes, I think I must need more dishes. If I get more dishes, I can go even longer without washing them, which means the task is ten times more overwhelming, so I put it off longer.
And I think I need more dishes.
It's a vicious cycle.
Ugh.
Once I had my dishwashing routine down, I realized I didn't need anywhere near as many plates or  cups or coffee mugs or skillets as I had. I saw which ones I always chose to use first (because they were clean!!) and it was easier to get rid of the others.
I know you can't get a dishwashing routine going today, and you want to declutter your kitchen today. Start by doing the dishes and putting them away. If you don't have enough cabinet space to fit all your dishes when they're all clean, put away your favorites first and get rid of what doesn't fit.
Which leads to the next point . . .
Use the Containers Your Kitchen Already Has
When you feel the urge to get organized, it's natural to run out and buy new containers. But a kitchen comes with its own built-in-containers.
They're called cabinets.
Once I grasped the concept of containers, my world was rocked.
The size of my coffee-cup shelf determines how many coffee cups I get to keep. If I have more coffee cups than will fit on that shelf . . . then I have too many coffee cups.
I don't need to build a new shelf, I need to get rid of coffee cups.
The same goes for plates, glasses, pots and pans.
Related post: Establishing Boundaries, Confining the Clutter . . . Whatever You Want to Call It
Kitchen items get used.
A lot.
If you received a pretty new skillet for Christmas, get rid of the ickiest old one. I know the temptation to keep the old one just in case. But don't.
You're here reading about decluttering.
That means you probably don't have oodles of extra space you're wishing you could fill up.
If the One for One concept boggles your mind, don't worry. It used to boggle my Slob Brain too. You can read more about it here.
My Experiences Upon Which All This Advice Is Based
(I've learned the hard way, people.)
Painful Drawer Clean-Out – Kitchen Drawers
 Bringing Beauty Out of Hiding – Kitchen Cabinets
So, Does This Mean I'm a Grown-Up Now? – More Kitchen Cabinets
Removing a Kitchen Cabinet to Make Room for a New Stove
Oops! I Think I Just Decluttered Something.
How to Store Plastic Containers <– I've received quite a few emails about how this technique has rocked people's world like it rocked mine!
Cleaning Out the Pantry (Again)
Cleaning Out the Fridge (another one)
The Big Pantry Clean-Out (another one)
Kitchen Decluttering Projects with Videos
Nony Starts Using Grown-Up Glasses (And Declutters Her Kitchen Cabinet)
Decluttering the Lunch-Making Spot or How to Prioritize Decluttering Projects
Decluttering the Kitchen Drawer
 New here? Well Howdy-doo?! (That's Texan for "How do you do?") Be sure to check out my decluttering page, my free printable checklists, my new book, my podcasts my explanation of why I don't worry about being normal, and more about what you'll find here at A Slob Comes Clean!
Does even the thought of decluttering overwhelm you? Sign up for my newsletter and get my reality-tested decluttering solutions delivered to your inbox for free.
Save
--Nony