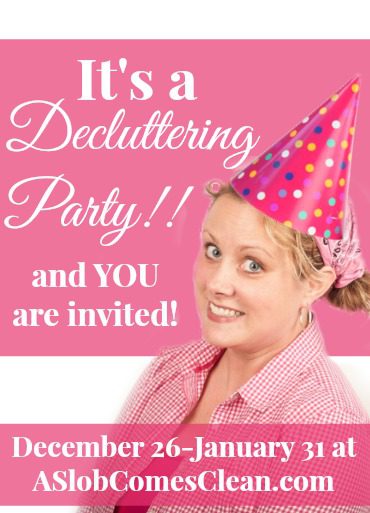 Did you know that Decluttering Season starts NOW!??
Back in 2003, I started selling things on eBay.  I had a sudden urge to GET RID of stuff that had been sitting around unused since my wedding in 1999. The urge hit immediately after Christmas. I thought it was just me.
But now, since I'm officially a Cleaning/Organizing Blogger (through a VERY strange turn of events), and I've written an e-book full of reality-based decluttering strategies that work, I know the truth.
The world begins to go Decluttering Crazy as soon as the sun comes up on December 26th.
I believe it's a combination of new stuff coming into the house in the form of Christmas gifts and the fact that life slows down a little in that week between Christmas and New Year's Day.
Oh. And then there's the whole be-more-organized-is-at-the-top-of-every-resolution-list thing.
So, to capitalize on the frenzy be here to support you, I'm doing some fun things during this crazy season.
First, I have updated my Decluttering page! It has links to posts about the strategies I have developed through my own decluttering efforts. There are also links to lots of my decluttering projects that include before and after photos. Go here to read that page, and/or pin it here to save for later.
Second, I'm putting my e-books on sale. Through January 2nd, individual e-books will each be $3, or you can get the 2 e-book set (28 Days to Hope for Your Home and Drowning in Clutter?) for only $5. Use the code: 2014
NOTE: The sale is over and the e-books are now retired. For detailed guides, check out my books: How to Manage Your Home Without Losing Your Mind and Decluttering at the Speed of Life.

Third, each day this week I will be putting up a new "How to Declutter _________" post with specific strategies for specific areas of your home. I'll also include links to past decluttering projects of my own for those areas.
Areas will include:
In the comments of each post, you can share what you're doing this week!
Then, as we head into 2014, I'll host a weekly Decluttering Party each Friday in January here at A Slob Comes Clean. You can share your own projects in the comments, or if you have a blog, you can link to a post on your blog.
I will also host Google + Hangouts each Thursday in January, starting on January 9th. I'll talk about decluttering strategies and you can ask questions or share your own progress live. (Or you can just watch!)
How to Join the Decluttering Party!
No RSVPs are necessary, but here are some ways to be sure you don't miss anything:
Subscribe to A Slob Comes Clean via email.  It's free!
Like A Slob Comes Clean on Facebook. (This one is a little hormonal since FB sometimes doesn't let everyone see my posts.)
Follow my boards on Pinterest.
Connect with me on all my social media channels. (I'll be tweeting and instagramming and all that good stuff!)
--Nony