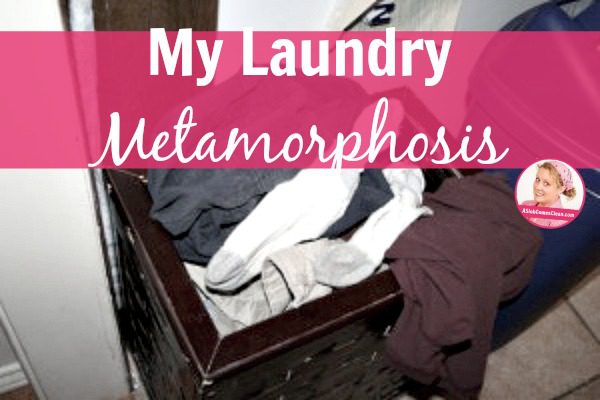 I know that there are always people reading backward here, and I love that.  I especially love getting comments on old posts.
But sometimes I feel a little guilty when someone comments on an old laundry post.
Out of everything I've conquered and analyzed and failed at (only to re-analyze and re-conquer) . . . laundry has been the biggest trial-and-error journey of them all. 
So . . . I thought I'd put the journey all together in one post.
I feel like I now have laundry under control.  I'm scared to say it.  To jinx it.
But for the most part, my current system consistently keeps us in in clean undies and doesn't create a Clean Laundry Mountain on the love seat.
I wrote about my contentious relationship with laundry when this blog was only a few months old in Me Vs. Laundry.
In the beginning, when I was working primarily on establishing daily habits, I tried the much-advised One Full Load a Day Method.  I made it part of my Daily Checklist.
But . . . I learned that my daily checklist needs to be something that I can do in one session.  One single session.
And a load of laundry is not something that can be checked off once.  There's the sorting, and then the washing, and then the waiting.
And that's all before you get to the drying and folding and putting away.
It's the waiting that got me.  Way too many times I checked laundry off my daily checklist by re-washing the load from the day before.
Because I'd never remembered to put it in the dryer.
I added checking the dryer to my evening routine.  Except that my evening routine is more than a little hit or miss.
I tried doing the one-load-a-day first thing in the morning, leaving it to be changed over the next morning.  But that meant ALL our clothes were ALWAYS wrinkled so I felt rather failure-ish.  And in warm weather, 24 hours in the washing machine meant a rather funky smell.
So that method didn't work.  So I re-re-worked my laundry routine . . . again . . . and tried a new method. 
I went back to having a Laundry Day.  One year (pre-blog), I had laundry under control because I did a Laundry Day.  I didn't think I could do this because I could no longer guarantee an entire day at home like I could when the kids were babies. But I decided to give it a shot.
And it worked/works!
I do ALL of our laundry on Mondays.
This works ever-so-much better for me.
It's my focus for an entire day.  All day long, I stop whatever else I'm doing every time the dryer's buzzer sounds and I change over the laundry.
Just like I do better with a daily checklist that can be checked off ALL IN ONE FOCUSED TIME PERIOD, I do better focusing for one day on the laundry.
And there's an end.  Since I do ALL of our laundry in one day, it's no longer a task that never feels finished.  It does get finished.  And stays finished until the next Monday.
I can't even express how happy this makes me.  In a strange way, it actually makes me LIKE Laundry Day. 
And even when I can't get it done on Monday, it's still one big task to complete.  I'm finished when I finish last week's dirty laundry.  This week's newly dirtied undies are part of next week's Laundry Day so I can still see an end to this once-impossible task.
Having a Laundry Day has taught me a lot about how many clothes we actually need and about which clothes we like the most.  It's been teaching me since week one. 
Here's my Laundry Day in all of its glory, as it's been going for more than 2 1/2 years.
Here's how I adjust it for the Mondays when I'm out of the house all day.
For two years, I had laundry under control.  Like, we had clean clothes when we needed them and I truly developed a realistic understanding of how many clothes our family of five actually needs.  But . . . I still stank (stunk?) at the whole folding-and-putting-away thing.
I tried several different methods that all failed.
But now (deep breath and crossed fingers as I hope not to jinx it), I have that under control too.
I learned accepted that I have to fold clothes straight out of the dryer.  Like, immediately.  And then put them away.  I resisted this for so long, but this final step has truly rocked my world. 
Other laundry/clothing posts:
One Week's Worth of Clothing: My Drastic Clothing Experiment
*FYI, Laundry Day probably won't work for you if you're on a septic system, as it may overload your system. Sorry!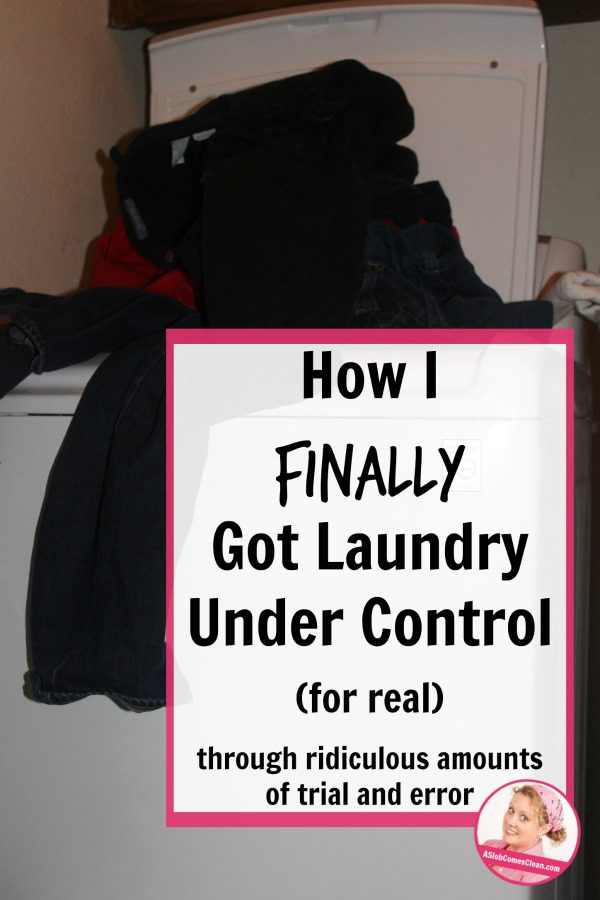 Save
Save