What my husband said about me last night:  "When it comes to meal planning and cooking, you're an expert."
And he was serious.
I don't know about you, but I absolutely glow when my husband brags on me.
Here's the thing.  Even though learning to wash the dishes daily was equivalent to learning a new language for me, I've always been pretty comfortable and creative in the kitchen.
Hearing a speaker talk about freezer cooking years ago had a big impact on me.  I didn't really go for her recipes, but I did start doubling certain things and freezing more.
It started with figuring out that I saved a ton of time on my daily dinner prep by trimming the fat and yucky stuff off of ALL of the chicken breasts I purchased (on sale, of course) at once, and packaging those trimmed breasts in meal-sized portions.  This way, I didn't have to thaw, then trim, then cook the meat for each meal.  Cutting out the trimming step also meant that I cut out the obsessive-disinfecting-of-the-kitchen-sink step since the chicken went straight from the bag to the pan.
How I trim and package a LOT of chicken all at once.  (There's a video, too!)
Soon, I figured out that since cooking the meat for a meal was the most time-consuming step, cooking extra meat to freeze for a future meal also saved lots of time.
As additional mini-people joined our family and life got crazier, I decided to take that method even farther and began pre-cooking large amounts of beef and chicken.
I also like to cook beans and rice to freeze.  By having pre-cooked ingredients in the freezer, I can literally throw together a home-cooked meal in around fifteen minutes.
(Listen to my Podcast about meal planning and freezer cooking here.)
Meals made with pre-cooked ground beef: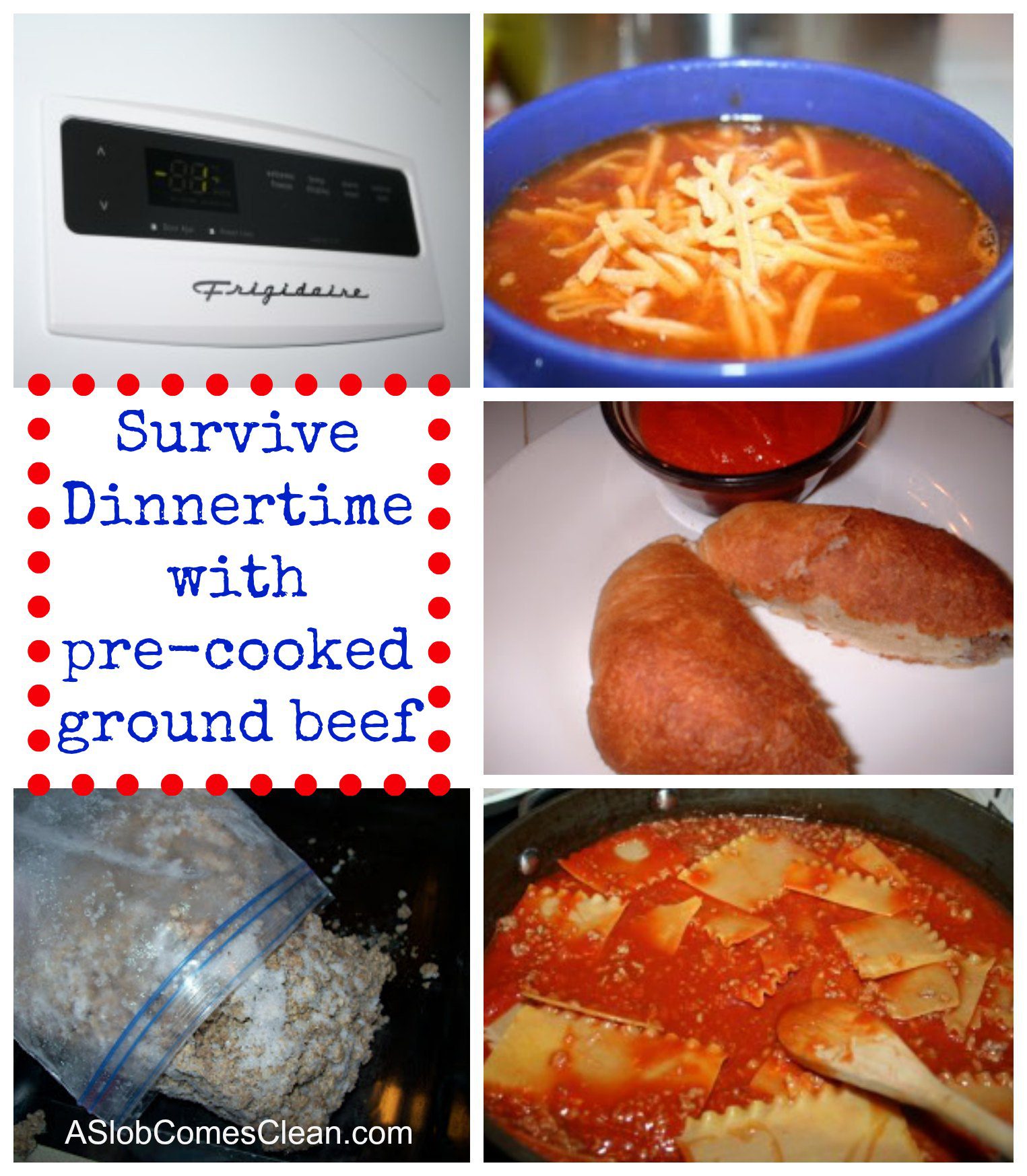 Mexican Casserole (not frozen as a casserole)
Tacos
Beef Stroganoff
Meals made with pre-cooked chicken: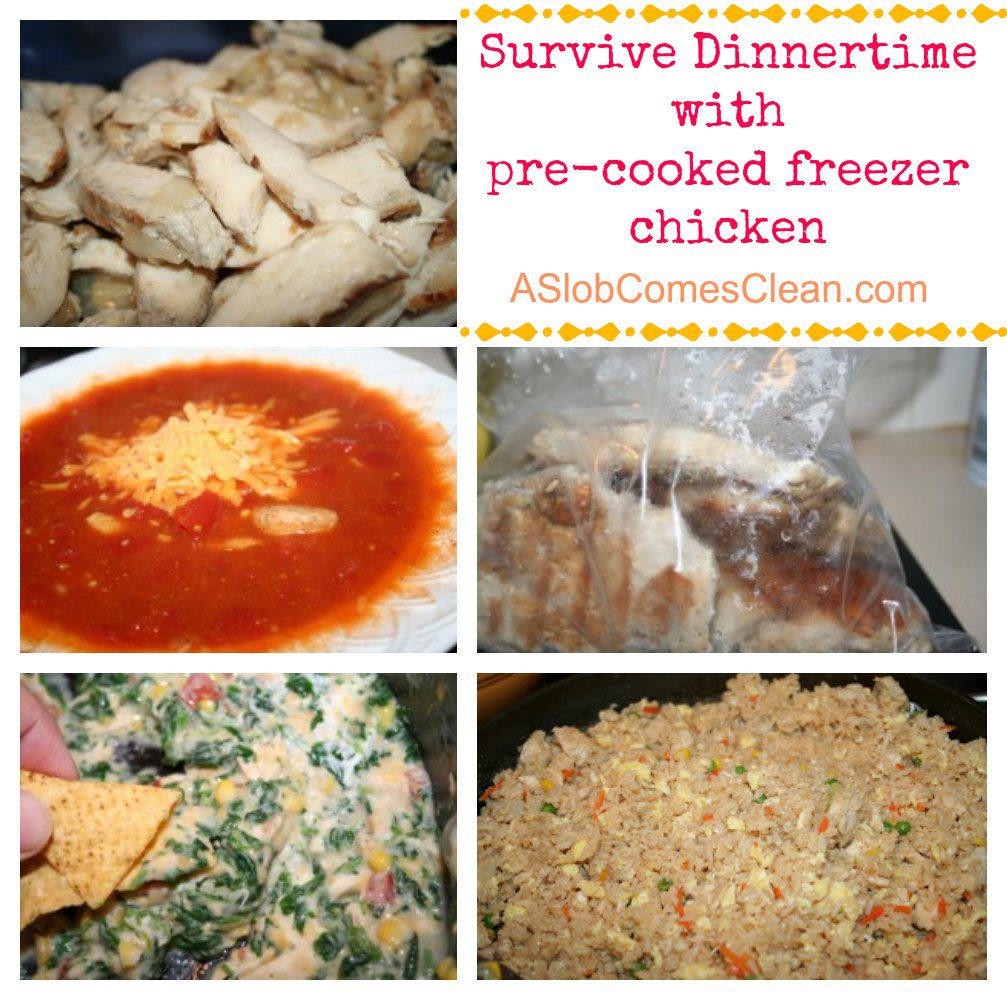 Creamy Chicken and Spinach Enchiladas
Chicken and Black Bean Burritos
Other things that are easy to cook ahead and freeze:
Hamburger patties
Once I realized how much time I could save in the kitchen by cooking ahead, I started viewing recipes differently.
There are some things that are so perfect for freezing that I now automatically double the recipe every time I make them.  I freeze the second portion for a quick meal later.  With my roast/brisket, knowing that I will get three (fabulous) meals out of one cooking session (and mess!) is the motivation I need to tackle this more complicated and time-consuming recipe.
The main thing I love about freezer cooking is that it eliminates excuses. Anything I can do to eliminate excuses is a good thing around here.  When I decided that my family wasn't getting enough protein for breakfast . . . I didn't start setting my alarm clock for earlier because I knew that would just end in guilt.  Y'know, when I ignored it.
I took the (non-early-morning) time to make things like sausage biscuits or breakfast pockets that could be microwaved with my eyes closed.  Literally.
I also love to have the kids make large amounts of blueberry pancakes or pumpkin pancakes or pumpkin muffins to freeze for breakfasts.  It's family bonding time.  Not child labor at all.
Other freezer links:
The World's Best Fried Okra Recipe (no humility needed, and it's perfect for freezing)
--Nony