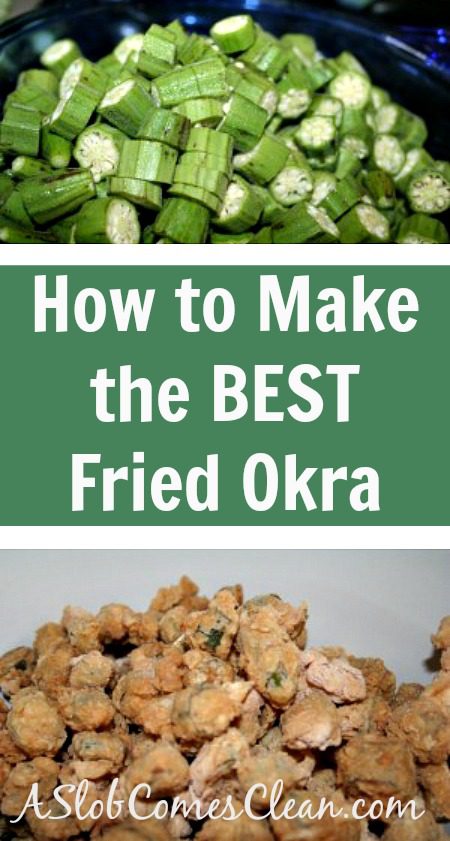 Let me begin with a few disclaimers:
This will be a humility-free post. I feel no need to downplay how awesome my fried okra is, or to be politically correct and say that there are different methods for frying okra.  No matter what kind of fried okra you think you like, you'd like mine better.  (It's my mother's recipe.)
The irony of deep-frying vegetables is not lost on me.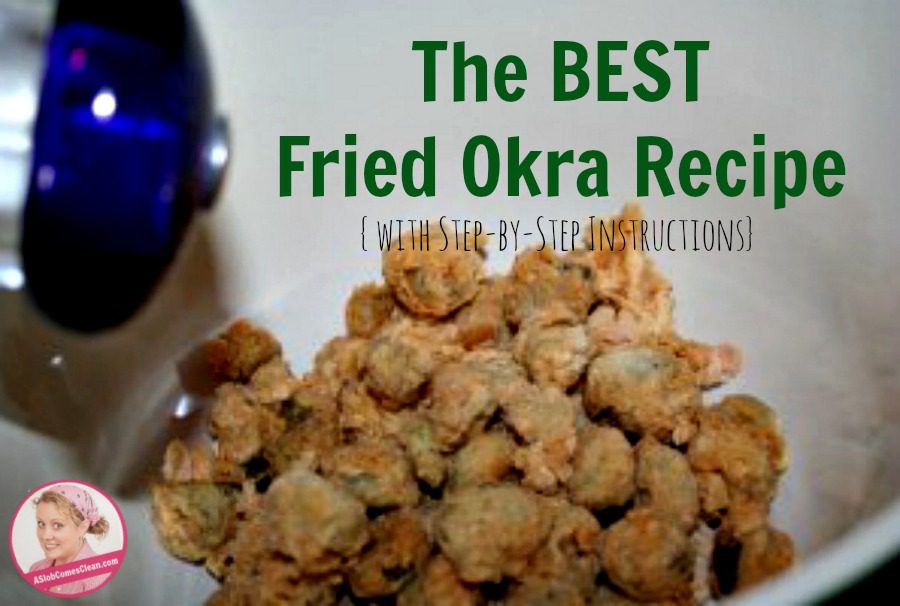 While most of the recipes I post are simple and quick, this one is not. It is time-consuming and creates a mess like no other your kitchen will ever see.  But it's worth it.
Now on to the instructions.
You will need:
Flour.  LOTS of it.  Don't start this recipe with only a cup or two of flour in the house.  Begin by measuring out three cups, but have backup flour ready.
Okra.  As much FRESH okra as you can get your hands on.  This is labor-intensive and freezable, so you might as well do as much as you can.  And fresh is key.
Eggs.  Lots of them.  Again, don't think you can squeak by on three.  Better to have a carton of 18 waiting in the fridge.  I began by cracking five.
Crisco.
A salt shaker.
Paper towels or clean newspaper.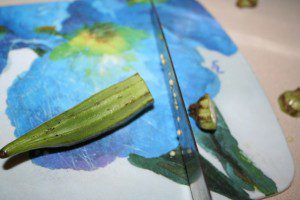 Recipe Instructions
Wash okra well in a colander.  Then slice, discarding the ends.
NOTE: If you come across a piece of okra that is difficult to cut, and feels like wood . . . throw that piece out.  It will taste like wood too.
Melt your Crisco in a large skillet or fryer.  Just a note – I haven't used my fryer since the last time I fried okra, which was several years ago.  But boy, was I glad I didn't get rid of it!
Put beaten eggs in a bowl, flour in another bowl, and set up an assembly line that ends in your fryer.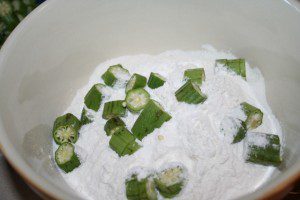 Toss a handful of okra in flour.
Shake off excess flour (and have your 7yo take the picture).
Dip the floured okra in the egg, and then put it back in the flour.
Fry until golden brown.
Then dump onto paper towels or clean newspaper.  Salt immediately while still crazy-hot.  (I learned this from Emeril.)  Repeat the process with a new batch of okra, and when the first batch has cooled slightly, move to your serving container and salt again.
Repeat, over and over and over, sneaking lots of hot, fresh okra . . . . until you're done.
It's fabulous as is, but I also like it dipped in parmesan cheese and ketchup.
Don't knock it until you've tried it.
After you've stuffed yourself silly with okra, to the exclusion of all other food groups for your evening meal . . . place all leftover, cooled fried okra in a ziploc bag and freeze.  To re-heat, just place it (still frozen) in a single layer on a cookie sheet in a 350 degree oven for 8-10 minutes, or until you see it start to bubble.
Mmmmm.
And here's my menu for the week:
Monday – Grilled Chicken and Fried Okra from the Freezer
Tuesday – Chicken Stir-Fry
Wednesday – Spaghetti
Thursday – Homemade meatballs in mushroom gravy over mashed potatoes (I'm planning to use the meatball recipe from Feast in 15)
Friday – Out to Eat
Saturday – Grill out burgers
By the way, I've had several people ask about the "hilarious fork" that I showed in my first Decluttering Webisode.  You can get one on Amazon here.  (That's my affiliate link.)
I'll be linking this up to Menu Plan Monday over at Orgjunkie.com, Mouthwatering Mondays at A Southern Fairy Tale, and . . .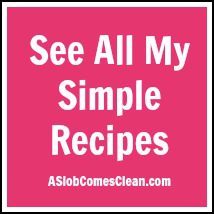 Save
Save
Save
Save