I love pre-cooking ground beef.  Many of my survival meals depend on it.  Maybe I'm the only one who, even when she has a menu plan, finds herself with only 15 minutes to get a meal ready.
Maybe.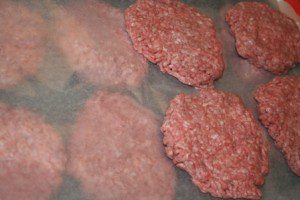 But sometimes, I need my ground beef to not be pre-cooked.  Freshly grilled-by-hubby burgers are much tastier than defrosted-by-mommy ones.  And for cooking with my kids, I want them to know how to cook the beef, not just assemble a recipe using what I already cooked.
Here's my method for freezing raw ground beef.  It's nothing earth-shattering, and is pretty much the way my mother always did it.  But I have come up with a few tricks that make it work well for us.
I cover a cookie sheet in wax paper.  Then I form the raw hamburger meat into patties, and place them about an inch apart on the paper.  Once the cookie sheet is filled, I put another layer of wax paper (or parchment paper) on top of the formed patties, and make another layer.  I keep stacking it up until I've used all the meat.  (Or until I'm afraid it will topple over.)
I then cover the entire thing tightly with aluminum foil and place it on a flat surface in the freezer until the first time I need it.
At that point, I put the extra frozen patties in a gallon-sized Ziploc bag.
I consider each patty to be ¼ pound, but I don't actually measure them.  I just grab whatever seems like the amount for a recipe.  Since most of the ingredient amounts in my recipes end in "ish" . . . it works fine for me.  My mother always used a patty mold 
to get exact amounts.
Our menu plan this week:
Tuesday:  Leftover chicken fried rice brought home from the lake (I pre-cooked all of the ingredients and made this as our meal for the extended family).
Wednesday:  Leftover hot dogs from the lake (We don't turn down free food 'round here).
Thursday: Tacos (my 7yo's meal for the summer)
Friday:  Out to Eat
Saturday: Grilled burgers
I'm linking this up to Menu Plan Monday over at Orgjunkie.com and the Homemaking Link-Up at Raising Homemakers.
The Amazon link to hamburger patty molds is an affiliate link.