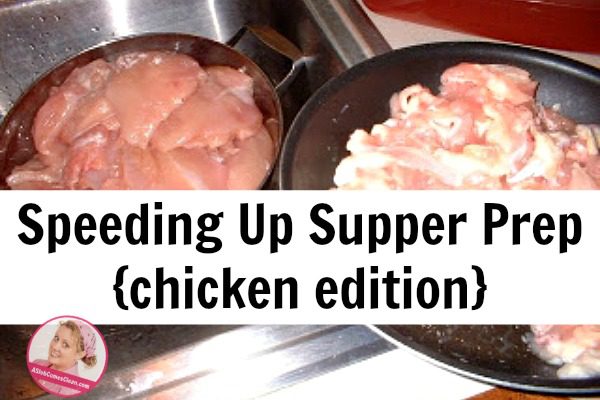 I've said many times that I'm good at excuses. I can come up with some doozies. What makes them so good is that there's always truth in them.
As I work on this process of changing my
slobbish
habits, I'm working on stopping the excuses. Really, that's something I've been working on for many years. The best way I know of to stop making excuses is to eliminate the need for them. I can't say that there's nothing to eat for supper if the freezer and pantry are well-stocked. And I can't there isn't time to cook if I have things in the freezer that make it faster to make a meal than it would be to go get something.
I've posted before about how I
pre

-cook my ground beef
. I was asked if I
pre
-cook chicken.
When
I get a lot of chicken on sale (less than 2.00/lb), I cut it up and put it into
ziploc
bags by meal size, about 4 chicken breasts for our family. But I also grill as many as I can on the George Foreman grill. Then we have grilled chicken for supper that night, and I use the rest for other recipes.
I get everything set up and put the breasts directly into the colander as they are trimmed. This way I can rinse them all off as soon as I'm done trimming.
I have everything in place, including the
ziploc
bags and the skillet for the trimmings (to cook up for the dog) since I don't like to touch anything once my hands are contaminated with chicken grossness.
By having it set up ahead of time, I can rinse each breast and directly put it into a
ziploc
bag or a bowl to be seasoned. I lay the
ziplocs
on cookie sheets and flatten them so they thaw more easily than a big chunk of chicken breasts.
My favorite sequence of meals is to make about 7 grilled chicken breasts seasoned with fajita seasoning or salt, pepper, and garlic powder. Serve three of them to the family (my 3 small kids share one large breast) with pasta or rice and veggies. Then I freeze the rest.
For another meal, I thaw the already grilled breasts in the microwave for about one minute at 10% power. Just enough so that I can cut them, you don't want them to be "re-cooked." I slice an onion and saute it in some oil. I sprinkle some salt on the onion and cook it with the lid on, stirring every once in a while. Add the chicken breasts after the onions are cooked the way you like them. The chicken is already cooked and just needs to be warmed up.
Usually, we have fajita meat left over from this meal. So normally I freeze the fajita meat/onions and then use it later to make
quesadillas
. Three meals out of the grilled chicken breasts! The only problem this time was that my boys are starting to suffer from hollow leg syndrome and I underestimated the number of breasts I needed for the fajitas. So no
quesadillas
.
But, I used the two to three slices left over to top a fantastic salad for my lunch the next day. Served with my favorite
tortilla soup
, this was the best lunch I've had in a while.
Another way I
pre
-cook chicken is to freeze already grilled chicken breasts to be thawed and served with any side dish. They just need to be thawed for a minute at a time in the microwave at 10% power until they are warm. Don't re-cook!
When I cut up the chicken, I always have a few bits and pieces that get cut off, but are perfectly good. So I do one bag of chicken for stir-fry. When I cook it, I try to do basic seasoning first, such as onions and garlic, so I can pull out a little bit to use as a topping for spinach-artichoke pizza. I'll add the soy-sauce or other seasonings after the chicken is cooked.
I only pull out a little for the pizza topping, as I chop it even further, and it goes a long way.
How can I have an excuse to not cook when I have all this food ready to go in the freezer?
Zaycon is where I used to buy 40 lbs of chicken at one time for a great price , and you can see how I manage 40 lbs of chicken here.
I am so sorry to say that it seems Zaycon has gone out of business. I say "seems" because the information I've seen says they've "suspended" operations and I don't fully understand what is happening. I'm so so sad about this since this will change how our family keeps our freezer stocked with meat. We've been ordering almost all of our chicken, bacon, and shrimp for them for more than five years. If you had ordered recently, I recommend that you call your credit card company or bank (for debit cards) to see what can be done. I've heard many people have had success doing this.
Check out other great ideas at Works for Me Wednesday!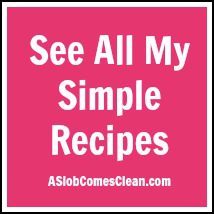 Save
Save
Save
Save