Freezing chicken is a detail?
Ummmm, yeah . . . it's a detail.  A detail that stinks like nothing you've ever smelled if you don't tackle it when it needs to be tackled.
Last weekend, while I was off gallivanting with college theatre pals, a friend picked up my Zaycon chicken and then hubby stuck it in the fridge.  I had warned him to NOT put it in the freezer.  The last thing I needed was a forty-pound block of frozen chicken.
Soooo, Monday . . . I had to get the chicken prepped and packaged and frozen in meal-sized portions.
Had to.
Before it was too late and the sixty dollars I paid for forty pounds of chicken became sixty dollars paid for forty pounds of schtank.
For years, I have purchased chicken in bulk when it's on sale.  (Typically, I purchase 20 lbs at a time when it's 2.00/lb or less for boneless skinless, chicken breasts.)  Over time, I have perfected my system of dividing it up.  I can live with making one big nasty chicken mess since my daily supper prep goes more smoothly. I've shared my method before, but thought I'd do a webisode and step-by-step tutorial.
Here's my system:
1.  Clean your kitchen. (Easier said than done, I know.)  This is essential so you will have plenty of room to work and you will be able to easily clean and disinfect your area when you are done.
2.  Set up an assembly line of supplies. In the left portion of my sink, I put my scrap-pot and the chicken.  In the right-side sink, I put a large colander.  On the right side of the sink, I place multiple plastic zipper bags, already opened and layered on a cookie sheet.
3.  Trim the chicken. I pull the chicken out of the package and trim all the nasties directly over the scrap-pot.  Then I place the trimmed chicken into the colander.
4.  Rinse the chicken. Once the colander is full of trimmed chicken, I rinse it and place a meal's worth of chicken into each bag.
5.  Flatten the bags of chicken on a cookie sheet/tray. It's important to flatten the chicken as much as possible, in a single layer, so that it is easier to thaw.  A big glob of frozen chicken takes forever to defrost.
6.  Freeze the chicken. You can stack the trays on top of one another if you have enough room in your freezer.  If your freezer-space is limited, try freezing one sheet/tray at a time, balanced on top of other items, while the waiting-to-be-frozen bags are in your fridge.  Frozen bags are easy to distribute throughout the freezer.  Just be sure to remember to keep freezing more bags, so your chicken doesn't go bad.
7.  Cook the scraps in the scrap pot. After they're cooked, I feed them to my dog.  We don't love the fat and such, but she does.
That was a LOT of work.  I couldn't believe that it took almost two and a half hours!  I'm glad I did it though, because now I have so many correctly portioned bags of chicken that have already been trimmed and can be cooked quickly.
It might take you slightly less time if you're not shooting a webisode. If you're an email subscriber, you'll have to click through to the post to watch the webisode.  Which will be totally worth it!
Now for our menu plan:
Monday – Fun Halloween Foods!  (Mummies, spiders and fingers!)
Tuesday – Stew (Using leftover NOT-a-disaster-for-once roast from last week.)
Wednesday – Grilled Chicken Breasts, whole wheat pasta.
Thursday –   Chicken Fried Rice
Friday – Pizza
Saturday – Out to Eat
Sunday – Home Groups
My experience with buying chicken in bulk from Zaycon Foods was great!  And 1.49/lb is a fantastic price!  If you want to be notified of when they are coming to your area, you can sign up (for free) on their site here.  (That's my referral link!)
I am so sorry to say that it seems Zaycon has gone out of business. I say "seems" because the information I've seen says they've "suspended" operations and I don't fully understand what is happening. I'm so so sad about this since this will change how our family keeps our freezer stocked with meat. We've been ordering almost all of our chicken, bacon, and shrimp for them for more than five years. If you had ordered recently, I recommend that you call your credit card company or bank (for debit cards) to see what can be done. I've heard many people have had success doing this.
———————————-
I'll be linking this up to Orgjunkie.com.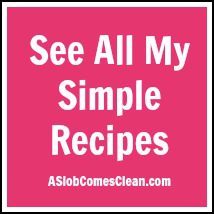 Save
Save
Save
Save
Save