During a recent frozen foods sale, I got some Yoplait Smoothies for quite cheap. Cheaper than I could find them on a regular basis, which was frustrating since we LOVED them. (And especially since our newly cleared clutter area allows us to get to the food processor easily!)
I've always loved smoothies. I've even tried to make them before, but they never turned out the way I wanted them to taste. So, I analyzed the frozen pre-packaged variety to try to determine why theirs was so much better than mine.
Theirs contains little frozen cubes of yogurt. No ice is required. You just add milk and blend. In the past mine were always watery from the ice I would add, or not cold enough because I would try just using frozen fruit with yogurt from the fridge.
So we spooned plain vanilla yogurt (2.38 at Walmart for the big carton) into ice cube trays (1.30 or so for a set of three) and covered the trays with foil and put them in the freezer.
Then we sliced some ripe bananas and froze them in a glass pan.
I purchased a bag of frozen strawberries (around 2.00 at
Walmart
, I think).
I tried to keep the proportions similar to the
pre
-bagged variety, and used 4 cubes of yogurt, about 10-12 banana slices, 5-6 frozen strawberries, and one cup of milk. I blended them in my food processor, and it turned out great!
According to my 6 year old, it wasn't exactly the same, but it was DELICIOUS!
This is enough for three of these small ramekin bowls, plus everyone gets an extra small dip when their bowl is empty. I took this picture after it had melted a little, so it was a bit more frozen looking initially.
By the way, slicing the bananas and spooning the yogurt into the ice trays are both perfect jobs for a 6 year old!
I'm currently out of freezer bags, but I think that I could package these up in quart sized bags and have them ready to go. And since it's all frozen, the bags could be reused when we make more!
I'm linking this up at Kelly's Korner for her dessert link-up.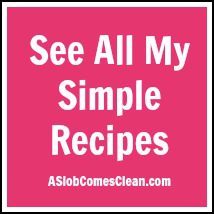 Save