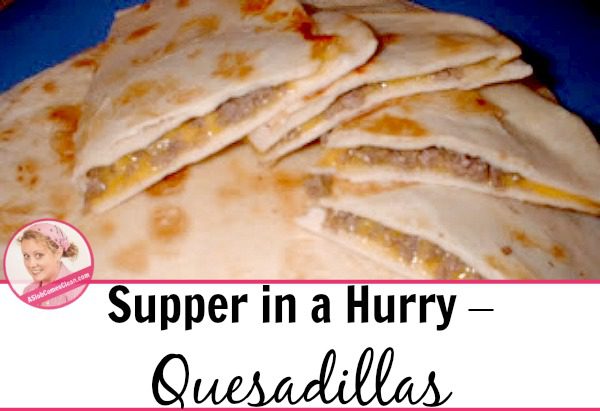 Crazy day today. I've swept the kitchen, and that's about it. I have to say that I'm thankful for a 3yo little girl who happily says "Sure!" when I ask if she can make it to one more store before her nap time. My oldest would act like it was child abuse if I asked him that question.
On a crazy day, it's nice to be able to get a quick supper on the table.
Here's my tip for making quesadillas faster and lower in fat.
Rather than spreading butter (although yummy) on each tortilla, spray it with PAM cooking spray. It takes less than two seconds, as opposed to the 30 that it can take to spread butter, especially if the butter isn't very soft. And the calorie difference is self-explanatory.
This tip was shared by a friend who learned it from another health-conscious friend. I resisted at first, but in a moment of feeling the need for speed in supper-prep, I gave in, and the taste really isn't different enough to justify all those extra calories.
And if your husband is like mine and must have meat at every meal, this is a great time to sprinkle some pre-cooked ground beef or leftover fajita chicken that you have in the freezer onto a few of the quesadillas.
If you have an electric griddle that allows you to cook multiple quesadillas at a time, this dinner can truly be ready in minutes.
Off to empty the dishwasher. I'm totally resisting doing it, but I know all too well that if I don't, I'll regret it.