I made roast beef.
And it was awesome. I actually would have settled for not-horrible-for-once, so I was thrilled.
I posted two weeks ago that I was planning to give it another shot, and appreciated all of the supportive comments with great advice.  I know that every one else in the entire world can make a great roast in a crock pot, but mine always turn out horrible.  Like . . . I-can-only-chew-for-so-long-before-my-jaw-starts-to-ache horrible.  And my heart sank when my camera-woman for the chicken cut-up session said that she felt it really came down to meat quality.
No matter how much I want to make a decent roast, I'm not paying more than 1.99/lb.
And then it hit me . . . a few of you mentioned the low-and-slow method.
My mother-in-law makes brisket that tastes like my ideal roast.  I know that sounds strange, but I had only ever had barbecued brisket before hers.  I now cook brisket this way, and it turns out perfectly every single time.   I had the bright idea that since brisket is one of those meats that is fabulous when cooked low-and-slow, but horrid if cooked ANY other way . . . maybe roast, even the 1.99/lb kind, would do well with this method.
It did!  And as a blogger . . . I took pictures of the entire process on the off-chance that it would turn out.
Remember, this is my MIL's recipe, and she's a FABulous cook, but not-so-much into specific amounts.  I'm not either, so I was fine with that.
Instructions:
Sprinkle heavily with "all the spices in your cabinet."
Seriously.  Now, I only use what sounds like it would taste good on roast and skip the cinnamon and nutmeg.  I stick with the savory stuff like Lawry's seasoning salt, garlic powder, celery salt, pepper, onion powder, etc.
Pour "one of those pink cups full" of water over the meat. (Don't tell her I threw out the pink cups.  I use a large plastic drinking cup, about 2-3 measuring cups worth, until the water comes to the top of the meat.)
Cover tightly with heavy-duty foil.
Cook for eight hours at 225 degrees.
All that's well and good, but here's what I think is the genius of her method:  Cook it the day before.
Meaning . . . I got home from the store, seasoned the roast, and stuck it in the oven at 2:00 p.m.  I took it out just before 10:00 p.m., let it cool, and put it in the fridge.
The next day, it looks like this:
The fat that was in the juice is now completely solid, and can be picked right off and thrown away.  The fatty sections within the meat are also solid, and can be easily identified and cut away.
Then, I chop/slice/randomly shred the meat, make gravy out of the broth,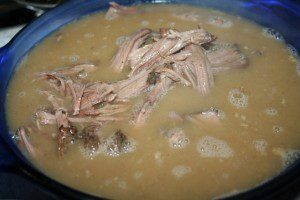 and put the meat into the gravy to heat back up.
Serve it over mashed potatoes and you have the world's most comforting comfort food.
Next time, I'm getting a bigger roast.  With brisket, I generally buy enough to make two pans at the same time, and freeze one meal's worth.
My family's thoughts?  My nine-year-old said, "This is roast?  I like it better than usual.  It's so much easier to chew."
Hmmmph.
Actually, they loooovvedd it.  Everyone raved and raved.
So what's on my menu this week?
Monday – Out to Eat for School Fundraiser (No complaining here!)
Tuesday – Chicken Fried Rice
Wednesday – Crock pot BBQ Chicken Sandwiches
Thursday – Tacos
Friday – Out to Eat
I'll be linking this up to Orgjunkie.com for Menu Plan Monday!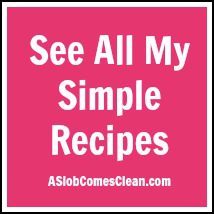 Save
Save