Our local pool is open from noon to 6 p.m.
This means that my ideal day of swimming in the morning and chilling in the afternoon isn't possible. Generally, we plan to swim until a certain time, and then about 10 minutes before that time, someone's bestest friend in the whole wide world arrives . . . and we stay another hour.
I'm not complaining . . . it's one of the reasons I love summer.
But that means that I arrive home icky-damp . . . with three kids who are starving to death. Menu planning has made a huge difference for us this summer, but this week, I never got around to it.
Still, somehow we've had great suppers every night, with two being ultra-fast and easy. (The other was Daddy grilling steaks, which is even easier for me.)
Monday at 5:30, I had absolutely no idea what we were going to have for supper. At the pool, I had asked every mother I knew what she was making, hoping for some inspiration . . . but all of their ideas would have required me running into the store on the way home, and no one wants to see this mama traipsing through the produce aisles in her tankini.
I was on my own.
I partially thawed two cooked chicken breasts that were in the freezer, and cubed them. I dumped a can of cream of mushroom soup into a pan, swished about half a can's worth of water in the bottom of it and poured that in as well, dumped a sliced-up block of cream cheese in there, along with the chicken, stirred a little bit, and put it on medium heat. Meanwhile, I boiled some spaghetti noodles, nuked a can of green beans, and kept stirring the sauce/chicken occasionally.
The result? RAVE reviews. "Please make this every night." "This is better than what I had at Olive Garden." "WOW, this is my favorite!"
Seriously.
Last night I was a little more prepared, but shorter on time, since we had to leave the house at 5:30. Just before leaving for the pool at 2:00, I dumped some partially thawed, pre-cooked ground beef into the crockpot along with taco seasoning. I put it on high, and when we got home, we immediately made tacos.
What are your favorite quick meals?
——————————
Just wanted to let you know that I'm guest-posting today over at The Finer Things in Life. Amy is doing a series called "Why Didn't Anyone Tell Me?" which covers so many things that new or soon-to-be moms need to know. In my post, I share about the struggles (and eventual triumph) that I experienced in nursing my first child.
__________________________________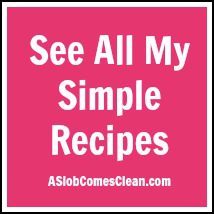 Save