I'm sharing the world's best tortilla soup recipe.
Yes, I can call it that because I've eaten it on both sides of the planet.
The year before my first year in Thailand, there were two other teachers from Texas at the school where I taught.  They were gone when I got there, but my roommates raved about their tortilla soup recipe.  When the recipe was in a fundraiser cookbook that came out that year, it became a weekly meal for us.  Since I lived in always-hot Bangkok, I can say that it's fine to eat this in hot weather.  But it's fabulous for cold weather.
You can dump the ingredients into a crock-pot for an all-day-simmered version, or cook it on the stove.
Over the years, I've changed up the recipe.  Here's my version:
Ingredients:
One lb. chicken.
Two cans 28 oz. WHOLE tomatoes.
Chopped onions
Chopped garlic
One can Ro-tel or salsa
7 cups of chicken stock
2 tsp. black pepper
2 tsp. ground cumin
1/2 tsp chili powder
2 tsp garlic powder
Poultry seasoning
Garlic salt
Chips
Grated cheddar cheese
Instructions:
I generally use pre-cooked chicken in this recipe, but when I don't have any, I saute the chicken, cut in bite-sized chunks, in a small amount of olive oil, with onion and garlic to taste. (Remember to cook extra, and freeze it for other recipes later!)
For the soup, I use my kitchen scissors
to cut up the whole tomatoes into small pieces while they are still in the can.
I've tried to skip this step by buying diced tomatoes, but it's not the same.  Using the whole tomatoes provides a juice that's perfect for soup, but the diced tomatoes make it taste more like a tomato sauce.
Then, I dump the tomatoes in the soup pot and fill the cans with water.  That gets the last bit of goodness out, and also is seven cups of water!  I then just add the chicken bullion cubes to the soup itself.
I add all of the other ingredients including the chicken but NOT including the chips and cheese.  Those are served on the side.
I also always add a dash of garlic salt, and a cover-the-top sprinkling of poultry seasoning.  In Thailand, we had a favorite chicken bullion that was fabulous.  When I moved back here, I found the soup to be a bit bland, until I realized that the bullion I was using wasn't seasoned and that the stuff there must have been.  (It's a guess, since I couldn't read the package.)  I started adding the poultry seasoning, and it did the trick!
Technically, this is a double recipe.  But since it's just enough for hubby and I to eat twice on, I think it's a good size for four adult servings.
Sprinkle with grated cheddar and crushed chips.
This stuff . . . is awesome!
Now for my menu plan.  I'm keeping it simple in this crazy last-week-of-school-before-the-Christmas-break.
Monday – Chicken Fried Rice
Tuesday – BBQ Chicken Sandwiches
Wednesday – Mexican casserole
Thursday – Spaghetti
And that's all I'm planning, since we'll be having our first Christmas celebration with family after that!
Are you keeping it simple in the kitchen during these crazy weeks before Christmas?
I'll be linking this up at Orgjunkie.com for Menu Plan Monday.
Still looking for last minute gifts?  In November, for hubby's birthday, I bought an armband that fits his iphone
even with the Otterbox on it.  He likes it!  (affiliate link alert!!!)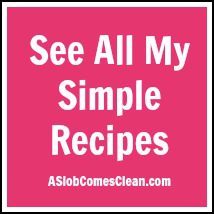 Save