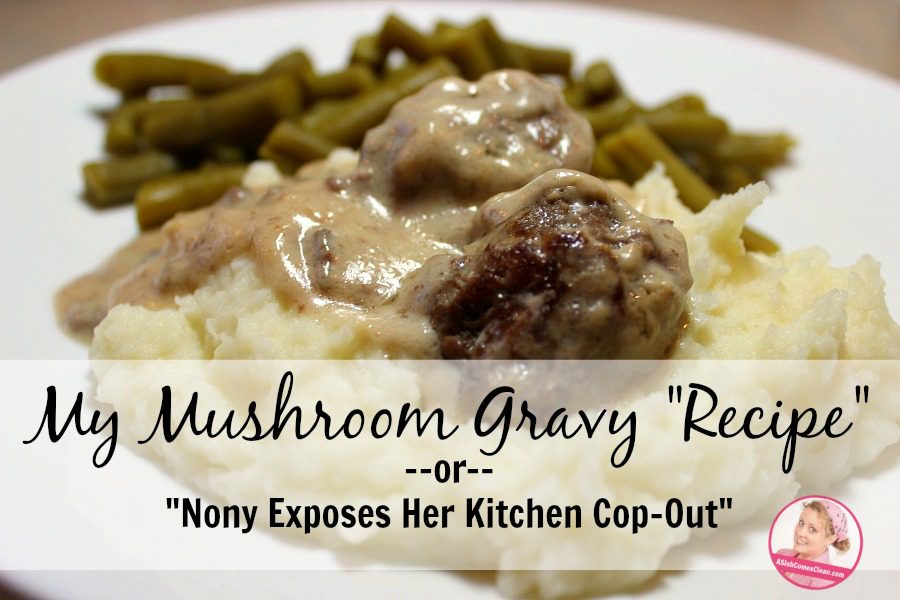 If you read my menu plans, you may have noticed that one of our favorite meals is Blah-blah-blah with "mushroom gravy" over rice/potatoes/pasta.
About a month ago, one of you called me on it.  And then my aunt literally called me.  You were both being nice, and wanted to know my "recipe" for mushroom gravy.
Because it sounds nice.  And fancy.
I meant for it to sound that way, because I didn't want it to sound like what it really is.
Which is cream of mushroom soup.  Like, from a can and everything.
Because all good bloggers do things like make their own home-made, non-canned version of cream of mushroom soup.  But I never have.
I've thought about it, but as I remind myself over and over in this deslobification process, thinking about things doesn't count.
At all.
In my defense . . . it's really yummy.  And I have a warm-fuzzy back-story.
Wanna hear?
I don't remember my own mother using cream of mushroom soup in her cooking.  Maybe she did, but it wasn't a staple.  She was a from-scratch kind of girl on most things.
But . . . when I lived in Thailand as a just-out-of-college woman, a married couple who were my same age invited me over.  They had made a simple meal of meat in "gravy" over mashed potatoes.  They raved about how simple it was to make, and how glad they were that the main ingredient was actually available in Bangkok.  The ingredient was Campbell's Cream of Mushroom soup.
It tasted like . . . America.
Home.
It was comfort food.
I needed comfort food at a time when I didn't know if I could eat one more plate of Guay-teow-ratna-gai.  Even though I LOVED Guay-teow-ratna-gai.
The next year I had two roommates.  We wanted to learn to cook, and were constantly trying out recipes on each other.  I was excited to find one for "Porcupines" (in a cookbook given to me, ironically, by the same aunt who called last month) that used Cream of Mushroom soup as the gravy.
Here's the recipe as I make it:
Mushroom Gravy and Porcupines
Ingredients –
Two pounds of ground beef
1 1/2 tsp salt
1 tsp garlic powder
1 tsp pepper
1/2 cup of rice
One (or two, depending on how much gravy you like) can of Cream of Mushroom Soup
One (or two) cans water
Instructions –
Mix together first five ingredients and form into meatballs.  Use your hands.  It's okay.
Cook the meatballs in a skillet, turning them until they're browned.
Drain the fat, then add the Cream of Mushroom soup and water, stirring around until mixed together.
Cover your skillet with a lid or foil, and simmer for 30 minutes if you used regular rice, or 10-15 if you used minute rice.  (I've done both.)
See how the rice pokes out when cooked, and looks like a porcupine?
Serve over mashed potatoes, or rice, or noodles . . . or whatever your choice of carb.
You can be so much more awesome than me and make your own from-scratch cream of mushroom soup in the crockpot.  Here's a recipe from the blog that made me desperate to blog . . . A Year of Slowcooking.
Note – You know that I love to pre-cook ground beef, and that I like to make meatballs in bulk.  However, I consider this to be best as the dinner you serve on the day you do all the cooking.  The "mushroom gravy" is fine with pre-cooked meatballs, but so much better with the bits from the bottom of the skillet.  Otherwise, strangely . . . it tastes a little like . . . Cream of Mushroom Soup.
And here's our menu plan for the week:
Monday – Chicken and Dumplings
Tuesday – Chicken Rollatini with Spinach alla Parmagiana
Wednesday – Skillet Lasagna
Thursday – Chicken Stir Fry
Friday – Out to Eat
Saturday – Grilled Burgers
FYI, this recipe is included in the two week plan that I teach you in Make Dinner Happen, the least fancy, most practical cooking course ever. You can learn more and see what recipes are included here.
Oh, and have you voted today in the Top 25 Home Management blogs? Don't know what I'm talking about?  Go here to find out.
I'll be linking this up to Menu Plan Monday over at Orgjunkie.com.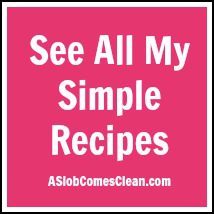 Save