I'm tired.  Crazy tired from my fun, mind-boggling, and totally-worth-it trip to the Savvy Blogging Summit.  A menu plan is the last thing on my mind, but I know I'll be grateful for this blogging-for-accountability thing tomorrow at 6:00 p.m. if I can get one done tonight.
And in an effort to not have to use too many overworked brain cells tonight, I went through my pictures searching for a recipe that I had made but never posted.  I was excited to find this one and put it on our week's menu.
Because it's good.
Mmmm.
Creamy Chicken and Spinach Enchiladas (You should totally try these.)
Ingredients:
Two pre-cooked large chicken breasts, chopped.
One can ro-tel tomatoes
One can creamed corn
One 10 oz package Creamed spinach
8 oz sour cream
1 can of green enchilada sauce
1 1/2 cup shredded cheddar cheese
12 corn tortillas
Directions:
Mix the chopped, cooked chicken with the ro-tel tomatoes in a LARGE skillet over medium heat until warmed through.
Add the spinach (thawed), the corn (undrained), half of the sour cream, and 3/4 cup of cheese, and mix together.
Fill the corn tortillas with the mixture, roll, and place in a 9×13 baking dish.
Mix the remaining sour cream with the enchilada sauce and pour over, topping with remaining shredded cheese.
Remember to take an after picture. Oh wait, that's just me.
This makes a TON!  But I don't make more enchiladas.
I eat it as a dip!  Seriously.  I love to eat this with tortilla chips.  Even more than I like the enchiladas.
Honestly, the kids don't like it.  But it's one of my love-it-or-wait-for-breakfast meals, so they usually nibble.  I'm convinced that if they ever let themselves breathe while trying it, they will actually like it.
I base my recipe on one I saw on TV years ago.
And here's our menu for the week:
Monday – Tacos (my 7yo will make them)
Tuesday – Creamy Chicken and Spinach Enchiladas (and dip)
Wednesday – Chicken Fried Rice
Thursday – Beef Stroganoff
Friday – Out to Eat
Saturday – Grill burgers
Whew!  Now that I have a menu, there's hope for this week.
Here is where I buy 40 lbs of chicken at one time for a great price (yes, that was an affiliate link!) and see how I manage 40 lbs of chicken here.
I'll be linking this up to Menu Plan Monday over at Orgjunkie.com/blog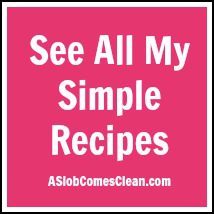 Save
Save
Save
Save
Save