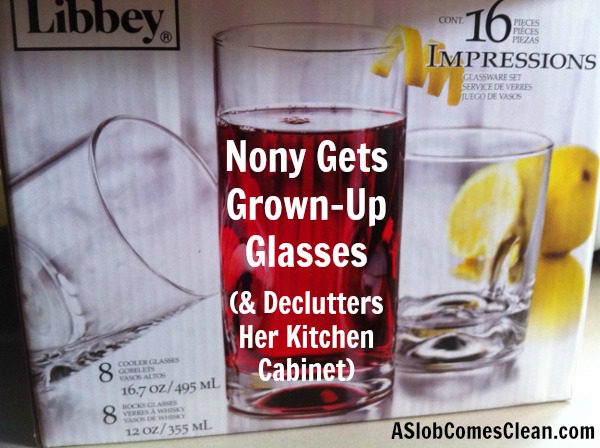 Oh, the layers of procrastination that exist in this project.
First, I received a lovely set of glasses for Christmas.
In 2012.
They were beautiful, appreciated, and perfect.
And they sat in the bottom of my kitchen pantry for the next eight months . . .
In the box.
Even though I was glad to have them, there was the whole matter of washing them.
Which meant an extra load of dishes!?!?!?
And putting them away.
Which meant decluttering my cabinet of all my mismatched (and totally lame) cups and glasses so there would actually be room?!?!?
Oh my. It was like the Perfect Procrastination Storm.
Then, over the summer, while I was on my blogging break, I made some of the world's greatest cinnamon toast for my kids. They declared I MUST blog about it so children all over the world could enjoy it too. The picture was a little bleh, so I pulled out a single clear glass from the box, hand-washed it and filled it with milk to make the photo more interesting.
Once that glass was in the rotation, I saw that it immediately became a fought-over family favorite. Everyone loved drinking from the fancy (totally plain) glass cup, sans comic book characters.
It just felt . . . couth.  (Evidently, couth is not a word, even though uncouth is. Whatever, Webster. I'm usin' it.)
So on the first day of school, as I was back to blogging and getting my house under control, I ran that single extra load of dishes and washed ALL of the glasses. And made a webisode. Which I just edited last weekend. Which was mid-October.
Click here if you can't see the video.
Anyway, it's done. We've been drinking out of fancy-schmancy glasses for almost two months now and life is good. We don't miss our plastic cups, even the ones that caused Hubby to narrow his eyes at me when he saw them sitting in the donate box.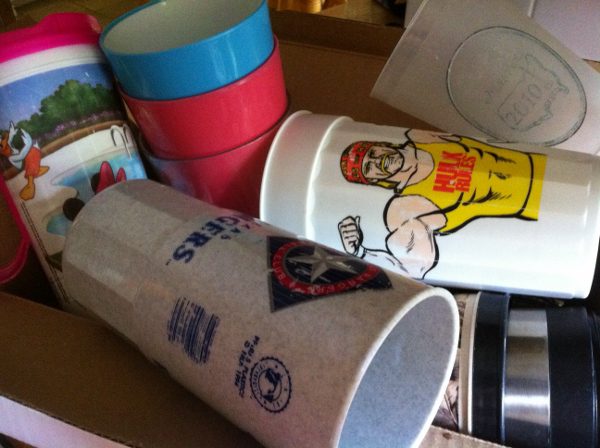 Yes. We even got rid of our Disney cups. Wonderful memories, not-so-wonderful cups.
I accepted that they were the LAST cups we ever used. And the handles made them unstackable and difficult to store.
And that was basically how this project went. Overall, I followed my One In One Out rule. There simply was not enough room for us to have a full set of grown-up glasses and keep our hodge-podge of random cups. Pre-blog, I would have thought this meant we needed another cabinet. (Maybe a full-kitchen remodel.) Now I know it's okay to part with a Hulk Hogan cup from the 80s. (No matter how much I love it.)
I used the box the grown-up glasses came in to safely pack up the glass glasses were donating. The plastic ones got piled on top.
And there is the after picture. Yes. I kept a few favorite plastic cups and I'm glad. My ice melts too quickly in the glasses.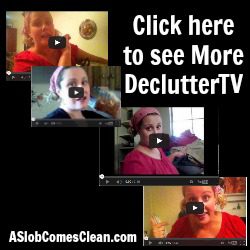 --Nony