I'm a declutterer, not an organizer. You know that, right?
One of the best things I ever did in this deslobification process was to realize that.
I always thought I needed to get organized. Organizing (in my mind) meant finding a way to keep all my stuff under control. A way that would work perfectly for the rest of my days upon the earth.
I could do some mean sorting and straightening and containerizing, but then 24 hours (or less) would pass and that super-smart new organizing scheme would fade into oblivion.
So I stopped organizing and just started decluttering. I got rid of stuff I didn't need (and often didn't know I had) and left only the things I used. And empty space.
Turns out, Only The Stuff I Use + Enough Empty Space to Be Able to See and Get to The Stuff I Actually Use . . . is pretty much the same thing as being organized.
Who knew?
But alas, my Slob Vision means spaces get cluttered again. And again.
I suspect this blog will never show a Final After Picture.
But thankfully, each decluttering becomes easier and requires less time for the space to once again feel like and function as an organized space.
On my Crazy Cleaning Day recently, I took a whole ten minutes or less to declutter my pantry. I mostly just straightened and purged and hoped Paula wouldn't reach in and grab the box of apple cider packets that is stuck to the shelf.
Oh. And I put things like Organic Quinoa front and center to make myself look a little more hip.
I pitched: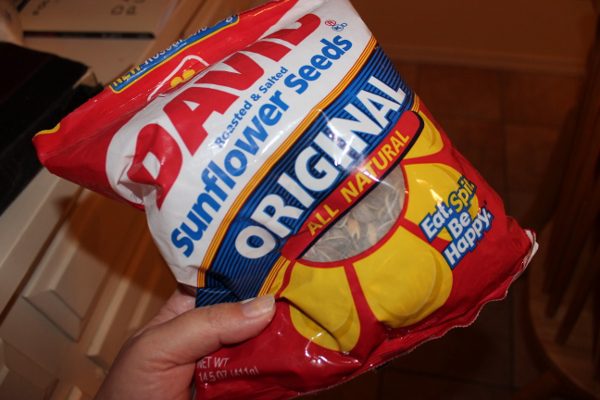 Sunflower seeds from our second fruits-and-veggies-only-for-two-whole-miserable-weeks experiment. That was over a year ago. Hubby bought these because they were cheaper, but I wasn't about to shell sunflower seeds to put on my salad. I thought I'd save them for baseball season. Baseball season came and went, so these went in the trash.
Yes. I feel guilty.
Taco seasoning . . . with COCOA in it! I've had this for years, always intending to pass it on to someone. I'm allergic to chocolate, in case you didn't know. Some chili-type things have cocoa in them, and I just happened to decide to check this before using it. (BTW, I believe it is cruel to put cocoa in things that don't need cocoa, no matter how random and obscure a chocolate allergy is! And I wonder how many of the "colds" I've had might be due to unsuspectingly eating cocoa at a Mexican restaurant!)
And finally, a can of milk from my fanatical couponing days. I have never purchased canned milk except during those days. I'm pretty sure it was already expired the last time I decluttered my pantry, but I tried to be resourceful and tell myself that it was only very recently expired and was probably fine.
I'm sure you see why I finally gave up on that delusion.
Have you been able to separate decluttering and organizing in your mind yet?
--Nony