My fridge was a mess.  I hadn't cleaned it out in . . . well . . . I honestly have no idea.
Wondering why the top shelf is stuffed full, but the bottom shelf is almost empty?  (Except for a potholder, which evidently requires refrigeration?)
Well, in all of my meat-cooking of this past week, we had some leakage, and rather than clean it up immediately, I kept everything off of that shelf.  Makes no sense, I know.
I began with that shelf.  I took it out and soaked it as much as I awkwardly could in the sink.  I was sure I was going to shatter the glass.
But I didn't, and after much scrubbing, it looked amazingly better.
Scrubbing almost doesn't describe it. I really do believe that at some point, something exploded in my fridge that was a mix between chicken fat and candle wax .  That stuff was almost impossible to get off.
I pulled out the drawers and washed them too.  I cleaned them not too terribly long ago, but I'm guessing that I did the drawers only.  Not the fridge under the drawers.
After some much-despised-since-I-actually-had-makeup-on-today scrubbing, it looked like this:
Slight difference.
When I emptied the veggie drawer, I threw away quite a bit, including this bag of sliced tomatoes.
Why would I throw away a bag of perfectly good sliced tomatoes?  BECAUSE WE DON"T EAT TOMATOES!!!  Somehow, though, it seemed like a good idea to keep them after our cookout Sunday night.
Keep them and not eat them.
Keep them and let them become a rotten mess.
Anyway . . . I also found this:
It's a VERY old baby carrot.  When I found the carrot, I thought of something incredibly funny to say about it, but now my mind is blank.  Believe me, it was funny.
I scrubbed/scraped/rubbed off more of the chicken-fat-candle-wax.
At this point, I didn't want to put anything back in.  It looked so showroom-pretty.
This was also the point when I decided that this post was going to focus on how even though many times I think a task is going to take much longer than it actually does, this job was different.  It really was taking forever.  There was no way that I would be able to finish in time to pick up the kids. I had already been working for at least an hour.  
But then, when I looked at the clock, I realized it had only been twenty minutes.
Time passage awareness . . . . not my thing.
So I started going up one shelf at a time, purging and cleaning.  The above picture is of the drawer that was a MUST HAVE feature when we shopped for this fridge.  The picture was taken after I cleared it of all the things that actually go in there.  You know, the things I would look for in there.
I would never have assumed that a single tortilla or a half-package of mac-n-cheese seasoning was shoved in the back, completely out of sight.  My two decluttering questions would work well here, except that no matter what the answer to the questions would be . . . I'm not eating either of those things.
I dumped two containers of homemade salsa, both of which would have been enjoyed by hubby, but both of which had been lost in the chaos.  I also parted with the pickle juice that we saved to make "pickle pops" . . . . last summer.
I found three almost-gone sticks of butter.
And the "juice" from the chicken I recently baked, that I was sure I "could do something with" . . . but didn't.  Instead, it occupied my beloved big measuring cup and caused great irritation more than a few times when I needed that cup while cooking supper.
I removed, washed, and purged the shelves in the door.  I do wish I had thought to check that the bottom two are backless.  Meaning, everything fell out when I removed the shelf.
Both times.  
But in the end, in less than an hour and twenty minutes, I had a truly clean and cleaned-out fridge.
Aaaaahhhhh.
Now that I'm done, and as I'm writing this post, I see how I need to officially "organize" my fridge.  Perhaps . . . just perhaps . . . . that would prevent the duplicate items and/or the multiple last bits of butter going to waste.
But decluttering is the first step in organizing, and declutter I did.
___________________________________
I'll be linking this up over at Orgjunkie.com for her 52 Weeks of Organizing.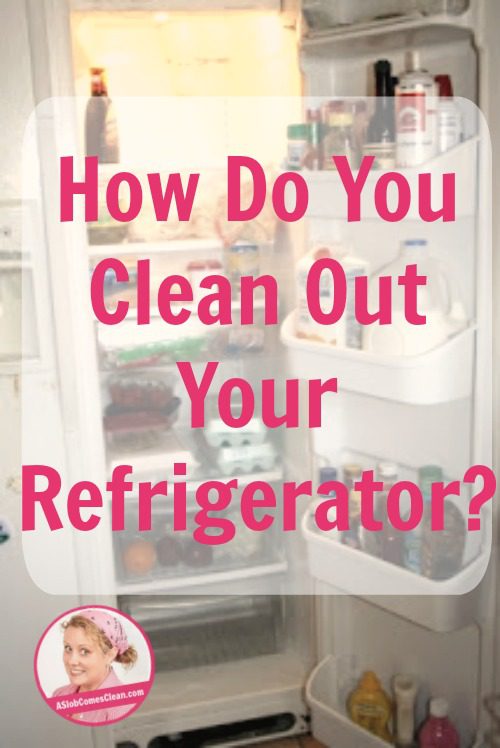 Save