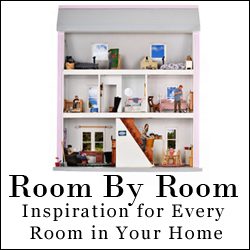 (I'm teaming up with some other bloggers today to talk about . . . kitchens!)
As someone who could create a graph of my life showing a way-too-sharp upward spike in plastic food containers followed by a way-too-gradual downward decline . . . I've learned a thing or two about how to store them.
For me.
And for my Slob Brain that doesn't do terribly well with complicated and elaborate organizing systems.
Did I ever mention that once upon a time I was a Tupperware lady?
I graduated from college in December of nineteen-mumble-mumble, and planned to substitute teach in the spring.  When I found out I had to wait six weeks for my background check to go through, I decided to sell Tupperware.  I had been to a party a few months before, and all that domesticity, storage-possiblity, and promise of super-duper-organization was crazy-appealing to me.
Y'know, because I was still in that delusional I'm-a-slob-now-but-once-I-have-a-real-kitchen-I'll-magically-be-organized phase.
Anyway, I collected tons of plastic containers while I was selling.  That was (over) fifteen years ago and I feel like I've been purging plastic ever since.
Now, I have finally reached the point where I can open my Tupperware cabinet without using an umbrella for self-protection, and can (generally) find what I need when I need it.
For me, that's big.
Here are my two strategies for keeping it under control:
1.  Less is more.
While the idea of being able to store enough food to feed an army is appealing, it doesn't work for me.  If I have more than two meals of leftovers stored in the fridge, I end up with too many fuzzy, unidentifiable substances that have to be spooned down the garbage disposal.
If I know how much food I can handle storing, I better understand how many containers I need.
And the fewer containers I have, the better organized the cabinet stays without  being officially "organized."  Just like I find with all of my other decluttering efforts, it works best for me to just keep purging until I get to a manageable amount of stuff.
2.  Store containers with the lids on.
I know this goes against everything that most storage-container-organization-system-creators believe, but it's what works for me.  No, it's not the most efficient use of space if you're looking to fit as much as possible into your cabinet.  But when I'm following my first rule, I find that I have plenty of room to store them this way.
Since I'm a grab-and-go kind of girl, reaching blindly into the cabinet and pulling out a complete container in one grab . . . works well for me.
Matching up lids and containers from a way-too-full cabinet . . . doesn't.
__________________________________________
Today, I'm teaming up with some other bloggers to provide ideas and inspiration for the kitchen.  Go check out their posts and be inspired to tackle a project in your kitchen!
Jami from An Oregon Cottage is re-vamping and beautifying her "pitifully small" spice cabinet.
Nony from A Slob Comes Clean is talking about how she keeps her food storage containers from causing an avalanche every time she opens the cabinet door.
Christine from I Dream of Clean is sharing cleaning ideas she's learned from watching cooking shows.
Taylor from Stain Removal 101 is sharing tips, tricks, and how-tos of cleaning the fridge.
Lauren from Mama's Laundry Talk is sharing the Dos and Don'ts of Dishcloths.
Save