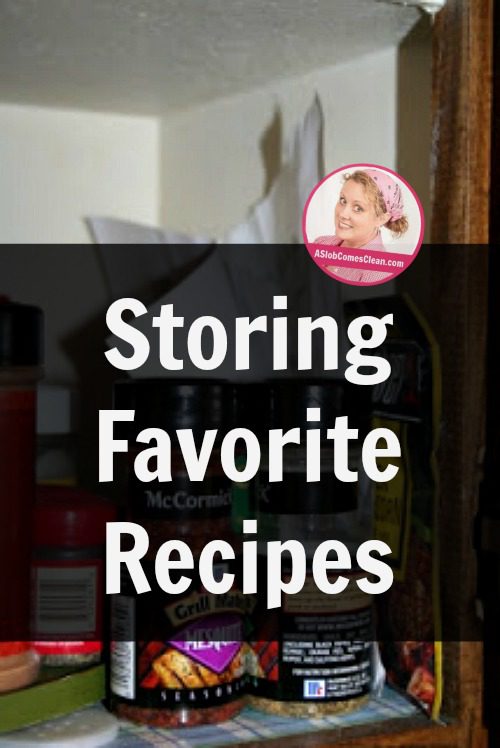 Mmmmm . . . no.  That's not a before picture.
Oh.  You thought . . .
Because of the . . . .
Well this is a little uncomfortable.  
Today I'm sharing an idea.  One that works well for me.  For my brain that tends to think I've found the Perfect Place to store something, but then can't remember where that Perfect Place was.
And I then have to re-create the logic I used.  Which can be scary.
But here's an idea I've used for a long time now. I store favorite recipes in the cabinet where I keep the main ingredients for that recipe.  
Huh?
OK.  I've admitted before that I'm a little creative in the kitchen.  Sometimes too creative.  I believe I once said that I sometimes choose creativity at the expense of deliciousness.
Meaning, I don't use recipes very often.
I might follow some guidelines once or twice, but after that I wing it.
There are a few things, though, that I'm not comfortable winging.  Like the breadstick recipe I use for my Breakfast Pockets.  Or the enchilada sauce recipe which we consider to be second to none.  Both of these recipes are written on slips of paper, and although my cookbook shelf is far improved from its pre-blog state, recipes on slips of paper are still a pain to locate.
I store the enchilada sauce recipe in my spice cabinet.  It's right where I look for any seasoning packets.  The recipe I use for taco seasoning is also in that spot.  Right where I would store the taco seasoning.  
The breadstick recipe is in my baking cabinet.  I don't bake much, and when I do, I'm usually making those breadsticks.
Now, if you're normal, you might have the recipe written neatly on a card that would tuck away nicely in these spots.  I hope to get to that point someday.  For now, I'm just glad I know exactly where to find these beloved recipes.
I'm linking this up to Kitchen Tip Tuesday (which is being hosted today at Finding Joy in My Kitchen)