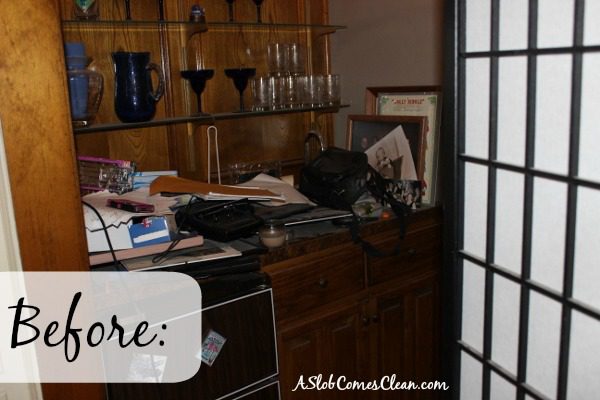 When I decluttered that back corner of our gameroom recently, I discovered a lot of things in the pile were photos or wallhangings or signs that I knew I wanted to keep but hadn't found a place for yet.
So I had to wrestle with myself a little/lot.
Do I find a corner somewhere else to stash these things until I have time to decide where/if/how to perfectly display them all?
Do I pile them up and clear everything else and pretend I'm done?
Do I stop Decluttering Day and declare it Decorating Day?
Do I pretend I wasn't really going to finish this project anyway and walk away? And go eat candy?
I decided to just make it better. I put up a few pictures (that were already in frames) on pre-existing nails throughout the house. Then I leaned the rest up somewhat neatly in the places that were available nearby.
And it was better. Not done, but so much better:
And even though it's far from perfect and the broken collage is hanging whompy-jawed on the wall, I smile when I walk through this room now.
And smiling is so much better than crying.
--Nony