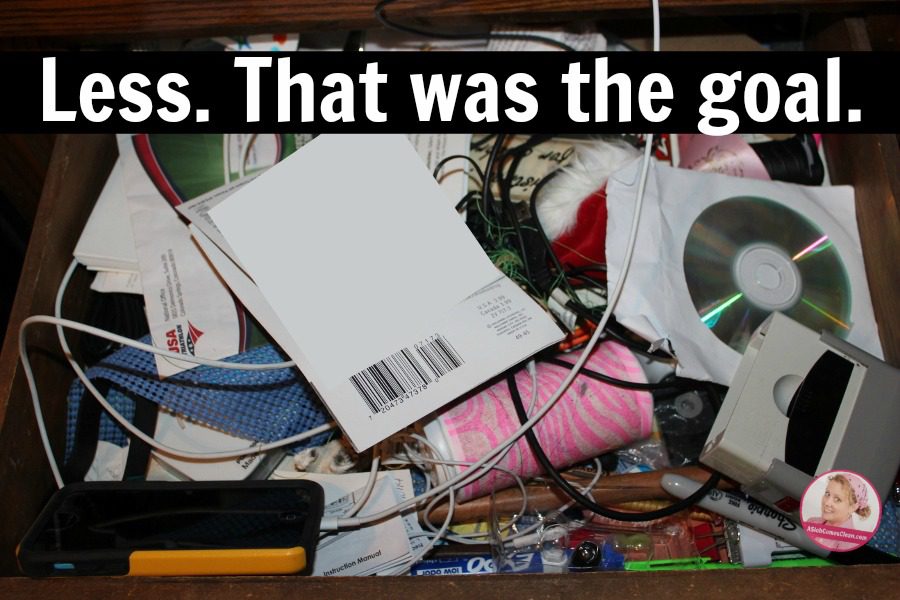 Continuing my Saturday challenge of doing Two Things at some point in a busy day, I decided to tackle my Junk Drawers.
Remember them? I decluttered them long ago, in this post where I first came up with my two decluttering questions.
They needed re-decluttering.
Oh boy, did they.
My clue that it was time was not so subtle. When you can't close a drawer, it needs to be decluttered.
Just the kind of life-changing organizing advice you were hoping for when you came here today, huh?
But when I opened up the drawers, I was completely overwhelmed. I mean, I'd decided to do two things. Two things doesn't seem like it should be that bad. But these two things? These two particular drawers?
Blergh.
I told myself to end with less than I had when I started.
Less. That was my goal.
Not perfection, not even finishing, just having less.
The best way to achieve less?
Pull out random stuff and stick it in the Donate Box or the trash.
Top left: The random Christmas decoration that wasn't used in '14 and never made it back into the attic in '13.
Top right: A never-used calendar from 2014.
Bottom left: Whatever I could cut away from the big tangle.
Bottom right: Some poor polar bear whose face was chewed off. I'm sure I stuck him there to save him from Scruffy the Polar Bear Eliminator. Not sure why I didn't stick him straight into the trash can. Oh well, he's there now.
There's less in that second picture. I promise.
Next drawer.
OK. This second drawer seems to have more of the "less" thing going.
Things I removed:
Left side, top to bottom:
Box top expired in '12. Ugh. Deja vu anyone?
Sewing kit I'd look for in the gameroom cabinet. (So I took it there.)
Pure randomness. (I threw it all away. It's ok. I had permission.)
Extra batteries for my beloved Key Finders. I took them to the place where we keep batteries. (Which happens to also be where we look for them!!)
Right side, top to bottom:
Handwipes and swimming earplugs (that I'd look for in a cabinet three feet away).
Another box top that I'm sure produced clever musings in my mind in the moment when I took the picture, but that my 41yo mind can't recall and my 41yo eyes can't even read to try to come up with more clever musings.
Glue sticks I'd searched for desperately a few weeks before (in a drawer on the other side of the kitchen).
Another DS charger for the kid who bought one when he couldn't find this one (or the one I found on my bathroom counter).
I can't call anything I did that day organizing, and I can hardly call it a project.
But I did take a few of my Saturday's awkward pauses to get rid of stuff. Enough stuff that my kitchen junk drawers can easily close.
Y'know, so they can properly hide the junk that's still in them . . .
I'm calling that progress.
Podcast (aslobcomesclean-comfeeddailyaudioblog): Play in new window | Download
Subscribe: RSS